The finest restaurants in the world welcome guests with a glass of Champagne, and Jordan Winery fully embraced this tradition with the debut of the Jordan Cuvée by Champagne AR Lenoble in France. Here's the story behind how our Champagne partnership came about.

Jordan's Sparkling Wine History
From the moment Jordan opened its doors in the late 1970s, dinner guests were always greeted with a glass of Champagne, keeping with the winery's ethos as an homage to the elegant wines and gracious hospitality of France.
By the late 1980s, winery founder Tom Jordan and his daughter Judy embarked on a quest to make their own California sparkling wine, one that honored France's historic wine. In 1987, they sent Winemaker Rob Davis to Champagne with his mentor, André Tchelistcheff, to learn the many differences in production between still and sparkling wine. Upon his return, Davis enlisted the skills of Claude Thibaut, who was raised in a Champagne winemaking family, to focus exclusively on making "J by Jordan" sparkling. They sought out Russian River Valley chardonnay vineyards near the river planted to the gravelly, alluvial soils that were similar to that of Champagne, and produced the first vintage of J in 1987. Committed to authenticity, the Jordans brought the first French Coquard press to California in 1988, a model favored by the top traditionalist winemakers in Champagne and installed it alongside the stainless steel tanks at Jordan. And, as with any project the Jordans undertake, no detail was spared in their efforts to ensure both the highest quality wine and an authentic tribute to Champagne.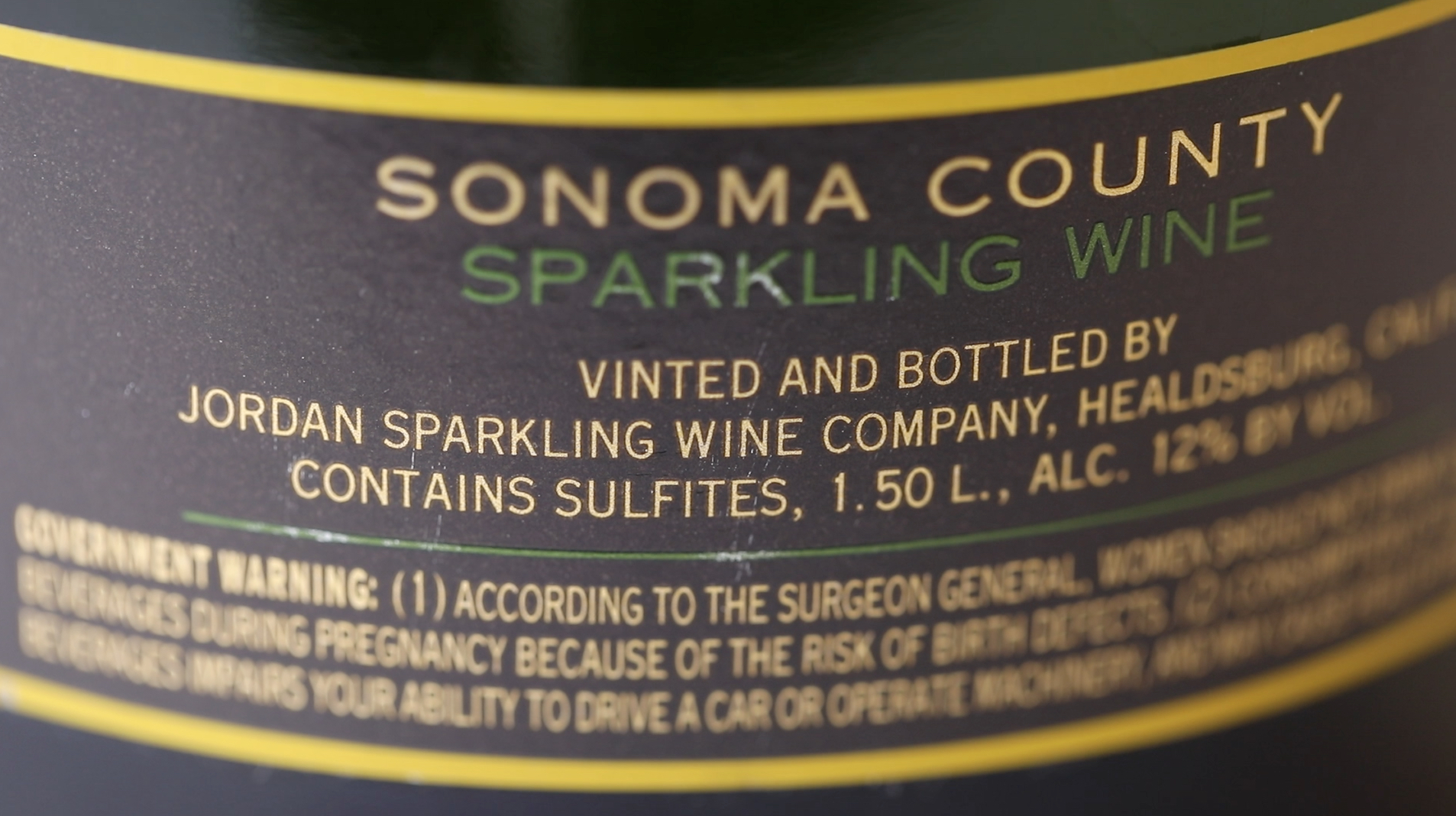 Until 1993, J sparkling was produced at Jordan Winery in Alexander Valley, a relationship that exposed our long-time winemaker to chardonnay's much greater Burgundian likeness when grown in the Russian River Valley. After seven years as roommates, it was clear that J by Jordan needed its own home for winemaking. Judy acquired a sparkling winemaking facility in the Russian River Valley, purchased vineyards and took over full ownership. The "by Jordan" on J's label was soon removed, as Judy grew J Vineyards & Winery into a successful producer of not only sparkling but also still wines in its own right. Jordan and J operated independently for almost two decades, but Jordan continued to serve J sparkling at winery receptions and winemaker dinners until Judy sold J Vineyards & Winery in 2015.
"Serving sparkling wine is a tradition we just can't let go." These were John Jordan's words, so Rob and I started discussing our options. Should we start making sparkling wine again? If so, where would we make it? Our winemaking facility is barely large enough for our two wines; we didn't have the space, nor the specialized equipment. Should we hire one of our past sparkling winemakers to lead the project? Some were in Sonoma, others in France. Should we consider using a custom-crush facility that bottles sparkling wines for many wineries? The latter didn't seem authentic enough for Jordan, and the former lacked financial and practical viability. That's when I threw out an idea: If the inspiration for Jordan wines has always been France, why not find a Champagne house to make a cuvée for us? Both John and Rob loved the idea. Finding the right partner turned out to be much easier than we thought.

Making Friends in Champagne
We never would have met with family behind Champagne AR Lenoble without an introduction by a mutual friend. It's a reminder of the beauty of enduring friendships. While vacationing in Paris in 2016, Rob visited his long-time friend, Tim Johnston, the founder of Juveniles Wine Bar in Paris, and told him about Jordan's dream of finding a family in Champagne with which to collaborate on a special cuvée. Tim, who interned at Jordan in 1980, said he knew just the person and grabbed his phone. Rob took a train to Champagne the next day and immediately felt a bond with the Malassagnes, learning of common values and philosophies, from independent ownership and focus on intensity of fruit and balance in the wines to extended bottle aging, sustainability and adaptive farming practices.
"When Antoine and I met and started talking about our winemaking philosophies, we found so many more similarities than differences," Rob, who retired in 2019, says "We are trying to achieve the same thing: a wine that expresses a great purity and intensity of fruit, a liveliness and a freshness; a wine that lets the vineyard speak for itself."
Rob tasted through all of their cuvées with Antoine and Anne, and he was blown away by their seamless elegance and complexity of flavor. At the end of the tasting, they agreed that our houses should do something together—a private label, a special bottling—they weren't quite sure, but the idea of a partnership was born.

Creating the Jordan Cuvée
Rob brought back sample bottles of his three favorite wines back to California, and we tasted them blind at the winery alongside some of our favorite producers, such as Bruno Paillard, Pol Roger and Igly-Ouriet. The AR Lenoble Brut Intense, their flagship non-vintage, was the clear darling, though we loved them all. We even conducted a blind tasting with our top rewards members at Spring at Jordan, and the vast majority picked it as their favorite too. There were brief discussions about whether Rob would have involved in the making of a special bottling of Champagne someday, but everyone agreed that didn't align with our core values about focus. We both believe in focusing on what we're best at. The Malassagnes are the Champagne experts, and our expertise lies in making a Bordeaux-style Cabernet Sauvignon and a Burgundian-inspired Chardonnay. Besides, why ask them to make a different wine for us when we all love the non-vintage brut that they've been making for decades?
The Jordan Cuvée by Champagne AR Lenoble is a special selection of the house's non-vintage Brut Intense, disgorged and packaged with a special label. It is produced entirely at AR Lenoble's cellars in Damery, made with grand cru chardonnay from Chouilly, premier cru pinot noir from Bisseuil and pinot meunier from Damery. A significant portion of the base vintage is reserve wine aged in magnum. As with all non-vintage brut Champagnes by AR Lenoble, it is aged four years aging on the lees, which further contributes to its remarkable intensity and depth of flavor. Each bottle features the Jordan Cuvée designation and a decorative cabouchon with the Jordan wordmark, which is assembled and attached by hand by the Malassagne family and their staff.
The Jordan Cuvée by Champagne AR Lenoble is served exclusively at Jordan and is only available to purchase directly from the winery. It can be purchased on our online wine shop, but shipping is only allowed to California addresses.
This is the first Champagne that AR Lenoble has ever produced for another company during its 100 years in business.
In the increasingly corporate world of wine, partnerships of this kind are unheard of. There are no financial investments or legal contracts—just two small businesses who share common values, supporting each other in our respective areas of expertise. We believe we make better wines and better business decisions by remaining completely independent. We also share the philosophy that balance, elegance and intensity of fruit character are paramount in winemaking—and that compromise in the vineyard or cellar is never an option when making wines of greatness. We both believe in focusing on our strengths. They are the Champagne experts; we specialize in French-inspired chardonnay and cabernet sauvignon from Sonoma County. They also have more experience with certain markets than we do and vice versa, so we offer each other advice. It's great to have friends like this in the world of wine.

About the Malassagne Family
One of the very rare producers in Champagne that has been consistently family owned throughout its entire history, the house of AR Lenoble was established in 1920 by Armand-Raphael Graser, who had moved from Alsace to Champagne during World War I.
Today, AR Lenoble is owned and operated by Anne and Antoine Malassagne, the great grandchildren of Monsieur Graser. The fourth generation to lead the house, the siblings took the reins from their father in the mid-1990s—Anne in 1993 at just 28 years old and her younger brother Antoine in 1996. Anne oversees the sales and marketing, while Antoine manages all viticulture and winemaking. Like Jordan, AR Lenoble is recognized for its relentless focus on winemaking quality—limiting yields in the vineyards, practicing sustainable farming, blending more reserve wine in its non-vintage bottlings, using a smaller dosage and aging Champagne longer in it cellars. In the vineyards, yields are significantly lower than the industry average due to AR Lenoble's focus on vine balance and adherence to certified sustainable farming practices. At the winery, AR Lenoble exclusively uses the first-press juice (from a Coquard press) to craft its wines, never the second pressing, known as taille. Antoine also chooses to blend more reserve wine into his non-vintage brut bottlings rather than produce more vintage Champagne in the best years, thus elevating quality of his flagship wines. While the legal minimum for aging in Champagne is 15 months, AR Lenoble never releases its wines until at least three years of aging on the lees in the cellars followed by three additional months of post-disgorgement aging. All of these steps help preserve the intense fruit character and complexity found in AR Lenoble Champagnes.
The Malassagne family owns 18 hectares of vineyards in some of the best regions of Champagne, including 10 hectares of Chardonnay in the grand cru village of Chouilly on the Côte des Blancs, six hectares of Pinot Noir in the premier cru village of Bisseuil between Mareuil-sur-Ay and Tours-sur-Marne and two hectares of Pinot Meunier in Damery. The House of AR Lenoble, where the winery, offices and historic, underground chalk cellars are located, is situated in the quaint village of Damery, minutes from Epernay. AR Lenoble is open by appointment only. Visit their website to learn more about Champagne AR Lenoble.
The post About the Jordan Winery-Champagne AR Lenoble Partnership appeared first on Jordan Winery.