With the winery's 50th anniversary on the horizon, John Jordan decided the pandemic downturn was the perfect time to embark on an eight-month makeover of the winery's opulent accommodations. It marks the first major renovation of the chateau suites since their debut more than 40 years ago in 1979. Interior designer Maria Haidamus of San Francisco, known for her European influences and penchant for preserving the architectural integrity of old buildings, was commissioned to transform the winery lodging spaces while respecting their French-inspired features. Several structural and design features of each room were preserved, including the magnificent wood-beam ceilings, the arched doorways and the hexagon tile floors imported from southern France nearly 40 years ago. Rare antique furniture and decorative objects from the Louis XV period, collected by matriarch Sally Jordan, are now joined by neoclassical and renaissance pieces from the Louis XVI and Louis XIII periods—two eras that John Jordan admires for their symmetry and elegant carvings.
There are so many exciting interior design highlights and special antiques to share, which are specific to each suite and its new personality. Ready to book your trip to Sonoma? Overnight Stays in our winery lodging are available exclusively to members of Jordan Estate Rewards.
The Vendange Suite
The grande dame of Jordan's guest suites, Vendange boasts a separate living and dining room with kitchenette—all overlooking Jordan's towering oak tanks. Its bathroom was taken down to the studs and rebuilt to accommodate a larger shower, double vanity and focal bateau-style bathtub. Top-of-the-line bathroom fixtures from Drummond, known for its homage to European elegance, were selected, including the neoclassical Thames vanity. Antique pastoral oil paintings above the Drummond Wye bathtub depict rural life in France during the 19th century. The bedroom now features a beautiful botanical wallpaper called "Meadow" by Peter Fasano and a king bed by Baker with a Louis XV-style upholstered headboard and neoclassical legs. The lofty pine beams in the suite's living-dining room have a new, rich chocolate color, and Mrs. Jordan's rare Louis XV armoire from the Rothschild family of Bordeaux has been transformed into an entertainment center with a Victrola retro record player and a French vintage vinyl collection. The yellow stucco walls are now an elegant, mauve plaster, and new furniture, rugs and window treatments complete the transformation. (Vendange means "harvest" in French.)

The Cépage Suite
Cépage is the smallest of the three winery lodging options at the Jordan chateau—but it underwent the biggest transformation. The former wood-paneled bathtub and toilet room, along with its separate single vanity entry room, were removed, widened and heightened. The new bathroom is long and grand, featuring neoclassical wainscotting in a rich gray, two single Renaissance vanities by Stone Forest and a massive shower with ivory and navy-veined quartzite slabs. The studio bedroom now boasts a grand neoclassical poster bed by Alfonso Marina called the Deux, a built-in wet bar with refrigerator, a sitting area with reupholstered antique Louis XV chairs and a 19th century Louis XV armoire converted to a music cabinet with vintage records. Secret: This is now John Jordan's favorite suite. (Cépage means a "grape variety" in French.)

The Chêne Suite
With its picturesque views of Jordan Estate's wooded hillsides, Chêne also features dramatic arched ceilings that are further accentuated by the subtle-sage plastered walls. A Louis XIII-style bed with barley twist columns by Alfonso Marina now anchors the room, along with a gorgeous 19th century Louis XVI armoire that has been converted into a wet bar. The sitting area in front of the fireplace enjoys a view of Jordan's barrel-aging cellar to the left and oak trees to the right. This room also features the oldest antique in the winery, a Trumeau mirror from the early 18th century, as well as John Jordan's favorite antique: a 19th century Louis XV buffet with a green marble top, sourced by his mother in the 1970s. Known for its focal bathtub, the Chêne bathroom has been transformed from tile-walled and understated into a posh spa-like retreat with mural wallpaper by Schumacher titled, "Italian Panoramic." A custom-built, double vanity and copper bateau-style tub–along with Bryant sconces by Circa Lighting and Chatham Pivot Mirrors by Restoration Hardware—complete the space. (Chêne means "oak" in French.)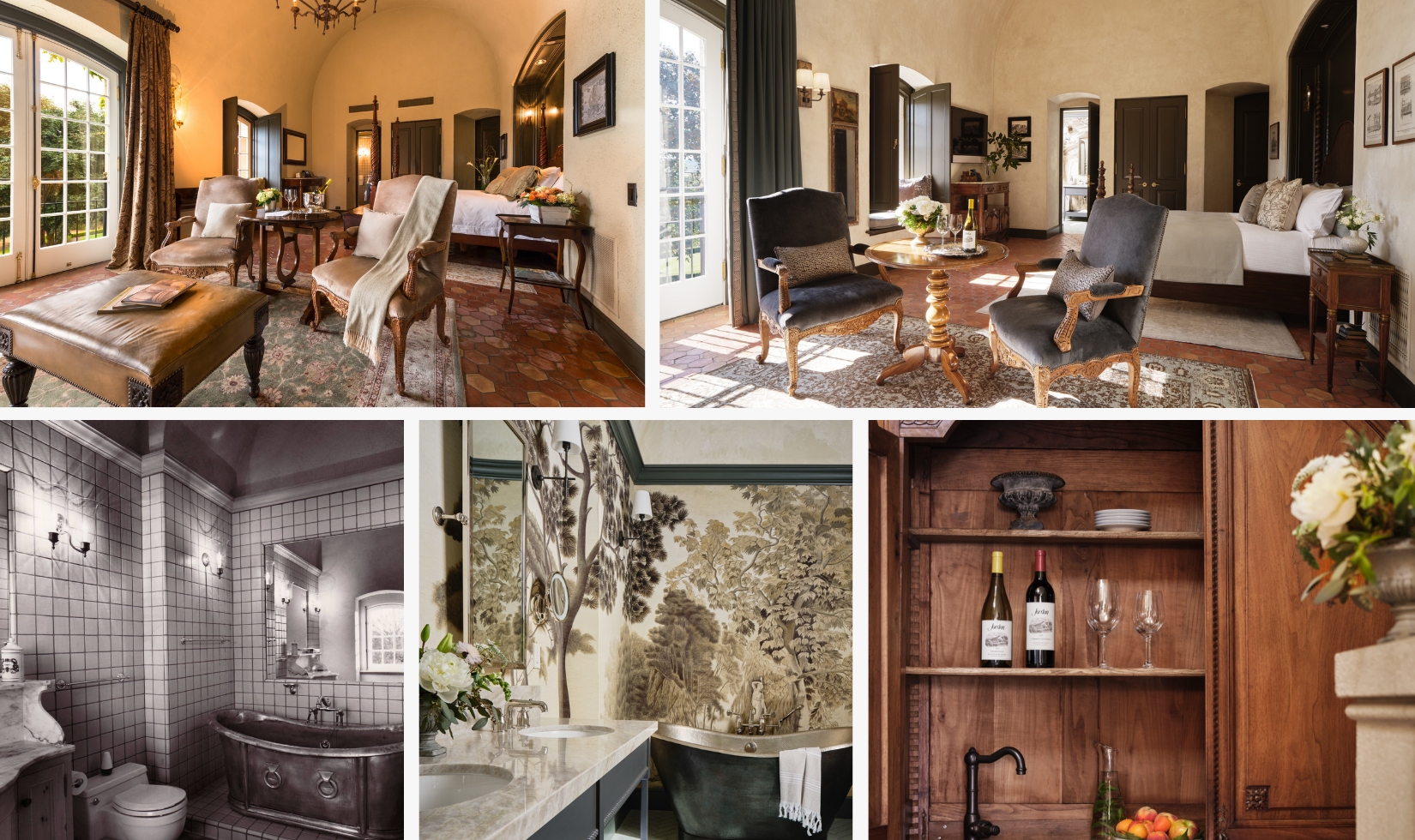 The post Unveiling the Jordan Winery Lodging Remodel – Before & After Photos appeared first on Jordan Winery.