This childhood staple is just as good as you remember. A Fluffernutter Sandwich combines peanut butter and marshmallow fluff between two pieces of bread to make you feel like a kid again.
Did you grow up eating Fluffernutter sandwiches?
Even if you didn't, it's never too late to try something new.
I recently learned that October 8 is National Fluffernutter Day. Who knew?
I'll take any excuse I can get to indulge in the nostalgia of this sweet combo of peanut butter and fluff.
SAVE THIS EASY FLUFFERNUTTER SANDWICH RECIPE TO YOUR FAVORITE PINTEREST BOARD!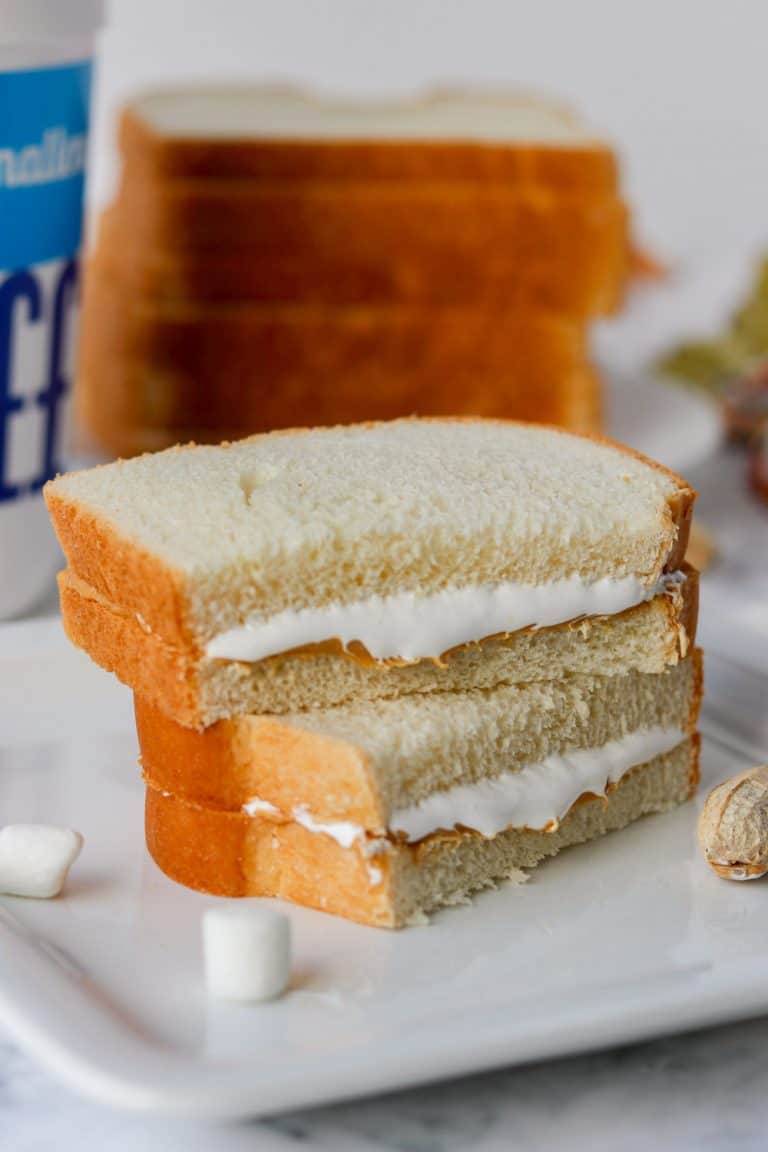 What is a Fluffernutter?
On paper, a fluffernutter is a sandwich made with Marshmallow Fluff and peanut butter.
But it is SO much more than a sandwich, my friends.
A fluffernutter is an experience.
A creamy, sweet, peanutty experience you'll love sinking your teeth into, no matter how old you are.
The Fluffernutter first gained popularity in the north eastern United States over a century ago.
Marshmallow creme (a spreadable form of marshmallows) came to popularity in Massachusetts just as peanut butter was becoming a staple of American diets.
It didn't take long for busy moms to start doling out the peanut butter and fluff sandwiches.
And more than a hundred years later, we're still eating them.
Kids love marshmallows. Kids love peanut butter.
Put them together and you have the ultimate kid-approved sandwich!
New Englanders especially embraced the Fluffernutter.
Growing up in Rhode Island, that was lunch.
As our family grew, the kids became quite fond of them as well.
It was the go-to lunch box sandwich and after school snack.
When you didn't know what to eat a Fluffernutter was the answer.
Over time, I perfected the art of the perfect Fluffernutter.
Spread creamy peanut butter on one piece of the fluffiest white sandwich bread you can find.
Spread an equal amount of marshmallow fluff on another slice.
Smoosh them together and voila!
While it might not be the healthiest peanut butter sandwich out there, I consider Fluffernutters a comfort food well worth the occasional indulgence.
Some variations of Fluffernutters include bananas, jam or chocolate spreads.
Me?
I prefer it in its purest form: sweet, simple and delicious.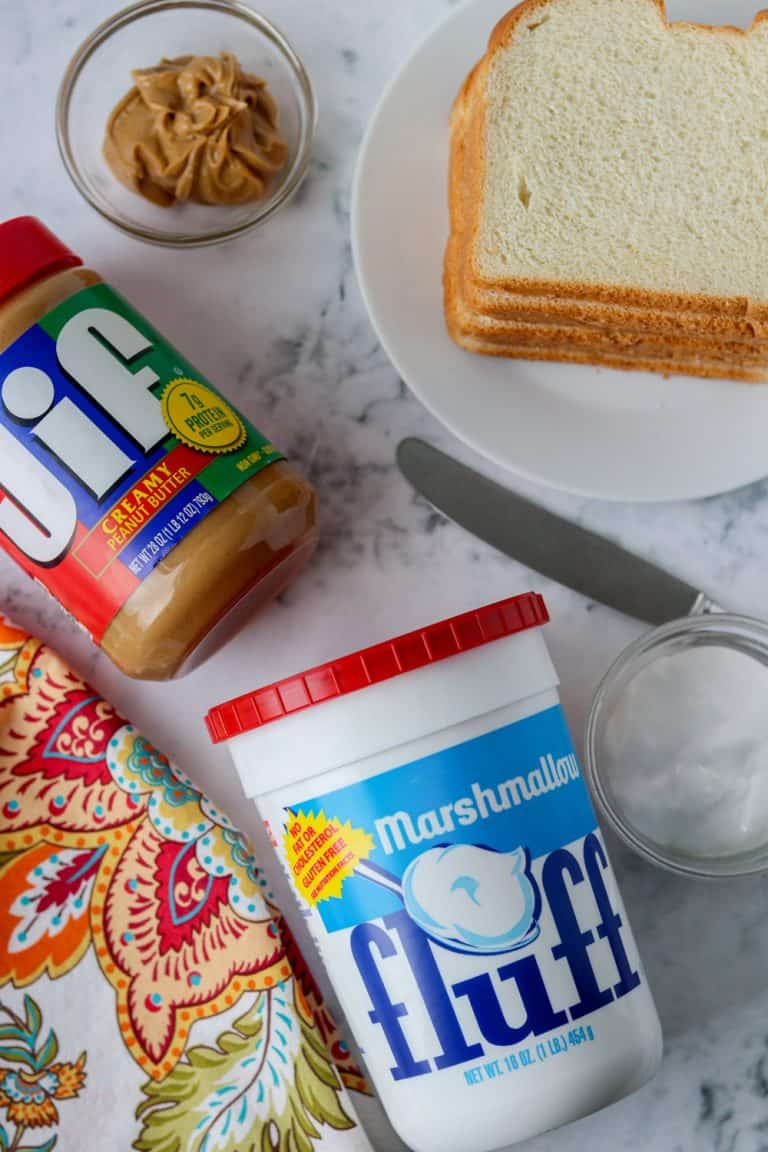 What kind of Marshmallow Fluff is best?
To make the best Fluffernutter, it's essential to use true Marshmallow Fluff.
You can't miss the iconic blue label and red lid, usually found in the peanut butter aisle of your grocery store.
There are other brands of marshmallow creme available but none can compare to the original.
PLEASE trust me on this and get the good stuff!
When it comes to the peanut butter, I stick with the classic shelf-stable variety like Jiff or Skippy.
Natural peanut butter is wonderful in many dishes but when it comes to Fluffernutters, I prefer the kind of peanut butter I craved as a kid.
With that in mind, feel free to use natural style peanut butter if you simply must.
You can even use wheat bread if that's a deal breaker.
(Although in some New England states, that might actually be considered a crime, but I won't tell.)
Seriously though, it's the Marshmallow Fluff that's non-negotiable!
What can I use if I can't find Marshmallow Fluff where I live?
I have the solution!
Jamie over at Love Bakes Good Cakes has a recipe for it.
That way, you can make your own at home and still make Fluffernutter Sandwiches for your family.
What can I use Marshmallow Fluff for?
Marshmallow Fluff is absolutely delicious on top of Chocolate Covered Cherry Hot Chocolate.
You can also make it to use fudge.
I'll confess though, there are definitely some days when I'll just take a spoon and eat it right out of the jar!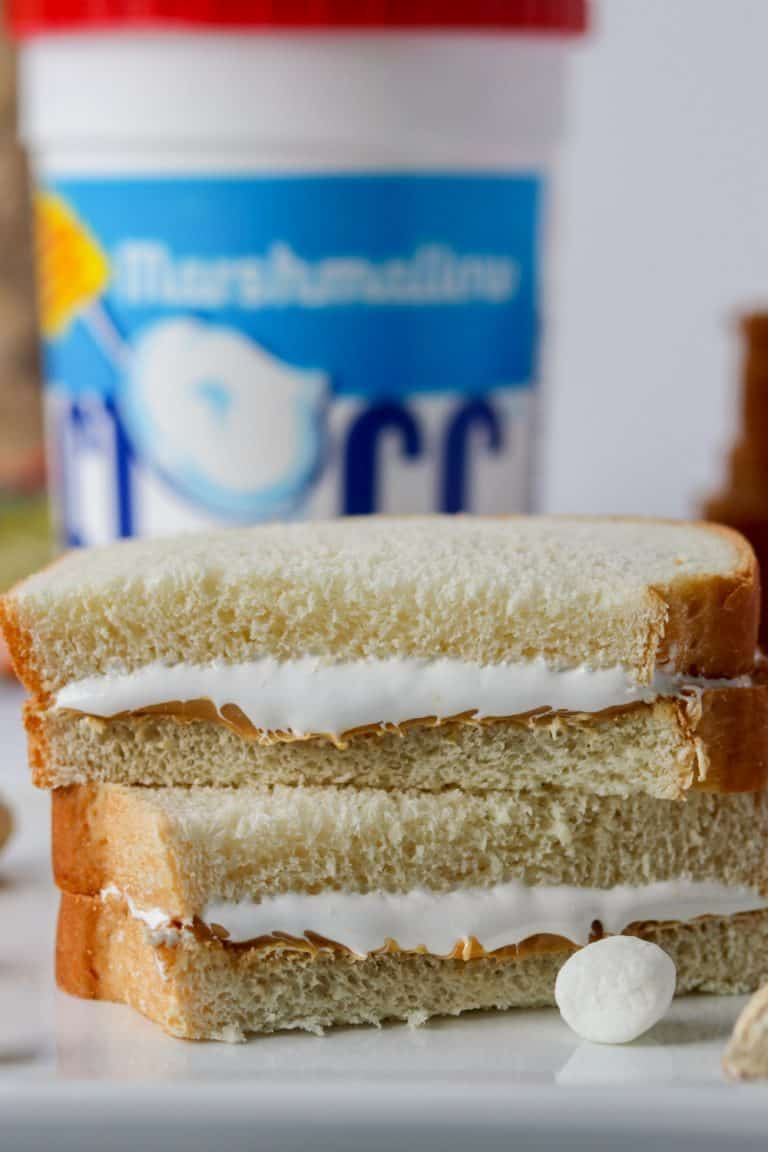 Peanut Butter Recipes
Peanut butter sandwiches aren't the only way to get your peanut butter fix, of course.
These days, most of the peanut butter I consume is in cookie form. These 3 Ingredient Peanut Butter Cookies have a classic criss-cross shape just like the ones you remember eating as a kid. Bonus: they're ready in just 13 minutes.
Want more marshmallow and peanut butter treats? These PB & Fluff Brownies are like a Fluffernutter in brownie form. Welcome to heaven.
Once you've recovered from the brownie indulgence, No Bake Peanut Butter S'Mores Cookies are the perfect way to get your summertime s'mores fix. You don't even have to turn on the oven, let alone light a camp fire!
At breakfast time, harken back to another childhood favorite with this Peanut Butter and Jelly French Toast Casserole. You can even prep it ahead of time and just pop it in the oven when you wake up. That's my idea of an ideal breakfast recipe.
For even more peanut butter goodness, give these favorites a try:
Peanut Butter Chocolate Lava Cake
Peanut Butter Upside-Down Banana Cake
Chocolate Peanut Butter Dream Bars
Peanut Butter Crinkle Cookies
Reese's Peanut Butter Rice Krispies Treats
Double Chocolate Peanut Butter Filled Cupcakes
Easy Sandwich Recipes
The fluffernutter might be the first sandwich I remember making for myself, but it was far from the last.
My culinary ability has evolved since those days of spreading fluff on Wonder Bread after school, so if you love this Fluffernutter recipe, check out a few more sandwiches to add to your family's lunch or dinner menus.
Peanut Butter Cucumber Sandwich
Easy Meatball Sub Sandwiches
Ham and Cheese Party Sandwiches
BBQ Root Beer Shredded Chicken Sandwiches
Easy Beet, Turkey, and Cheese Wrap
Taco Hummus Wraps
Avocado Tuna Salad Lettuce Wraps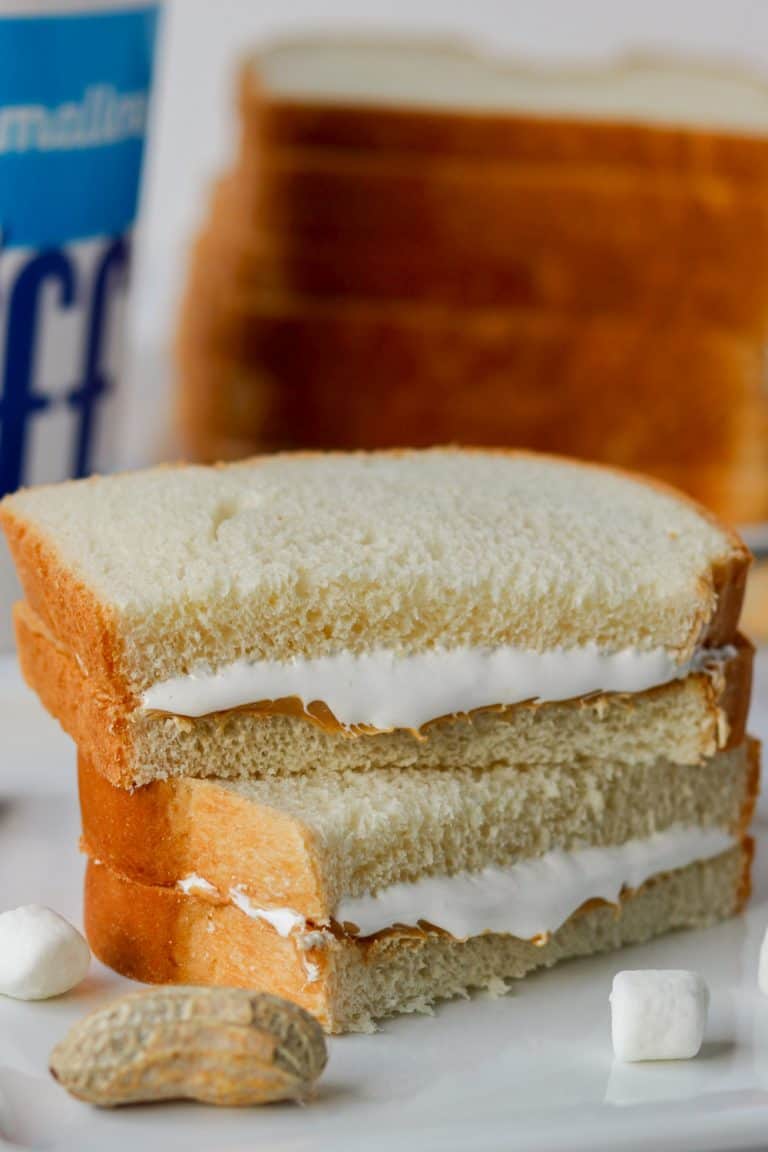 You're never too old to enjoy a Fluffernutter! Share this iconic childhood sandwich with a kid in your life–or just make one for the kid in you!
Print
Easy Fluffernutter Sandwich
This childhood staple is just as good as you remember. A Fluffernutter Sandwich combines peanut butter and marshmallow fluff between two pieces of bread to make you feel like a kid again.
Place the two pieces of bread onto a plate or cutting board, and spread the peanut butter on one slice of bread and put the Marshmallow Fluff on the other. Put the two pieces together so that the peanut butter and fluff are together. Cut the sandwich into halves or eat whole.
Serving:
1
g
|
Calories:
628
kcal
|
Carbohydrates:
67
g
|
Protein:
22
g
|
Fat:
34
g
|
Saturated Fat:
7
g
|
Polyunsaturated Fat:
10
g
|
Monounsaturated Fat:
16
g
|
Trans Fat:
1
g
|
Sodium:
587
mg
|
Potassium:
521
mg
|
Fiber:
6
g
|
Sugar:
29
g
|
Vitamin A:
1
IU
|
Vitamin C:
1
mg
|
Calcium:
105
mg
|
Iron:
3
mg
The post Easy Fluffernutter Sandwich appeared first on 365 Days of Baking.