Learn how to make Cheese Crackers at home with this easy recipe. Made from scratch with real cheddar, these homemade cheese crackers are a fantastic kid-friendly snack. No preservatives or sugar in these salty snacks!
You can't eat just one of these snack crackers.
Good thing they're perfect for popping in your mouth! Homemade cheese crackers are a perfect alternative to the highly processed store bought versions kids beg for. These crackers are made with cheddar cheese and a savory seasoning blend. So they taste even better than the packaged crackers too!
SAVE THIS EASY CHEESE CRACKER RECIPE TO YOUR FAVORITE PINTEREST BOARD!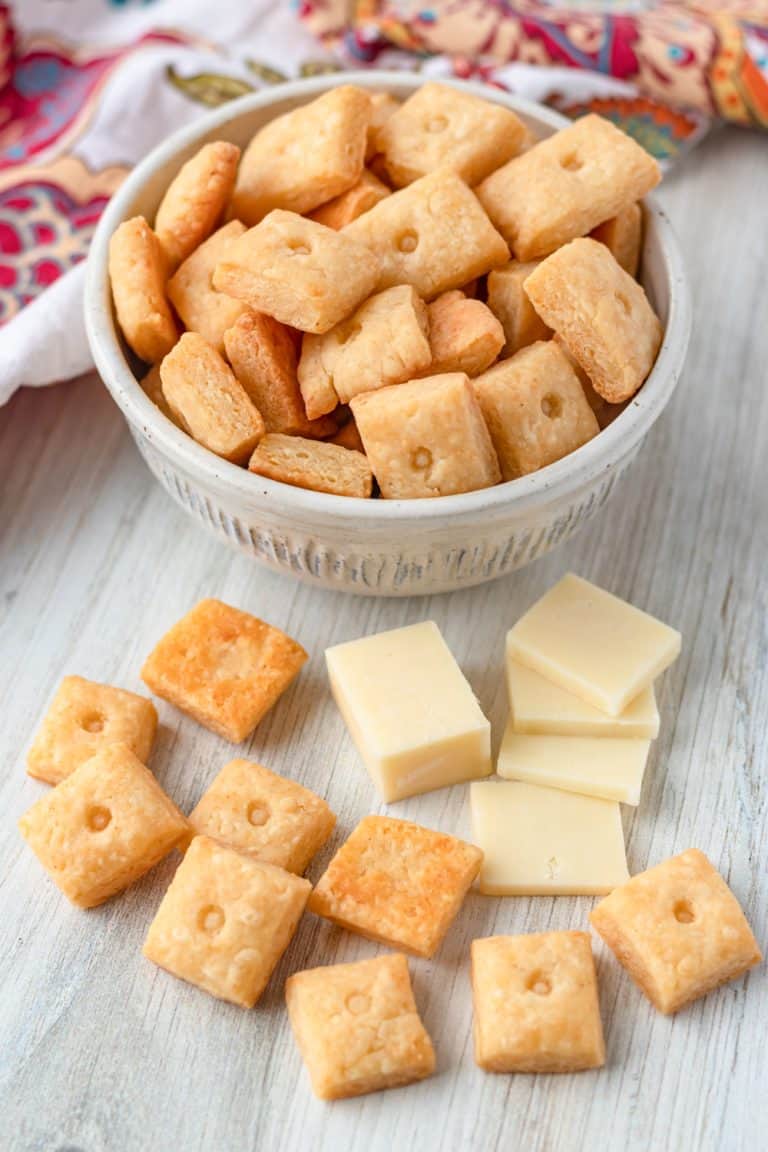 I love how versatile crackers are. You can tuck them into a school lunch box or throw them in your purse for on-the-go snacking. Cheese crackers are so flavorful that you don't need to add any dips or spreads to make them truly satisfying.
The tangy, savory cheddar flavor in these crunchy cracker squares makes them impossible to resist! Put a bowl of these homemade snack crackers out at your next party and watch how fast they disappear.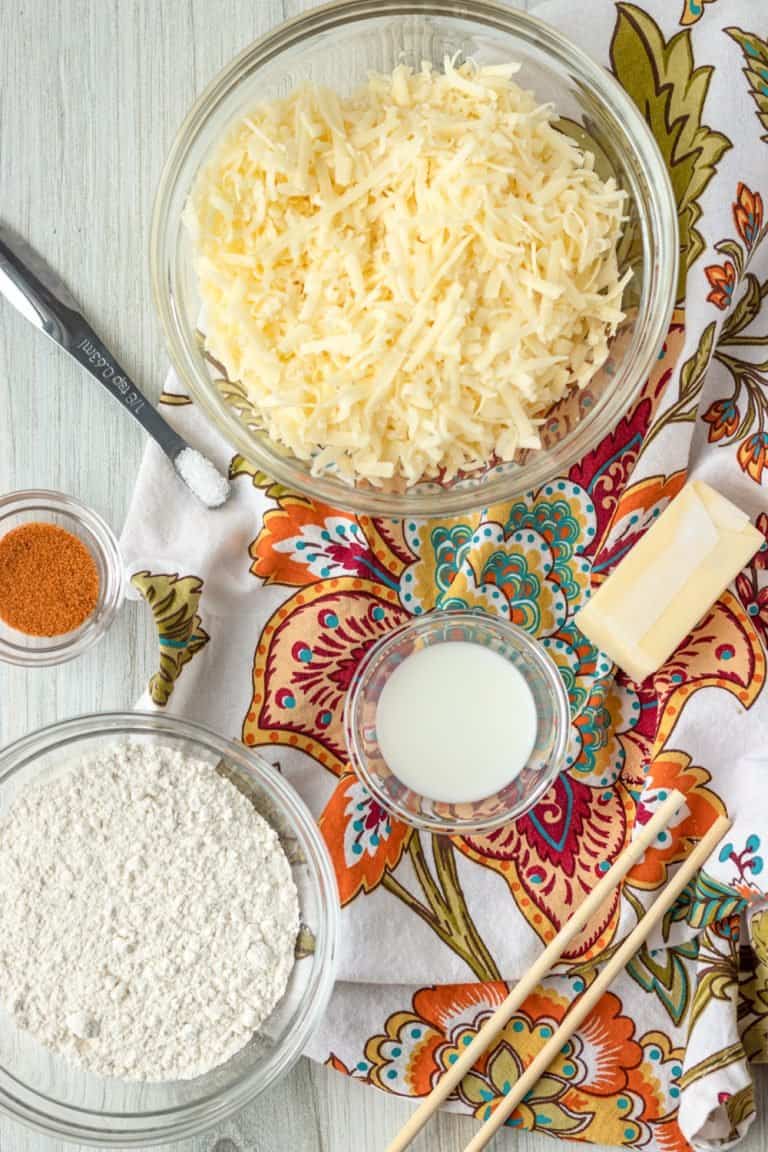 What do I need?
You might assume you need a bunch of hard to find ingredients to make homemade crackers from scratch. That couldn't be farther from the truth! This recipe calls for a very simple list of ingredients:
Cheese
Butter
Flour
Salt
Lawry's seasoned salt
Milk
That's it! The Lawry's seasoning adds a perfect zesty kick that enhances the cheesy flavor in these crackers. You're seriously going to love them!
Best Cheese for Crackers
You can make cheese crackers with almost any hard cheese you like. That said, I find that cheddar cheese produces snack crackers with the best flavor and crunchiness. The sharper the better! I always use extra sharp cheddar in this cheese cracker recipe.
One more tip about the cheese. If you can, it's well worth grating the cheese yourself. I buy my cheddar in blocks at the store, then shred it with a box grater. The flavor is better than packaged shredded cheese and the cheese incorporates more smoothly into the cracker dough.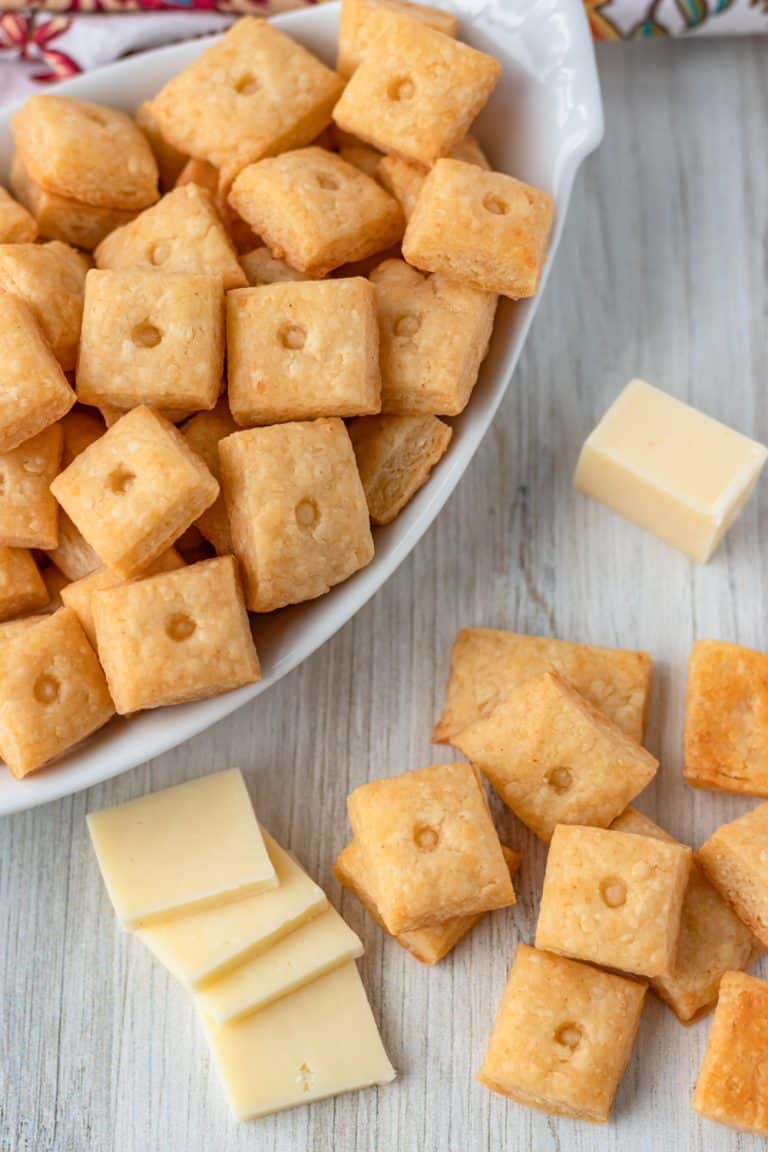 How to Make Cheese Crackers
This recipe is super easy to make once you have all your ingredients ready to go.
Combine the ingredients for the dough.
Roll the cracker dough into a rectangle.
Cut in to squares. Poke a hole in the centers.
Bake.
EAT!
Wondering how to store homemade crackers? I keep them in an airtight container on the counter top. Because they don't have preservatives, they will not stay fresh as long as the store bought ones. That's never a problem in my house because I can hardly resist grabbing a handful every time I walk by the kitchen.
~ FOLLOW ME ~
~ FACEBOOK ~ PINTEREST ~
~ INSTAGRAM ~ TWITTER ~
SIGN UP FOR THE WEEKLY
365 DAYS OF BAKING & MORE 
NEWSLETTER BELOW!
Snack Recipes
Cheese crackers aren't the only homemade alternative to processed snack foods. Once you've gotten your fill of cheese crackers (as if!), you'll want to explore all the other delicious homemade snack recipes out there.
This Cookie Butter Snack Mix is an easy sweet snack that the kids will love. Or try this Cinnamon Sugar Popcorn for your next movie night!
If it's savory snacks you're craving, check out these Baked Spiced Almonds. Nutty, spicy and simple to make.
Cheese Recipes
Who doesn't like cheese? I have no shortage of recipes with cheese here on the blog that you're going to love!
Red Lobster Cheddar Bay Biscuits
Cheesy Mashed Potatoes
Meat and Cheese Boards
Ham and Cheese Party Sandwiches
BBQ Pork Mac & Cheese
Smashed Potatoes with Cheese.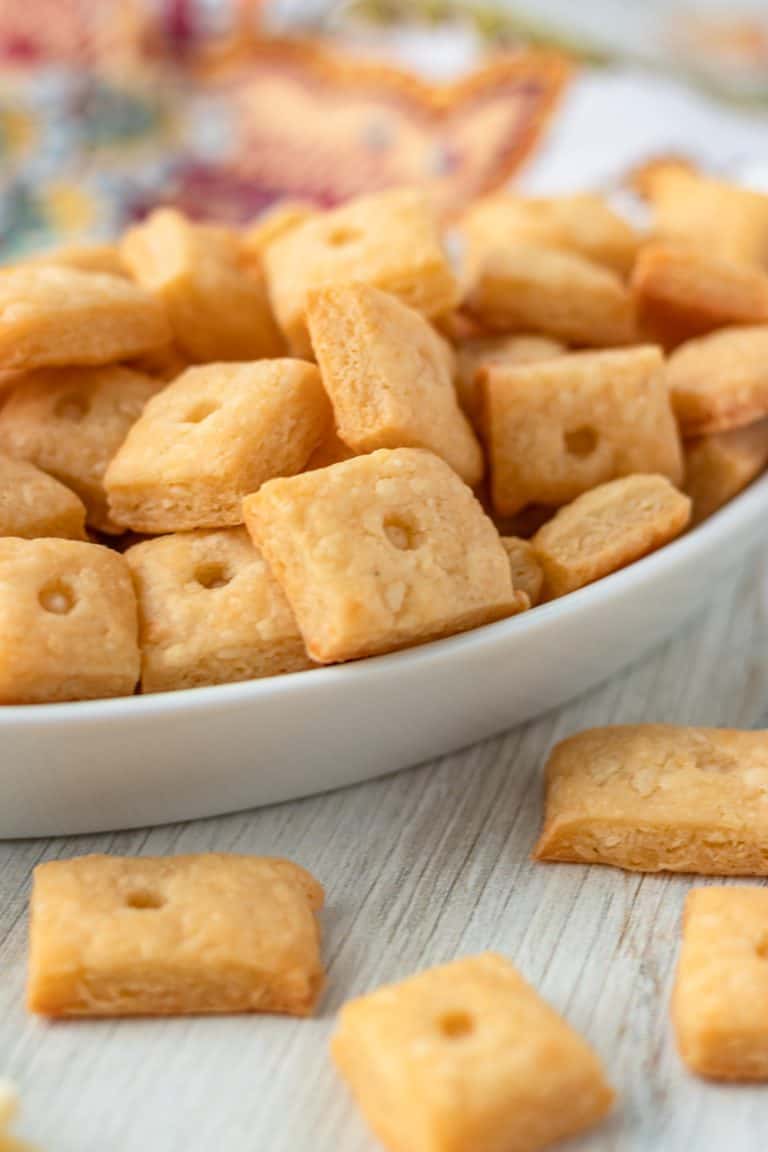 Grab a block of cheese and get baking!
Print
Homemade Cheese Crackers
Learn how to make Cheese Crackers at home with this easy recipe. Made from scratch with real cheddar, these homemade cheese crackers are a fantastic kid-friendly snack. No preservatives or sugar in these salty snacks!
Preheat oven to 350 degrees F.

Prepare a cookie sheet by lining it with parchment paper.

In a large bowl, combine cheese, flour, Lawry's Seasoned Salt, and salt. Cut butter into smaller pieces and add to flour mixture. Then with a pastry cutter, cut butter into mixture, and combine until it resembles coarse meal.

Add milk and with a wooden spoon, stir until the dough comes together in a ball. This may take up to 10 minutes, and you may need to bring the final bit together with your hands, but trust me it will turn into a ball of dough.

On a lightly floured surface, roll dough, using a lightly floured rolling pin into a rectangle that measures 8 X 10-inches and is about 1/8 of an inch thick.

With a pizza cutter, cut strips in both directions of the rectangle 1-inch thick, so that each cracker is a 1-inch square.

Place crackers about 1/4-inch apart on the prepared cookie sheet. With the end of a chopstick, poke a hole into the center of each cracker.

Bake for 12-15 minutes, until edges are just or very slightly browned. Transfer parchment to a wire rack to cool completely.

Store in an airtight container.
Recipe makes about 80 1-inch square crackers.
Nutritional information has been calculated for 10 crackers per person.
Serving:
1
person
|
Calories:
180
kcal
|
Carbohydrates:
9
g
|
Protein:
7
g
|
Fat:
13
g
|
Saturated Fat:
8
g
|
Polyunsaturated Fat:
1
g
|
Monounsaturated Fat:
3
g
|
Trans Fat:
1
g
|
Cholesterol:
38
mg
|
Sodium:
510
mg
|
Potassium:
38
mg
|
Fiber:
1
g
|
Sugar:
1
g
|
Vitamin A:
391
IU
|
Calcium:
159
mg
|
Iron:
1
mg