Lucky Charms Bark is easy to make with white chocolate, sprinkles and colorful marshmallows! It's the perfect bark candy recipe for St. Patrick's Day or anytime you're in the mood for a magically delicious treat.
The best part about Lucky Charms cereal? Marshmallows for breakfast!
*This post contains an affiliate link(s).
As a kid, I loved picking out all the fun marshmallow shapes and eating those first. The rainbows were my favorite.
I haven't made too many recipes with Lucky Charms in the past, but I decided St. Patrick's Day would be the perfect time! This Lucky Charms Bark is now my new favorite way to enjoy those fun marshmallow shapes in all their soft, sweet, sugary glory.
SAVE THIS EASY BARK CANDY RECIPE TO YOUR FAVORITE PINTEREST BOARD!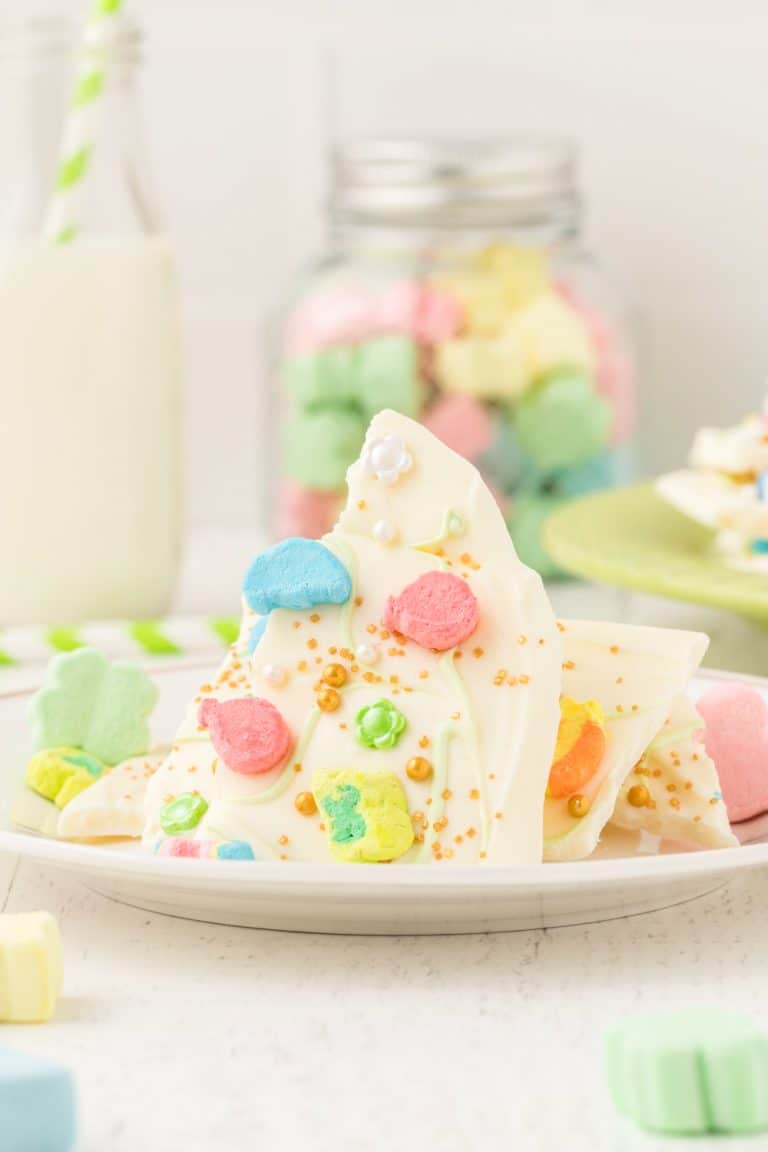 The creamy white chocolate provides a delicious vehicle for getting tasty marshmallow morsels into your mouth! And you'll love the combination of green, white and rainbow colors.
I even topped the Lucky Charms candy with a few gold and green sprinkles for an extra whimsical touch. This St. Patty's day treat is definitely leprechaun approved!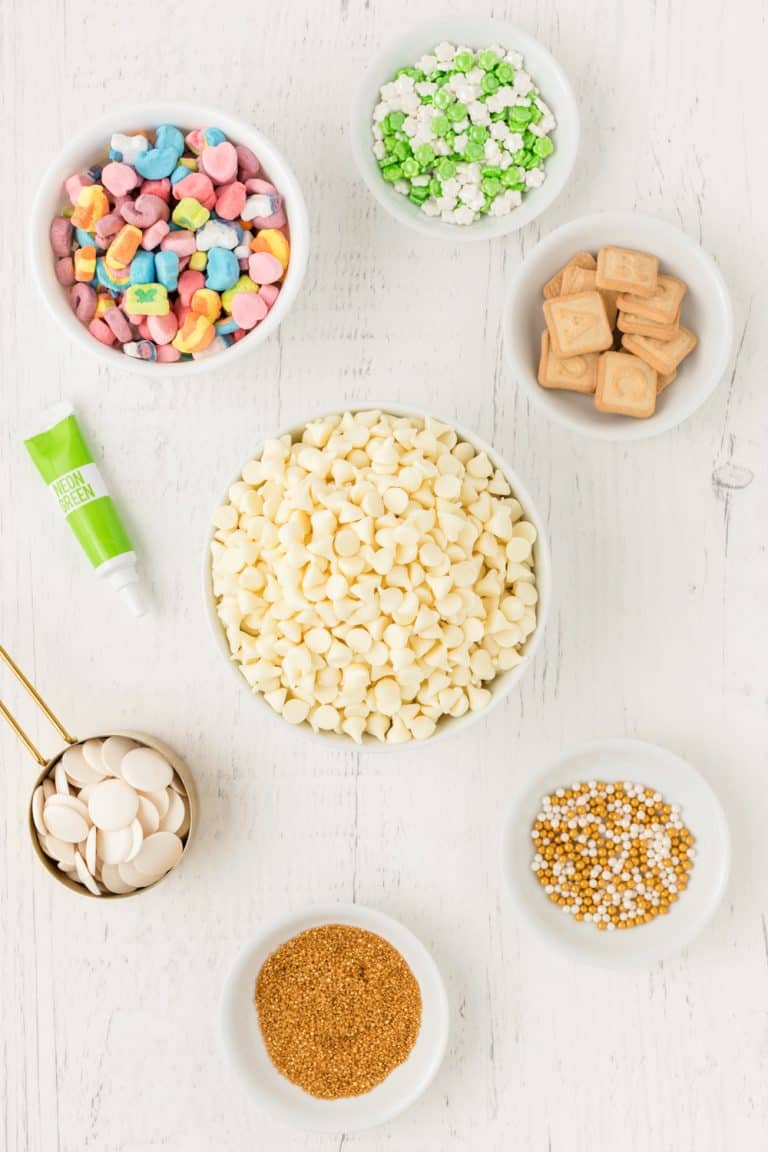 What do I need?
To make this Lucky Charms bark recipe, you will need these 5 ingredients:
white chocolate chips
white candy melts
neon green food coloring
Lucky Charms cereal marshmallows
Green and gold sprinkles
I also used alphabet cookies like these, but they're strictly optional. You will love this bark candy recipe either way!
For the marshmallows, you have two options. You can grab a bag of limited edition Lucky Charms "marshmallows only". Or you can use the marshmallows straight out of the box of Lucky Charms cereal. Just pour the cereal into one bowl and separate the marshmallow shapes into a second bowl. It's fun and takes less time than you think!
How do I make this?
It's easy to make this Lucky Charms Bark recipe in a few easy steps.
STEP 1. Melt the white chocolate chips
I put them in a glass bowl and melt them in the microwave. Stir the chocolate chips after every 30 second interval until they're smooth with no lumps.
STEP 2. Melt the candy melts
Use a separate smaller bowl for the candy melts. Melt them in the microwave just like the chocolate chips.
STEP 3. Add food gel
Start by squeezing two drops of the food coloring into the candy melts. Stir to incorporate the color. Add two more drops at a time until the candy turns the shade you like. I added about 14 drops in total for a nice neon green hue.
STEP 4. Pour into a baking pan
Transfer the melted white chocolate chips (the plain white chocolate) into a lined baking dish. Use a spatula to spread it evenly over the whole baking pan.
STEP 5. Decorate
Transfer the green candy melts into a ziploc bag. Make a tiny snip in one corner. Pipe the green candy over the white chocolate going back and forth to create a zig-zag shape.
Now scatter the marshmallows over the candy bark. If you're using alphabet cookies, add them now too. Finally, cover the Lucky Charms Bark with sprinkles.
STEP 6. Let set and EAT!
Transfer the baking sheet to the refrigerator. Let the white chocolate bark harden for about 45 minutes. Once it's set, break it into pieces and enjoy!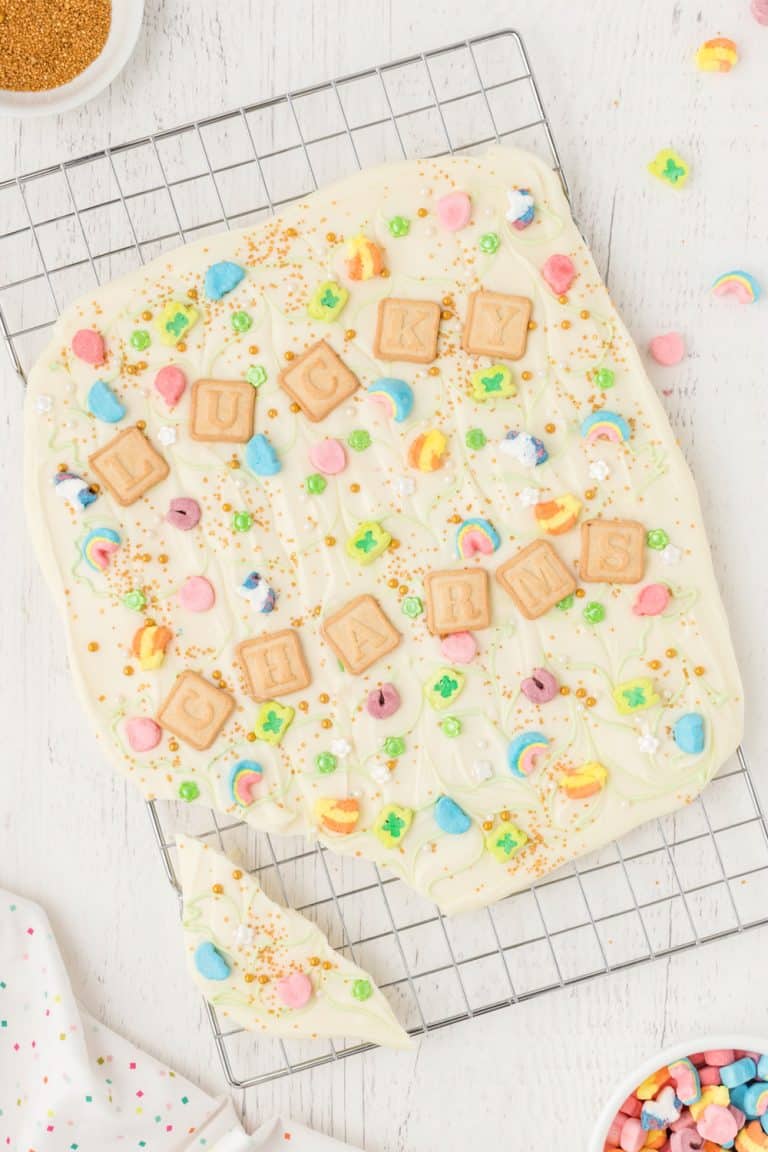 How do I store my Lucky Charms Bark?
You can store this Lucky Charms candy in an airtight container at room temperature for up to one week. For longer storage, keep it in the refrigerator or freezer.
Stored in the fridge, this candy stays good for about 3 weeks. It keeps well in the freezer for up to 3 months.
What substitutions can I make?
You can easily change up the color of this bark by using different colors of candy melts. Or add different colors of food gel! Once you know how to make the white chocolate bark, it's fun to change up the toppings too.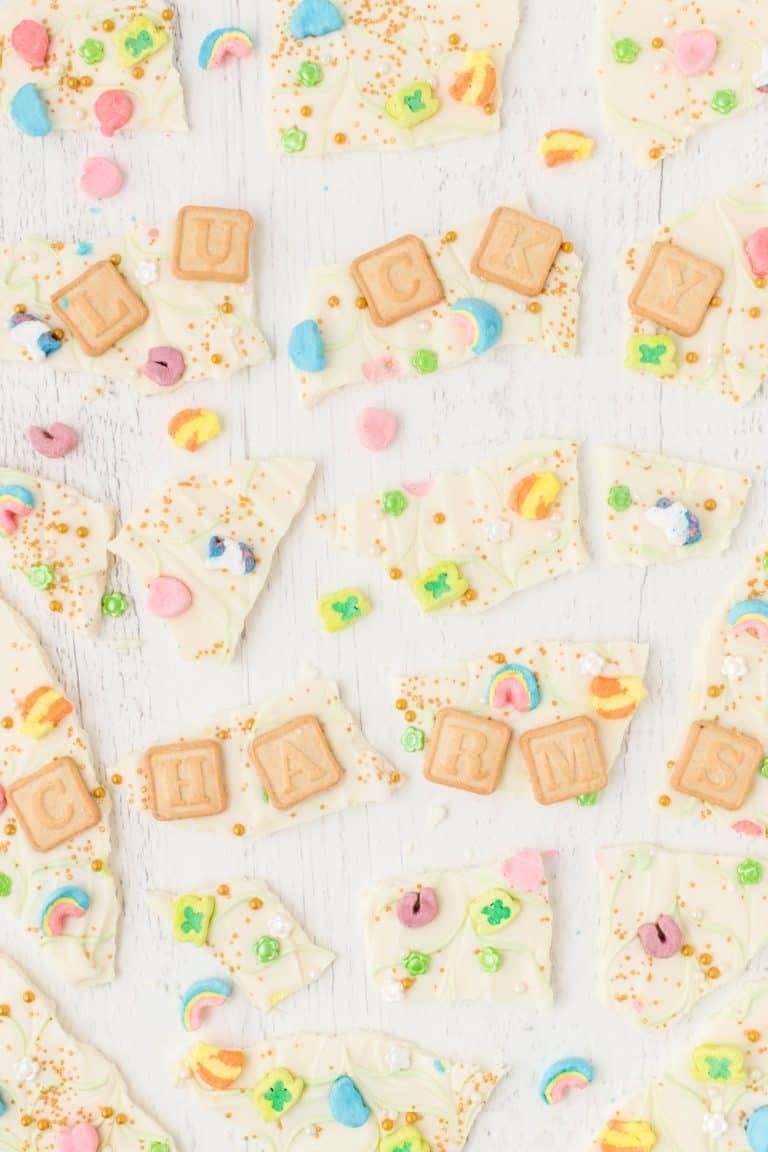 No Bake Desserts
Some of my favorite desserts require no baking at all, just like this Lucky Charms candy.
These Circus Animal Cookie Rice Krispie Treats are another brightly colored dessert made with cereal. Maybe I'll even try them with Lucky Charms one day! Cake Batter Krispie Bars are another variation my family requests all the time.
If you're looking for more green desserts, try my no-bake Chocolate Mint Dream Bars. They'd be a wonderful addition to St. Patrick's Day. So would these Irish Cream Dream Bars!
Make sure to browse through all of the no bake recipes I've shared on the blog. You're bound to find one to satisfy any craving.
No Bake Cherry Hot Chocolate Cheesecake
No Bake Chocolate Peanut Butter Cornflake Cookies
No Bake Pumpkin Dream Bars
No Bake Nutella Snickers Pie
No-Bake Blueberry Pie
No-Bake Lemon Cheesecake
No-Bake Chocolate Bourbon Balls
No-Bake Pumpkin Nutella Cheesecake
Chocolate Covered Strawberry Dream Bars
Lemon Meringue Rice Krispie Treats
Oreo Balls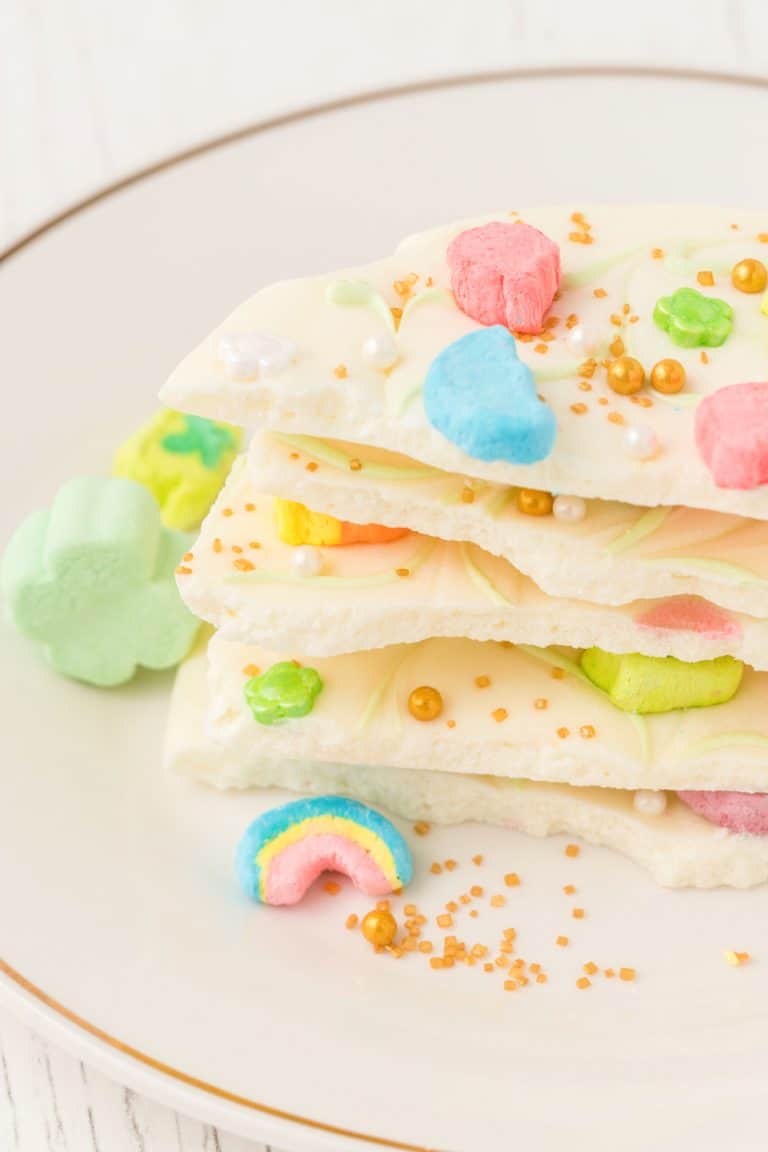 Make your St. Patrick's Day magically delicious with this whimsical and easy
Lucky Charms Bark Recipe!
Print
Lucky Charms Bark Recipe
Lucky Charms Bark is easy to make! White chocolate, sprinkles and colorful marshmallows make it the perfect bark candy recipe for St. Patrick's Day or anytime you want something magically delicious!
1 18 X 13-inch baking sheet

parchment paper

piping bag or storage bag

glass mixing bowls

rubber spatula

scissors
22

ounces

white chocolate chips

(2) 11 oz. bags

½

cup

white candy melts

14

drops

neon green food coloring

¼

cup

Lucky Charms cereal marshmallows

green and gold assorted sprinkles

Alphabet Cookies

optional
Cover an 18 x 13-inch baking sheet with parchment paper.

In a medium microwaveable bowl, melt the 22 ounces of white chocolate chips for 1 minute. Use a rubber spatula to stir. Place into the microwave to melt again for 30 seconds. Stir and repeat until chocolate is completely melted and smooth. DO NOT OVER HEAT because white chocolate will seize and cannot be undone. Cover the glass bowl with a plate or foil to trap the heat in the bowl and set aside.

Microwave the ½ cup of white candy melts in a small glass bowl in 30 second increments until smooth and completely melted, stirring in between.

Once melted, place 2 drops of neon green food coloring into the candy melts. Stir until completely blended. Continue to add 2 drops of food coloring and stirring until all 14 drops have been added.

Use a clean rubber spatula to transfer the green chocolate into a piping bag or storage bag. *SEE NOTE* Secure the bag and set aside.

With a clean rubber spatula, pour the bowl of melted white chocolate into the prepared 18 x 13-inch baking sheet and spread evenly, smoothing the surface.

Cut a very small hole in the tip of the piping or plastic bag. Pipe green lines over the white chocolate going back and forth. Once drawn, use a toothpick to create a marbling effect by dragging the toothpick through the lines.

Sprinkle the green and gold sprinkles over the chocolate.

Scatter the Lucky Charms marshmallows over the top. Add the Alphabet Cookies, if using.

Place the baking sheet into the refrigerator for 45 minutes to harden. Once set, remove and break into pieces.
To easily fill a pastry or plastic bag with the green chocolate, place the sealed end into a glass. Fold the opening edges over the rim of the glass, and pour in the melted chocolate. 
Serving:
1
person
|
Calories:
182
kcal
|
Carbohydrates:
20
g
|
Protein:
2
g
|
Fat:
11
g
|
Saturated Fat:
7
g
|
Polyunsaturated Fat:
1
g
|
Monounsaturated Fat:
3
g
|
Cholesterol:
7
mg
|
Sodium:
34
mg
|
Potassium:
90
mg
|
Fiber:
1
g
|
Sugar:
20
g
|
Vitamin A:
22
IU
|
Vitamin C:
1
mg
|
Calcium:
64
mg
|
Iron:
1
mg
*We are a participant in the Amazon Services LLC Associates Program, an affiliate advertising program designed to provide a means for us to earn fees by linking to Amazon.com and affiliated sites as well as ShareASale.
These are links that can take you to a product (or products) that I recommend. I do receive a portion of the sales or credit for my future purchases from any items purchased through those links. Your purchases encourage my baking, cooking and butter habit, and contribute to the life of this blog. I thank you so very much for your support. Let's keep having fun in the kitchen!!