A simple and delicious Grilled Romaine Caesar Salad elevated with some smoky crispy pancetta (or bacon), grilled lemon, and grilled baguette slices to sub for croutons. This grilled Caesar salad is the perfect side dish for your grilled meats or backyard BBQ and you're gonna love it!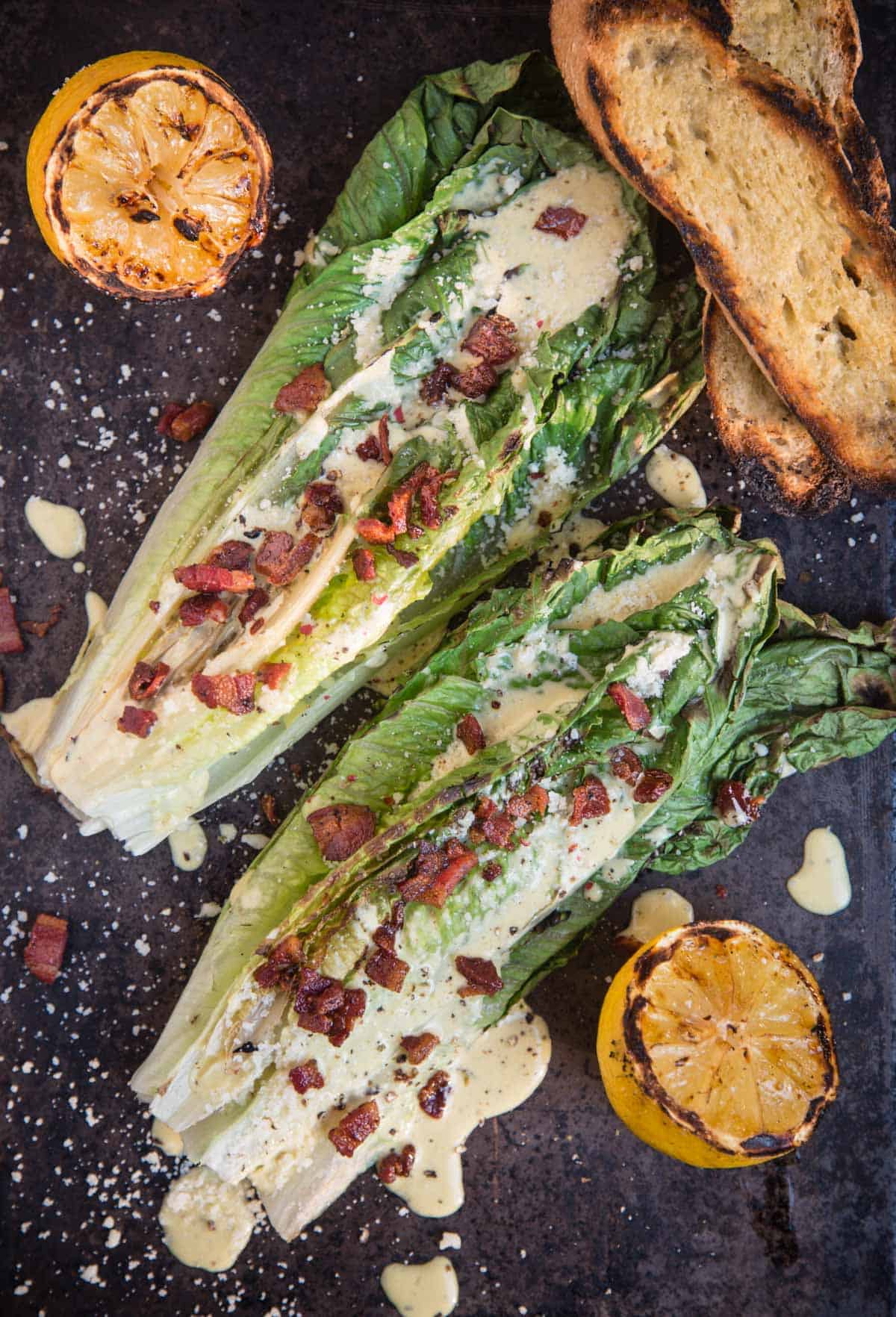 I'm a huge fan of grilled salads. It's one of the rare ways I can get that hubby of mine to indulge in salad. Otherwise he acts like I'm punishing him by serving him greens. But not with this one!
Grilled Romaine Caesar Salad Highlights
The lettuce will grill in minutes and can be served hot or cold
An easy way to make the dressing is in a food processor
Add protein like grilled chicken or grilled salmon to make a full meal
[feast_advanced_jump_to]
Video
Ingredients for Grilled Romaine Caesar salad
Fresh romaine is key for this grilled Caesar salad. Fresh hearts of romaine or the fresh bunch of romaine both work really well.
For the croutons go with a baguette or French bread. The goal is to grill it as a crouton.
For the Caesar Dressing the real flavor goal is to use anchovies or anchovy paste. If using fresh anchovies, use two. If using anchovy paste – start with 1 teaspoon. If you don't like either, you can also substitute Worcestershire Sauce. The rest of the dressing is the classic ingredients including egg yolk, lots of freshly grated Parmesan Cheese, grilled lemon juice, salt, and good olive oil. The full list of ingredients is in the recipe card.
Preparation
The whole thing comes together easily. It starts with making the Caesar Dressing, then grilling the romaine and ending with building the salad. Get the grill ready using a two-zone grilling set up and targeting 400 degrees F in the cooking chamber.
To start you want to make grilled lemons. The grilled lemon juice is going into your Caesar dressing, so it's best to do that first. I like to do the lemons and bread (for your "croutons") together, since the bread won't be served hot (though you can if you want to).
Cut the lemons in half and slice your baguette and coat the baguette lightly with olive oil.
Place those on the grill for a couple minutes per side. Stay close, these grill fast.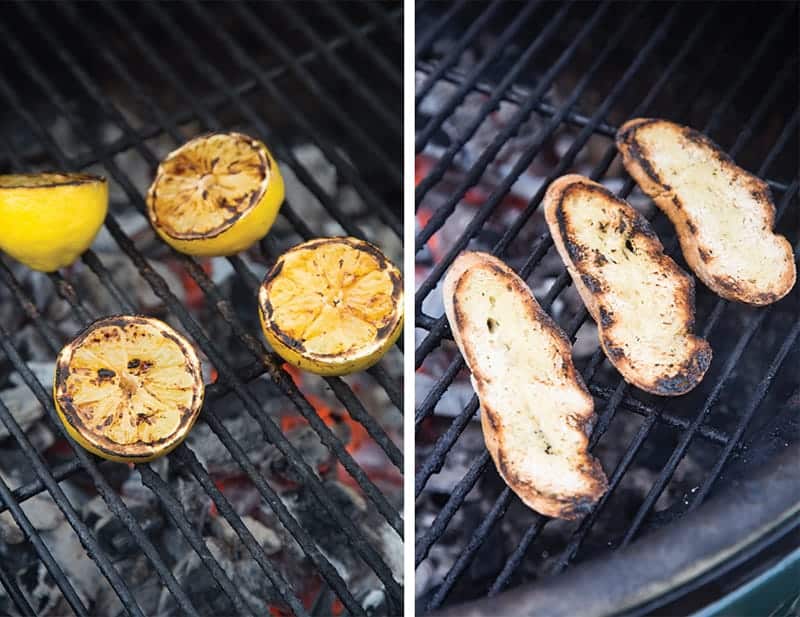 When they're done you can toss the romaine on.
How to Grill Romaine Lettuce
Start by rinsing and drying your romaine lettuce (if you didn't buy them pre-rinsed). Trim the stems then slice down the middle, lengthwise.
Place directly on the hot grill. No need to add oil, otherwise this could cause flare ups in your grill. Grill on direct heat only a couple minutes per side. That's all.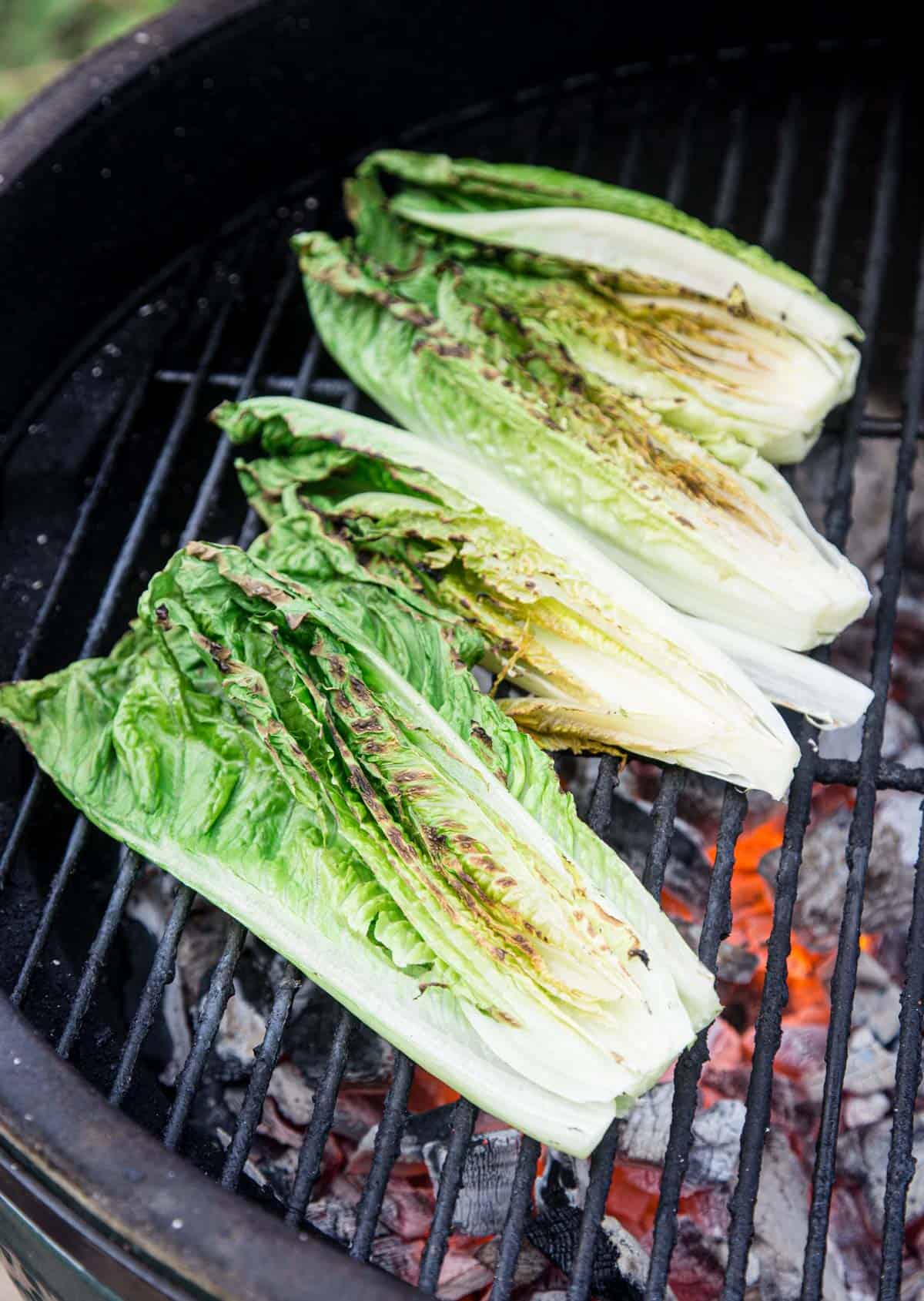 Next prep your creamy dressing (super simple, see below), then drizzle over those gorgeous grilled romaine hearts.
Caesar Dressing
Place the anchovies, garlic, salt, pepper, and parmesan cheese in the food processor and grind until they turn into a paste. Then add the wet ingredients (the grilled lemon juice, egg yolks, Dijon mustard, and olive oil). Blend on low until it emulsifies. This will take at least a minute, on low.
The texture should be thick. If it's too thin add more cheese. If you taste too much oil, add cheese and Dijon.
Modifications to Grilled Romaine Caesar Salad
Well for starters, crispy bacon or pancetta is a no brainer! So good.
You've gotta sprinkle on some shaved or grated Parmesan of course.
Grilled chicken is a fantastic protein.
Grilled salmon works wonders too.
You can also use tomatoes & basil, like our Grilled Romaine Lettuce with Tomatoes & Basil.
The options are endless.
We love this as a side dish or starter, or as a full meal if you add one of those recommended proteins.
Frequently Asked Questions
How do you make a Caesar Salad on the grill?
Using dry romaine lettuce and high heat, grill the lettuce direct for a good char and then add your favorite Caesar salad dressing. Be sure the lettuce is dry so it doesn't wilt.
How do you wash romaine before grilling?
Using the two halves of the romaine hears, rinse under cold water and pat dry. If you have a salad spinner, add two hearts at a time and then spin until dry.
What's a good substitute for anchovies in Caesar dressing?
If you can't find or don't want anchovies, use anchovy paste. If you don't want anchovy paste you can use Worcestershire sauce.
Wine Pairing for Caesar Salad
The key characteristics in the dish are the lightly charred notes on the romaine, as well as the bright acidity in the dressing balanced with the creamy texture. Don't get all freaked out about the anchovies, as there are only 2 in this dressing, and they provide more of a mildly salty and savory note rather than anything fishy. Believe me!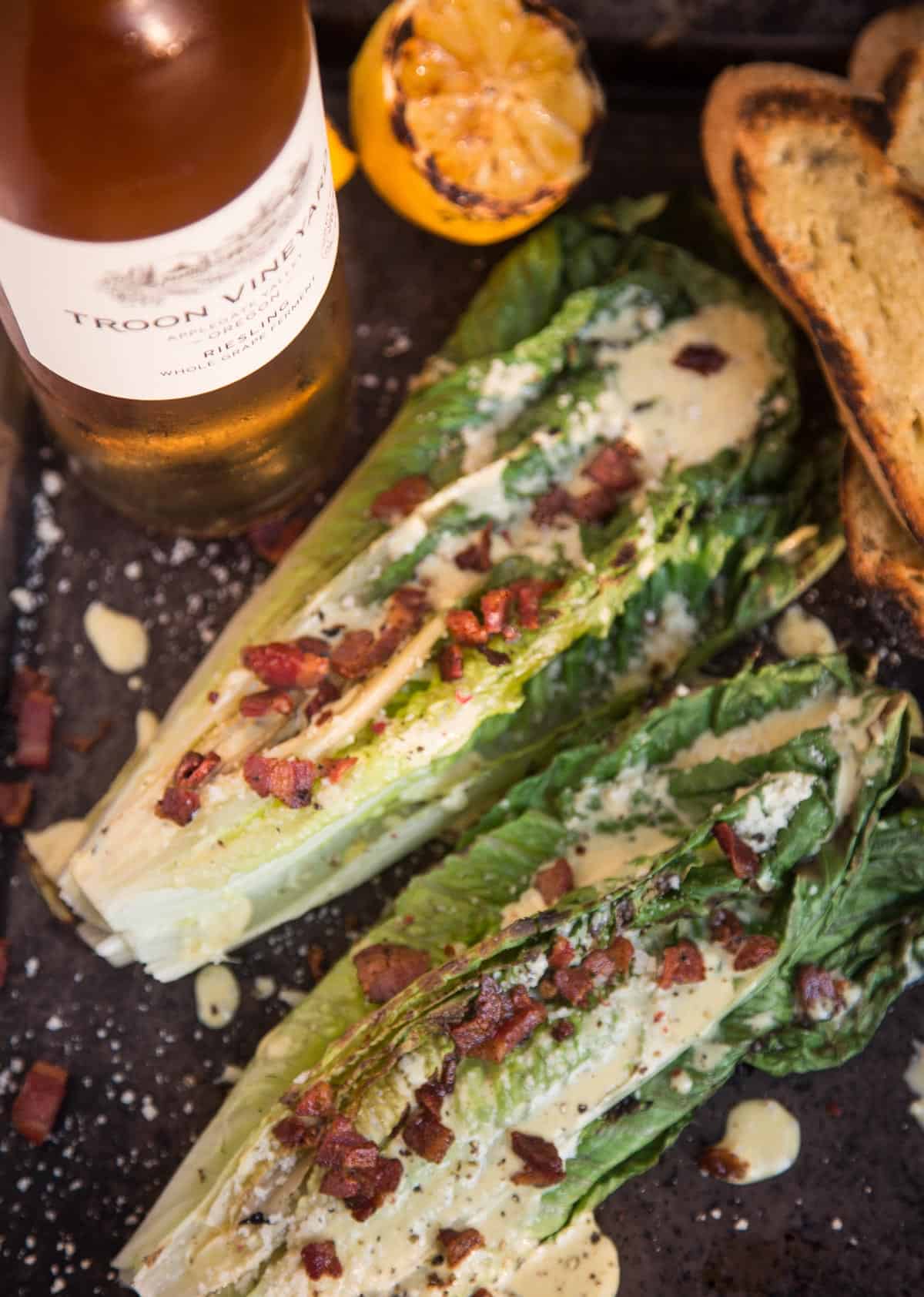 For this particular meal we paired this dish with a very unlikely candidate. A Riesling. Ideally a dry riesling is best to match the acidity and char from the dressing and grill flavor. Be sure to check out some great options in our online wine marketplace.
Other options include:
For the Chardonnay lover: look for a lightly oaked chardonnay or one in stainless steel. Chablis would be deeeelicious. Just don't go for something too heavily oaked.
For branching out: Gavi, or other northern Italian white would work too. They tend to have bright acidity and lemon notes that would be a great match. You can also sneak in some Prosecco Superiore as well.
---
*This recipe was first published in August of 2018 and updated in June of 2022 with recipe steps, FAQ, and alternatives to ingredients.
If you like this recipe we'd truly appreciate it if you would give this recipe a star review! And if you share any of your pics on Instagram use the hashtag #vindulge. We LOVE to see it when you cook our recipes.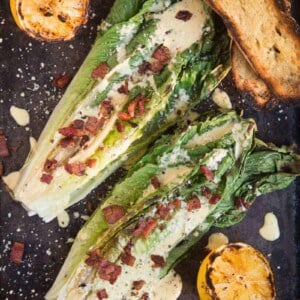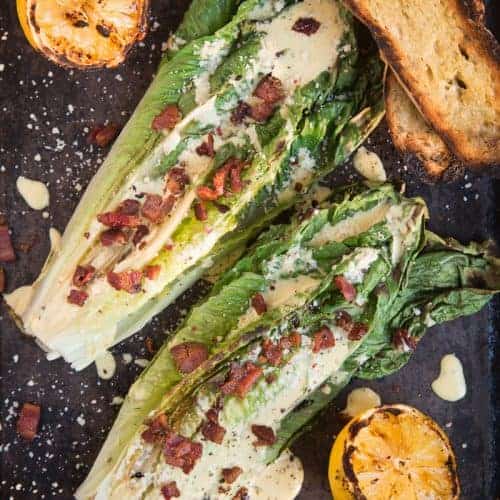 2

hearts of romaine,

sliced in half lengthwise

2

lemons,

cut in half

½

baguette,

(we use gluten free) sliced on a bias in ¼ inch slices

extra virgin olive oil
For the Grilled Lemon Caesar Dressing:
2

anchovies

2

garlic cloves

½

teaspoon

kosher salt

½

teaspoon

coarse black pepper

3

tablespoons

grated parmesan cheese

¼

cup

grilled lemon juice

(approx 1 large lemon)

2

egg yolks

½

teaspoon

Dijon mustard

½

cup

extra virgin olive oil
Optional toppings:
Parmesan Cheese

Crispy pancetta or bacon

Grilled Chicken

Grilled Salmon
Preheat grill for indirect cooking using two-zone grilling method. Target 400 degrees F in the cooking chamber.

Drizzle bread with olive oil (a light coating).

Place the romaine hearts, lemons, and baguette slices on the grill on direct heat and cook approximately 2 minutes per side, flipping often. Stay close, these will all cook at slightly different times. Remove when the bread has a nice toast, the lemons have darkened and have a nice char (see pictures), and the romaine has a nice char (but not burnt).

Remove from grill. Serve with the Grilled Lemon Caesar Dressing, parmesan cheese, and optional proteins (we vote for crispy bacon or grilled chicken).
To make the Dressing:
Place the anchovies, garlic, salt, pepper, and parmesan cheese in the food processor and grind until they turn into a paste. Then add the wet ingredients (the grilled lemon juice, egg yolks, Dijon mustard, and olive oil). Blend on low until it emulsifies. This will take at least a minute, on low.
Serving size: serve a half of a romaine wedge per person.
The dressing yields 1 cup.
Chef's Tip: Be sure the romaine is DRY before grilling. If wet or if oiled it will wilt because it takes longer to cook. You want it dry so it simply chars.
Alternatives to anchovies: If you don't like anchovies, use anchovy paste (1 teaspoon), or Worcestershire (1 teaspoon) sauce.
Find the perfect wine pairing at the Vindulge Wine Shop
Calories:
399
kcal
|
Carbohydrates:
25
g
|
Protein:
7
g
|
Fat:
32
g
|
Saturated Fat:
5
g
|
Polyunsaturated Fat:
4
g
|
Monounsaturated Fat:
21
g
|
Cholesterol:
102
mg
|
Sodium:
569
mg
|
Potassium:
306
mg
|
Fiber:
4
g
|
Sugar:
4
g
|
Vitamin A:
5101
IU
|
Vitamin C:
38
mg
|
Calcium:
121
mg
|
Iron:
3
mg
---
The post Grilled Romaine Caesar Salad (recipe and video) appeared first on Vindulge.