Baked Cinnamon French Toast is a delicious make ahead breakfast packed with sweet cinnamon sugar flavor. Turn day-old French bread into the perfect weekend breakfast with this easy French toast bake recipe!
The cinnamon crumb topping elevates simple French toast casserole to incredible heights!
Assemble it the night before, then pop it in the oven the next morning for a hot, homemade breakfast.
It's an easy breakfast recipe that's perfect for Christmas morning, a holiday brunch or any special occasion. I'm sure mom would even love it for Mother's Day!
Classic French toast was my son's all time favorite breakfast when he was growing up and he still really loves it along with this Loaded Huevos Rancheros recipe.
SAVE THIS EASY OVERNIGHT FRENCH TOAST RECIPE TO YOUR FAVORITE PINTEREST BOARD!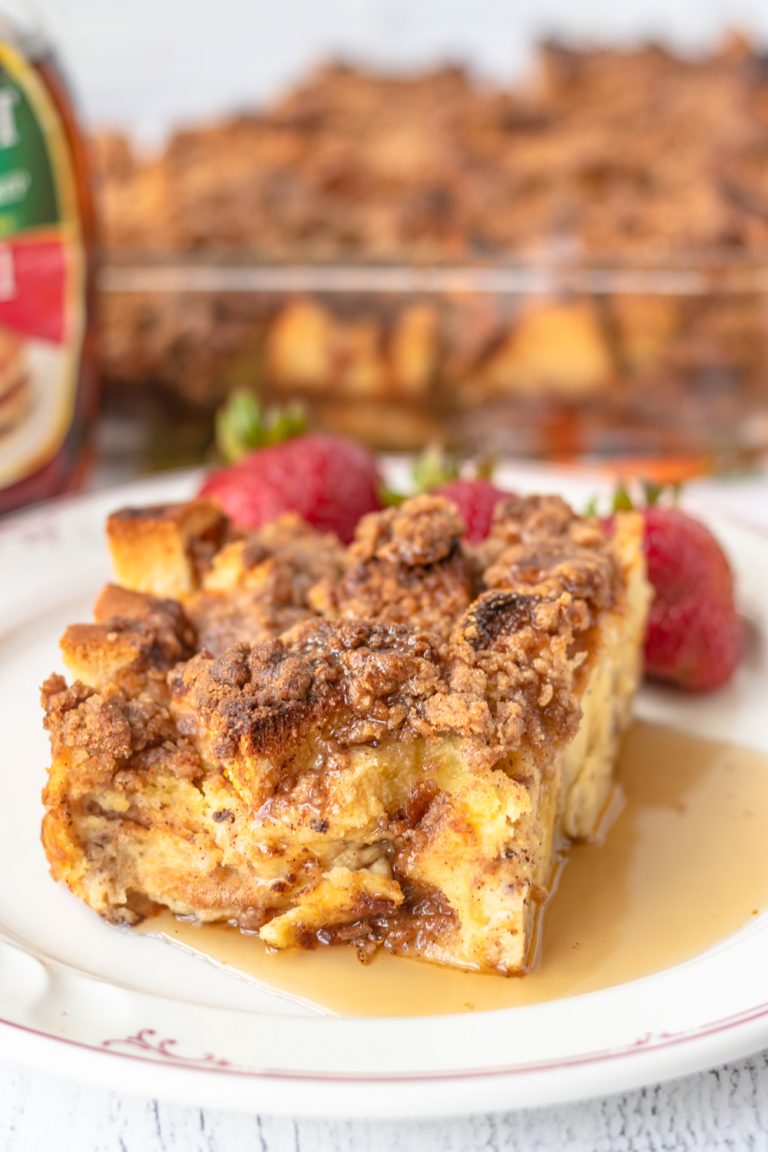 But, you might be wondering: why bake French toast?
As a busy mom, I usually didn't want to stand over the stove on a Saturday morning making individual slices of French toast. All the dredging and flipping seemed to take an eternity and by the time I could sit down to eat everyone else was long finished.
French Toast Casserole is baked in the oven instead! It has all the delicious flavor of classic cinnamon French toast, only with far less work. It's an easy recipe and everybody gets to eat at the same time.
The best part about this baked cinnamon French toast recipe is that you can prep it the night before. That means so much less hassle in the morning.
Let it bake while you brew a pot of coffee and you're ready for an amazing start to your day!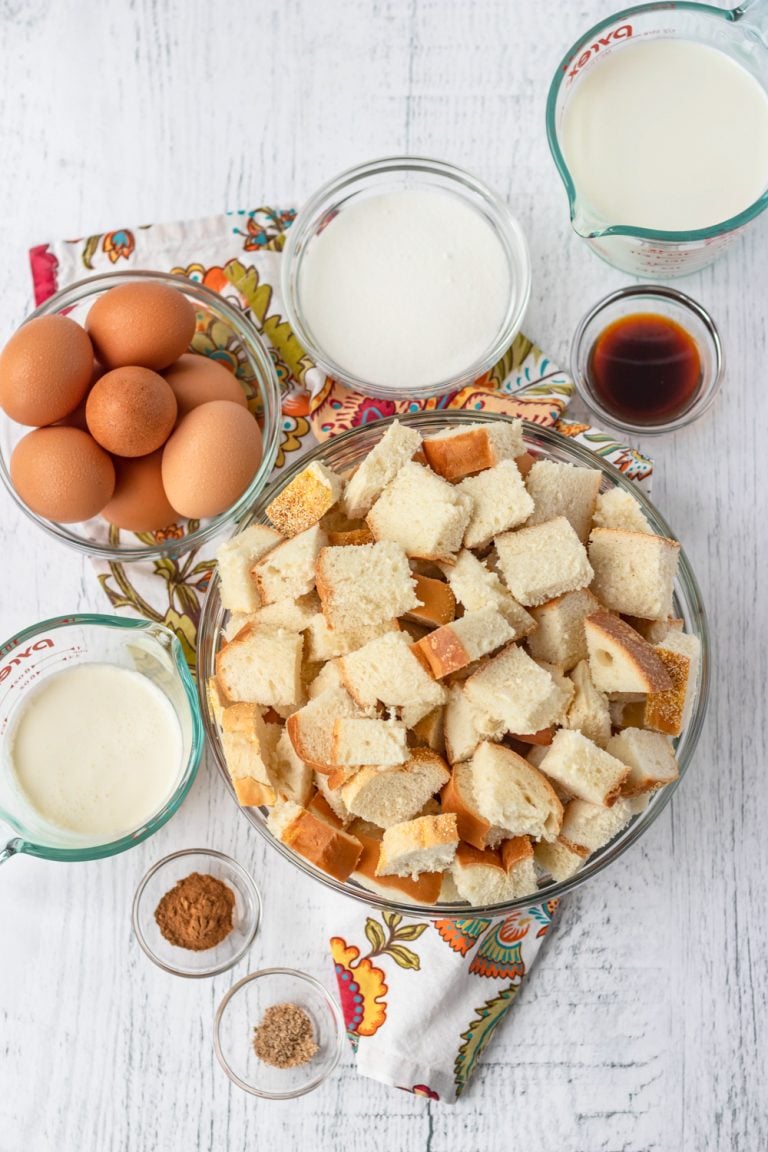 What do I need?
I use these ingredients to make overnight French toast.
Bread – Use a loaf that is a day old or slightly stale.
Eggs
Milk
Heavy cream
Vanilla extract
Cinnamon
For that irresistible cinnamon topping, you'll also need . . .
Cinnamon
Brown sugar
Flour
Butter – Make sure it's COLD straight from the fridge.
Salt.
What is the best bread to use for cinnamon French toast casserole?
Baked French Toast Casserole tastes best made with sturdy, quality bread. French baguettes, sourdough bread or a rustic Italian style bread are the perfect choices!
Challah and brioche are two more great choices for an easy French toast casserole.
A soft bread, like that store bought white loaf of bread called Wonderbread won't work well in a baked French toast recipe because it will get soggy and soupy.
Slightly stale bread is better than fresh bread for perfect French toast texture. As it soaks up the milk mixture, it softens without getting soggy.
How do I make it?
Making French toast in the oven is even easier than making it on the stove.
Start with cubes of bread and place them in a well buttered casserole dish.
Whisk together the remaining ingredients for the French toast (not the topping). Pour the mixture over the bread cubes.
Now combine the ingredients for the topping in a separate bowl.
From here you have two choices: you can bake the French toast it right away OR for the best results, let it chill overnight.
For overnight French toast, cover your baking dish tightly with foil or plastic wrap, and put it in the refrigerator. Store the topping mixture separately in a plastic bag or make it the morning of.
When you're ready to bake French toast, sprinkle the cinnamon streusel topping over the casserole. Bake at 350° F for a cooking time of 45 – 60 minutes.
The longer you bake it the more "well done" the French toast will taste. For a softer consistency that's similar to bread pudding, take it out of the oven closer to the 45 minute mark.
Serve with plenty of maple syrup or even some cream cheese icing for French toast heaven that the whole family will enjoy!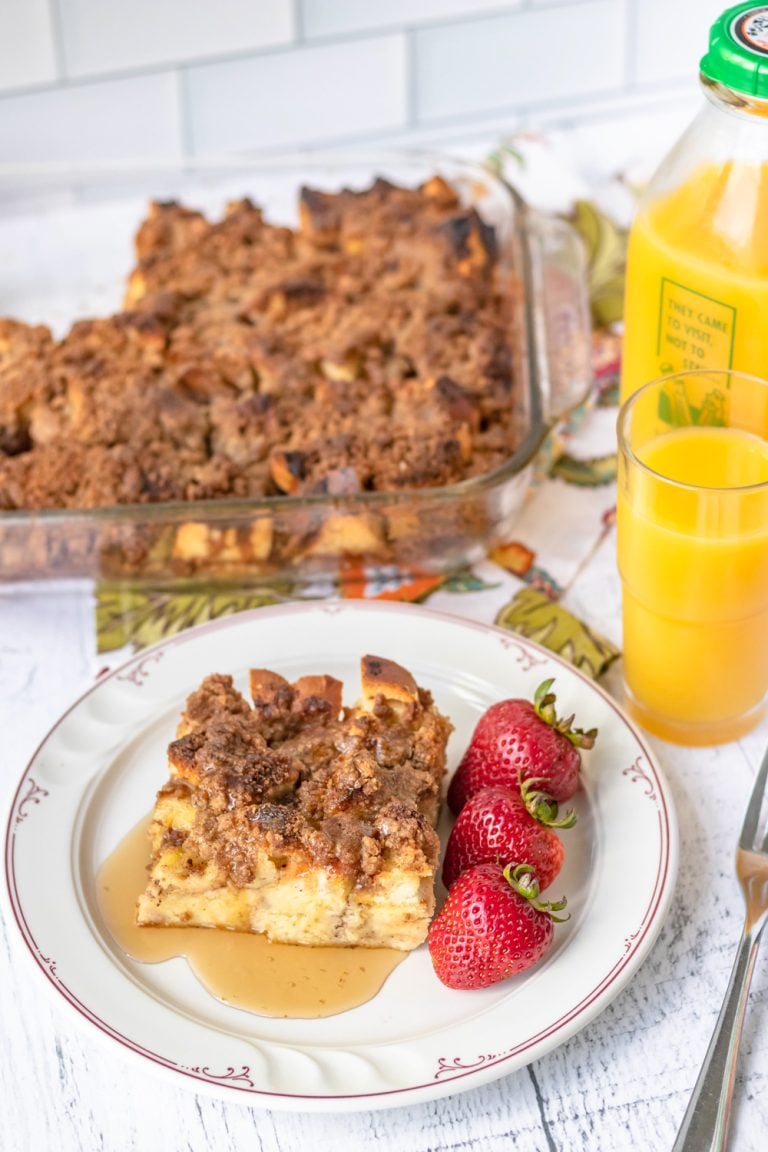 Baked French Toast Recipes
Once you find out how easy it is to make French Toast recipes in the oven, you'll want to try ALL the variations!
This Easy Peaches and Cream French Toast Bake is another family favorite. The juicy peach flavor in the buttery French toast reminds me of a peach pie, but for breakfast! If you like fruit in French toast, don't miss out on our Blackberry Baked French Toast and our Blueberry French Toast Bake too.
We loved that blueberry version so much, I made it again with cream cheese! And I can't mention berries without remembering how delicious this Almond Berry French Toast Casserole turned out.
For a breakfast casserole that doubles as dessert, this Easy Chocolate Croissant Baked French Toast is a clear winner. I mean, croissants and chocolate? I'm in.
Here are few more baked French Toast casserole recipes my readers rave about:
Pumpkin Spice Baked French Toast – Perfect for autumn weekends.
Peanut Butter and Jelly French Toast Casserole – The classic sandwich baked in a casserole!
Eggnog French Toast with Maple Butter – A decadent holiday breakfast.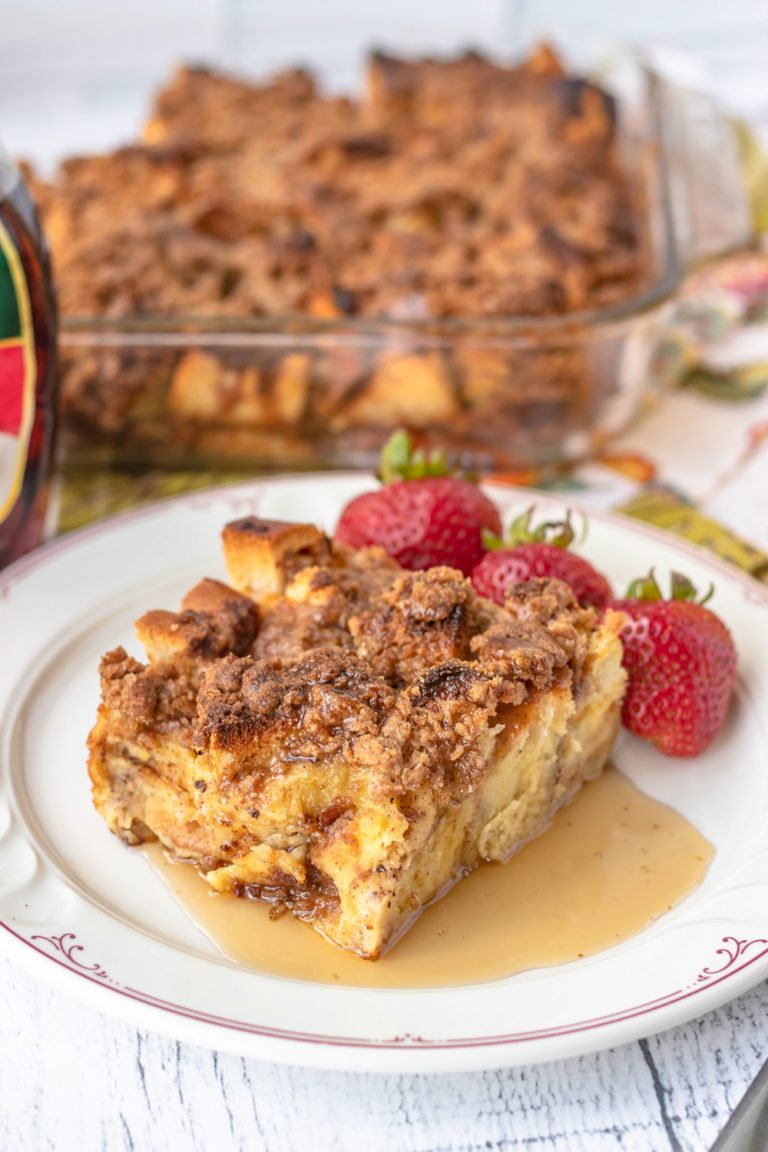 Breakfast Recipes
With all of those French toast recipes on the site, you might assume that's all I make! I promise you I have a ton of other impressive and easy breakfast recipes for you. Although my son would be pretty happy if French Toast WAS all I made!
From the savory to the sweet, these dishes are worth waking up for!
Mexican Breakfast Casserole
Blueberry Bagel Breakfast Bake Recipe
Baked Blueberry Oatmeal
Strawberry Cream Muffins
Baked Blueberry Waffles
Cinnamon Peach Pancakes
Chocolate Cherry Pancakes
Lemon Poppy Seed Dutch Baby (aka German Pancake)
Dairy-Free Lemon Poppy Seed Waffles
French Breakfast Puffs
Baked Apple Cinnamon Pancake
Easy Almond Banana Overnight Oats
~ FOLLOW ME on SOCIAL MEDIA ~
~ FACEBOOK ~ PINTEREST ~
~ INSTAGRAM ~ TWITTER ~
SIGN UP FOR THE WEEKLY
365 DAYS OF BAKING & MORE 
NEWSLETTER BELOW!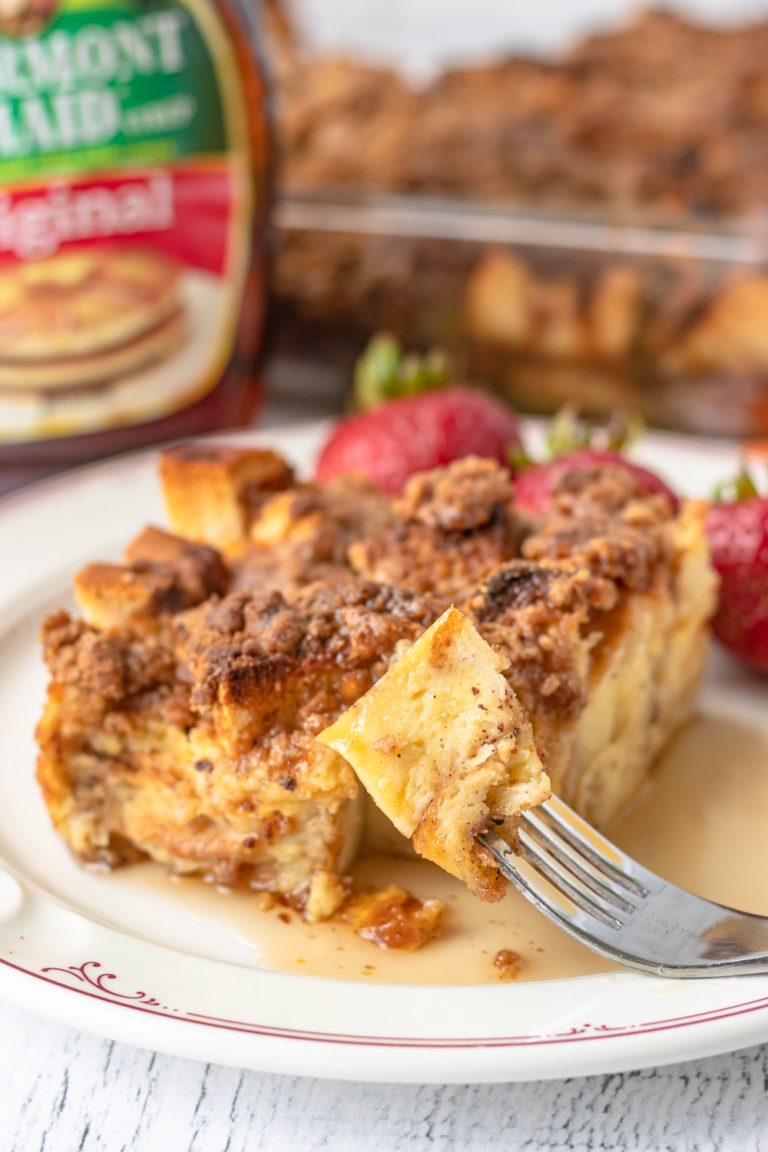 A crispy cinnamon topping and soft, sweet morsels of bread make this Cinnamon French Toast Bake a breakfast favourite!
Print
Baked Cinnamon French Toast
Baked Cinnamon French Toast is an easy and delicious french toast breakfast prepared the night before then baked with a cinnamon topping the next morning. It's a meal everyone will enjoy waking up to!
Cinnamon Topping
½

cup

flour

½

cup

packed light brown sugar

1

teaspoon

cinnamon

¼

teaspoon

salt

½

cup

butter

chilled
The night before you want to bake and serve this French toast, prepare a 9 X 13-inch baking dish by generously greasing it with butter.

Cut the loaf of French bread into 1-inch cubes and place into baking dish, spreading evenly.

Into a medium bowl, break open the eggs.

Add the milk, heavy cream, sugar, vanilla and cinnamon. Mix well to combine.

Pour the mixture evenly over the bread.

Cover the baking dish tightly with plastic wrap and place in the refrigerator overnight.

The topping can be prepared either the night before and placed in the refrigerator in a plastic bag or made the morning of baking which is what I did.
Cinnamon Topping
In a small bowl, combine flour, brown sugar, cinnamon and salt.

Cut butter into pieces and add to bowl.

With a pastry cutter, cut butter into dry ingredients until mixture resembles course meal.

Place in bag to store in refrigerator overnight or place on French Toast the morning you bake it.
To Bake
Preheat oven to 350 degrees F.

Remove baking dish from refrigerator and uncover.

Distribute cinnamon topping evenly over french toast.

Prepare a baking sheet by covering it with foil and place the baking dish on top to help prevent any overflow onto the floor of your oven. It will expand when it bakes, but deflates as it cools.

Bake for 45-60 minutes depending on how well you want it cooked. 45 minutes and you will have a softer, bread pudding-like texture or 60 minutes for a drier and firmer dish.
Serving:
1
g
|
Calories:
343
kcal
|
Carbohydrates:
44
g
|
Protein:
8
g
|
Fat:
15
g
|
Saturated Fat:
8
g
|
Polyunsaturated Fat:
1
g
|
Monounsaturated Fat:
4
g
|
Trans Fat:
0.3
g
|
Cholesterol:
141
mg
|
Sodium:
357
mg
|
Potassium:
114
mg
|
Fiber:
1
g
|
Sugar:
24
g
|
Vitamin A:
542
IU
|
Vitamin C:
0.1
mg
|
Calcium:
56
mg
|
Iron:
2
mg
This post was originally published on 2/5/2012. It has been updated in format and with pictures on 6/29/22.
The post Baked Cinnamon French Toast appeared first on 365 Days of Baking.