Wendy's is known for their fresh burgers, chili, and many other great menu items. Here is my version of Wendy's Apple Pecan Salad with chicken, cranberries, and blue cheese.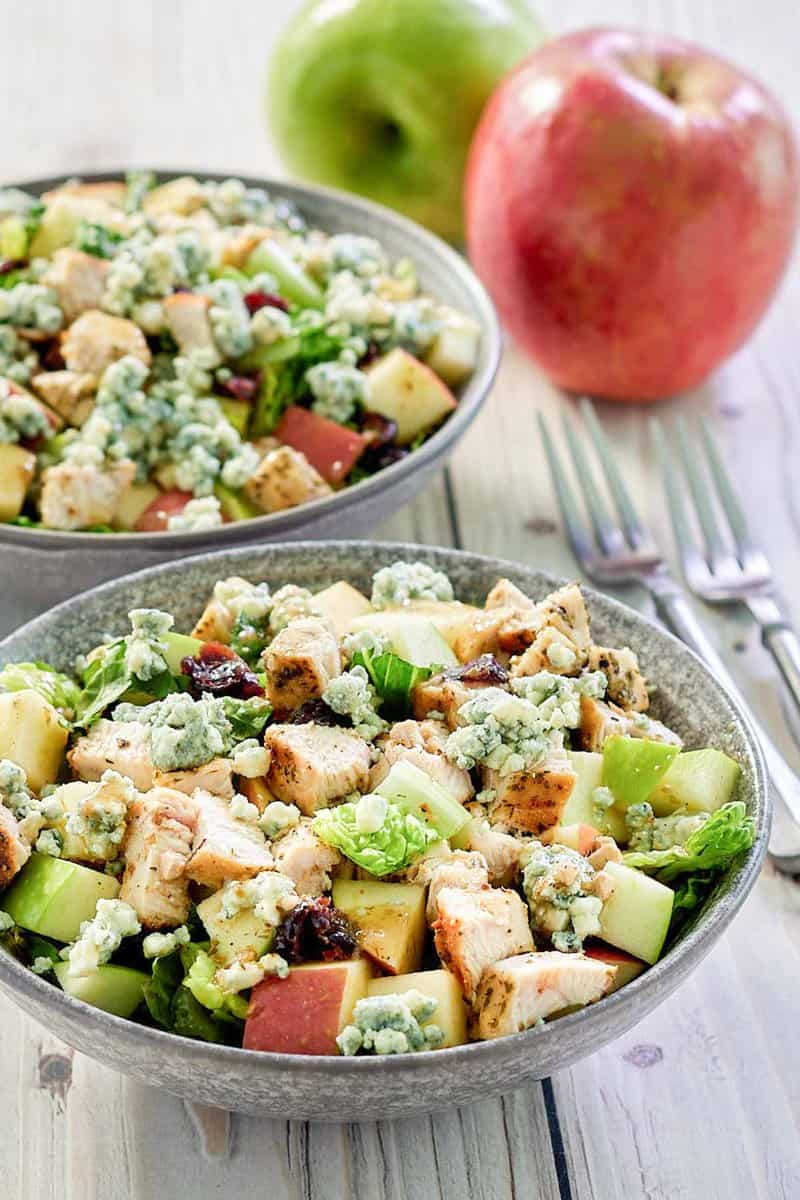 This post contains affiliate links. As an Amazon Associate, I earn from qualifying purchases.
Chicken Apple Pecan Salad
I love a great hearty salad. This is a wonderful fresh salad from Wendy's to enjoy at home when you prepare it yourself. You can even take a couple of extra steps to make this salad taste just a little bit better when you make it in your own kitchen.
Wendy's apple pecan chicken salad is perfect for fall when apples are crisp, juicy, and in season. Both sweet and tart apples are in this salad for a great balance of flavor. It's an extraordinary salad with crisp greens, tender chicken, fresh apple chunks, crunchy pecans, sweet cranberries, and tangy blue cheese crumbles.
Why Wendy's Apple Pecan Salad Is Perfect for Summer
When the weather warms up, this is the kind of light, refreshing meal most people crave. This dish's combination of seared chicken, sweet and tart cranberries and apples, crunchy pecan, and pungent blue cheese over leafy greens is deliciously addictive.
Enjoy as a dinner salad and satisfy your hunger without weighing you down.
Wendy's Apple Pecan Salad Ingredients
To make this copycat chicken apple pecan salad, you'll need:
Chicken breast, boneless and skinless
Vegetable oil or canola oil
Sea Salt
Ground black pepper
Garlic powder
Parsley flakes
Romaine lettuce
Fresh Spinach
Dried cranberries
Red apple
Green apple
Blue cheese
Roasted Pecans
Ingredient Notes
I like to use organic meats and vegetables when I can. Wendy's Apple Pecan Salad is the perfect salad to do this. I recommend using organic chicken and organic apples in this recipe. You can buy organic meats and fruits at many stores, heck, even Walmart sells organic items now.
For the apple pecan salad base blend, you could use packaged spring mix salad greens. Or you can save some money by buying romaine and washing it yourself, and cutting it. Romaine lettuce is very easy to work with, so it is easy to do.
How to Make Wendy's Apple Pecan Salad
To make the Apple Pecan Salad from Wendy's:
Cook the chicken:
Prepare the seasoning for the chicken by combining salt, ground black pepper, dried parsley flakes, and garlic powder in a bowl. Set aside.
Blot a skinless, boneless chicken breast dry using a paper towel.
Sprinkle the seasoning mixture on both sides of the chicken breast. Use your hands to press the seasoning onto the chicken gently. Set aside.
Heat a heavy-bottomed skillet or grill pan over medium heat. Use cast iron to get the best sear.
Add a little oil to the cooking surface.
Place the chicken breast in the hot pan.
Let the first side cook for 5 to 6 minutes. Flip the chicken and cook for 4 to 5 minutes more.
Use a meat thermometer to check the temperature. Remove the chicken when the center reaches 160°F. Taking the chicken off the heat when it is still a few degrees undercooked allows for carry-over cooking and prevents the chicken from drying out.
Place the cooked chicken breast on a wire rack on a baking tray to cool while preparing the salad.
To finish the salad:
Rinse the lettuce and spinach in a colander, and spin dry.
Divide the leafy greens between two serving bowls.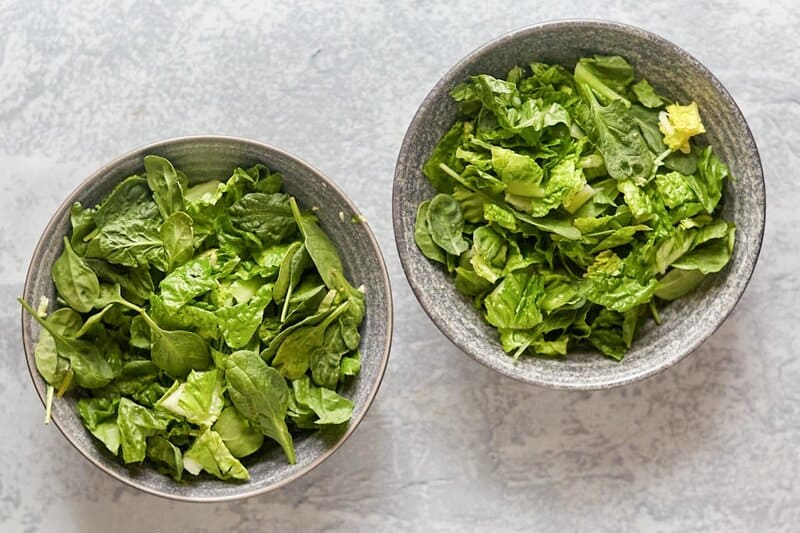 Dice the cooled chicken breast into bite-sized pieces.
Sprinkle half of the diced chicken, dried cranberries, apples, pecans, and blue cheese on top of the greens in each bowl.

Drizzle the salads with the dressing of your choice.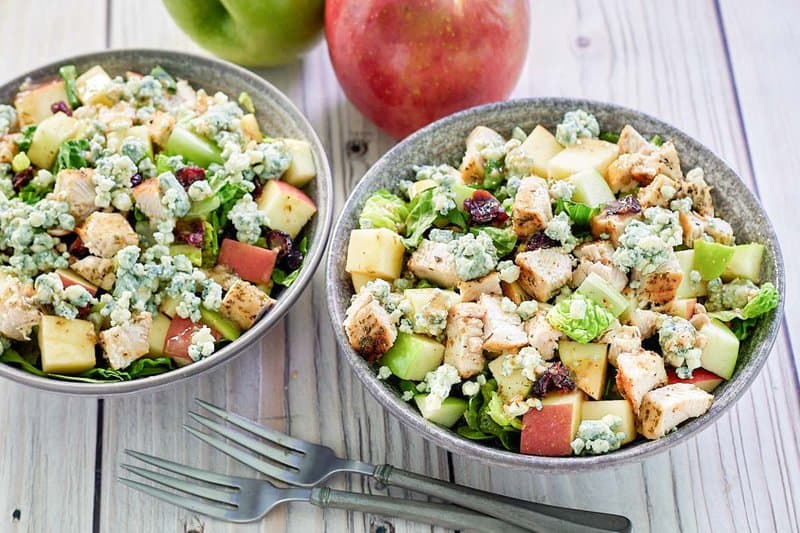 Recipe Notes
Some ways you can enhance the salad:
Toast the pecans in a skillet until they become fragrant. This will really help the flavor come through and make a nice crunch.
Use a nice quality blue cheese to make this salad simply delicious.
Add some cayenne pepper and paprika to the seasoning to make spicy chicken breasts.
Add some sliced shallots or sweet onion.
Substitute the blue cheese with feta cheese.
You can also chill the bowls you are going to serve the salad in to add a little extra touch.
Possible Recipe Variations
Switch out the regular pecans for candied pecans for extra sweetness to balance the tartness of the green apples.
Use store-bought rotisserie chicken to save time.
Turn the recipe into a chopped salad by cutting each ingredient into small dice and tossing them together.
Make the best chicken salad sandwich you have ever eaten. Finely dice the chicken breast, dried cranberries, apples, blue cheese, and pecans. Mix with just enough mayonnaise to hold the ingredients together. Serve on toasted whole-grain bread with spinach and lettuce.
Wendy's Apple Pecan Salad Dressing
When it comes to the pomegranate salad dressing that Wendy's serves with this salad, you can buy some Marzetti Simply Dressed Pomegranate Vinaigrette Dressing.
Or make pomegranate dressing by combining 1/4 cup pomegranate juice, 1/4 cup avocado or extra virgin olive oil, 2 tablespoons of balsamic vinegar, 1 tablespoon of honey or maple syrup, and 1 teaspoon of Dijon mustard. Whisk or shake until well blended.
What To Serve With Chicken Apple Pecan Salad
The Apple Pecan Salad from Wendy's is perfect as a light meal by itself, but a slice or two of good warm bread makes it even more filling.
Serve the salad with either a pomegranate dressing or your favorite dressing. Homemade or store-bought balsamic vinegarette is a good choice. If you have the time, making warm bacon dressing makes this salad even more impressive.
To make bacon dressing:
Combine two tablespoons of bacon drippings, two tablespoons of red wine vinegar, two teaspoons of sugar, and a teaspoon of Dijon mustard in a small bowl over medium heat.
Whisk the ingredients together and bring to a simmer just until the sugar dissolves.
Remove the dressing from heat, and let cool slightly before using.
You could also make a quick homemade herbed vinaigrette. I make these by combining 1 part white wine vinegar, and 2 parts oil, and adding salt, pepper, and other dried herbs.
No matter what dressing you top this salad with you are going to enjoy this salad when it is made in your own kitchen.
How To Store Leftover the Copycat Apple Pecan Salad From Wendy's
You can cook the chicken breast in advance to save time when preparing the salad. The cooked chicken will last in the fridge for two to three days if you wrap it well in plastic. It is best to prepare the other salad components immediately before using them for the salad.
Love Wendy's? Try these copycat recipes!
Best Salad Dressing Recipes
Be sure to check out more of my easy salad recipes and the best fast food copycat recipes.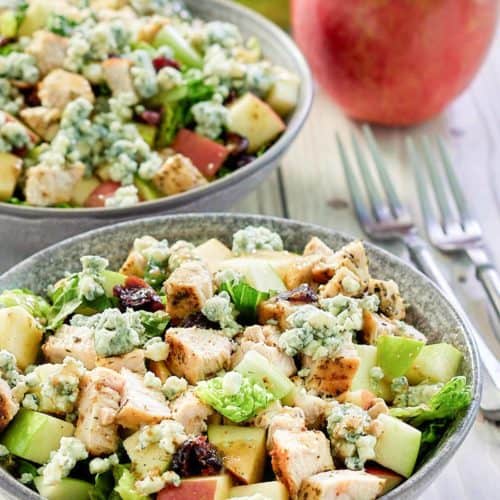 Print
Add to Collection Go to Collections
Wendy's Apple Pecan Salad with Chicken
You can recreate Wendy's Apple Pecan Salad at home with this recipe.
Chicken
15

ounces

chicken breast

1/4

teaspoon

salt

1/4

teaspoon

ground black pepper

1/4

teaspoon

garlic powder

1/4

teaspoon

parsley flakes

2

teaspoons

vegetable oil
Salad
16

ounces

Romaine lettuce

6

ounces

spinach

4

tablespoons

dried cranberries

(you can use Craisins)

1

red apple

chopped

1

green apple

chopped

1/2

cup

blue cheese

2

tablespoons

chopped pecans
For the chicken:
Use a paper towel to blot away excess moisture from the chicken breast.

In a small bowl combine salt, pepper, garlic powder, and parsley flakes.

Sprinkle the spice mixture on both sides of your chicken.

Heat a skillet over medium heat, I like to use cast iron as it helps meat brown beautifully.

Add oil to the pan and let it get hot.

Place chicken into the skillet, and cook for 4 to 6 minutes on each side. You can use a meat thermometer to make sure the chicken is fully cooked (internal temp is 165°F).

Remove the chicken from the skillet and place it on a plate to rest while you make the rest of your salad.
For the salad:
Wash the lettuce and spinach, and divide the salad greens between two bowls.

Build each salad by adding equal portions of dried cranberries, red apple, green apple, pecans and blue cheese.

Cut the chicken into bite-sized pieces and divide the meat evenly between the two bowls.

Drizzle the salad with the dressing of your choice.
Calories:
838
kcal
|
Carbohydrates:
50
g
|
Protein:
61
g
|
Fat:
47
g
|
Saturated Fat:
13
g
|
Cholesterol:
161
mg
|
Sodium:
1095
mg
|
Potassium:
2127
mg
|
Fiber:
13
g
|
Sugar:
30
g
|
Vitamin A:
28085
IU
|
Vitamin C:
38.4
mg
|
Calcium:
374
mg
|
Iron:
6.5
mg