Upgrade your amazing burger with the best homemade burger seasoning recipe. No one wants a boring burger, this hamburger seasoning blend will take your burgers from ordinary to extraordinary in no time at all! You can make a delicious gourmet hamburger seasoning with ingredients you already have in your pantry.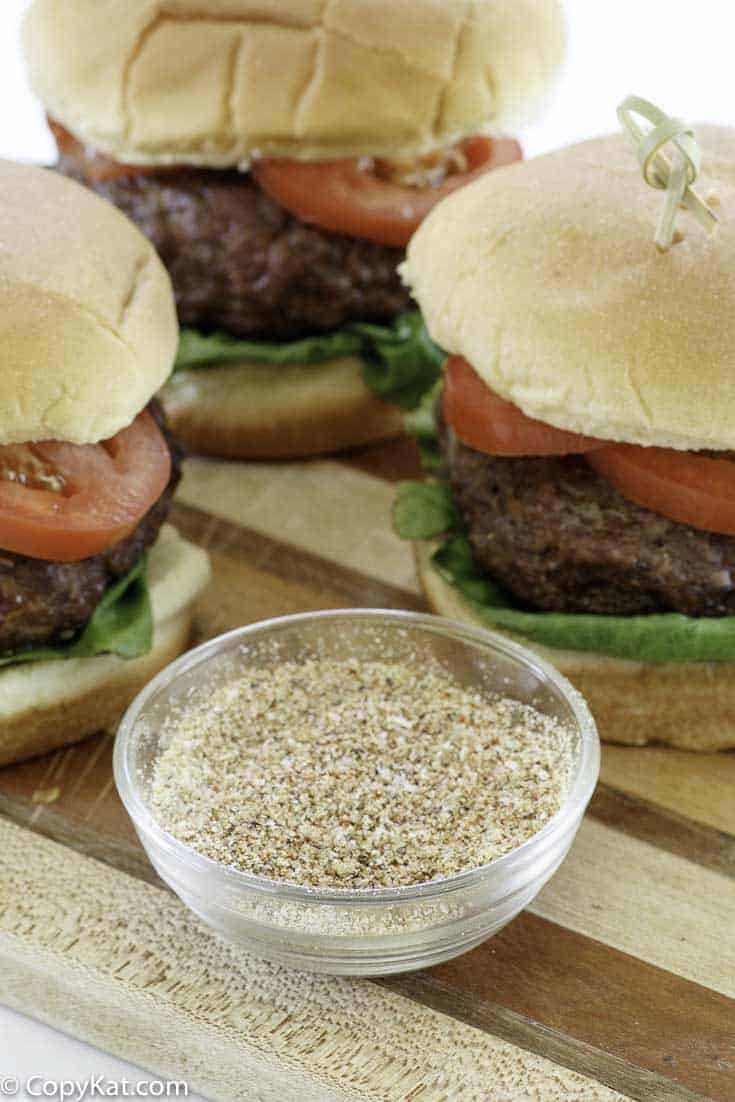 Make The Best Homemade Burger Seasoning
Upgrade your favorite burger recipe by adding the best burger seasoning recipe to your hamburger patties. Your cookouts will never be the same.
Have you ever wondered about the best way to season your homemade burgers? Do you usually buy a ginormous jar of a seasoning mix that you only use once because the flavor combination isn't quite right? This copycat hamburger seasoning recipe solves your problem, soon you will be grilling the perfect burger.
You can make this easy seasoning blend in your own kitchen. This easy recipe will help you make enough seasoning for several dinners. Your burgers will taste so good when you use this perfect burger seasoning mix. Store all of the seasoning you make in extra spice containers to save for later.
This homemade burger seasoning is so simple to make but really takes your burgers to the next level! How do you make the best burger seasoning? It's simple. You combine paprika, cayenne, salt and pepper, onion and garlic powders, cumin, and brown sugar.
One thing I love about this ground beef burger seasoning is how versatile it is. It's a savory mix with just a hint of sweetness and is perfect for all kinds of homemade burgers – beef, turkey, chicken, or veggie burgers. Heck, this is even great in meatloaf!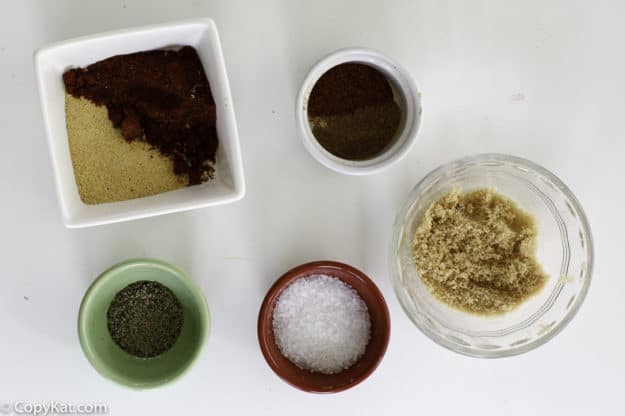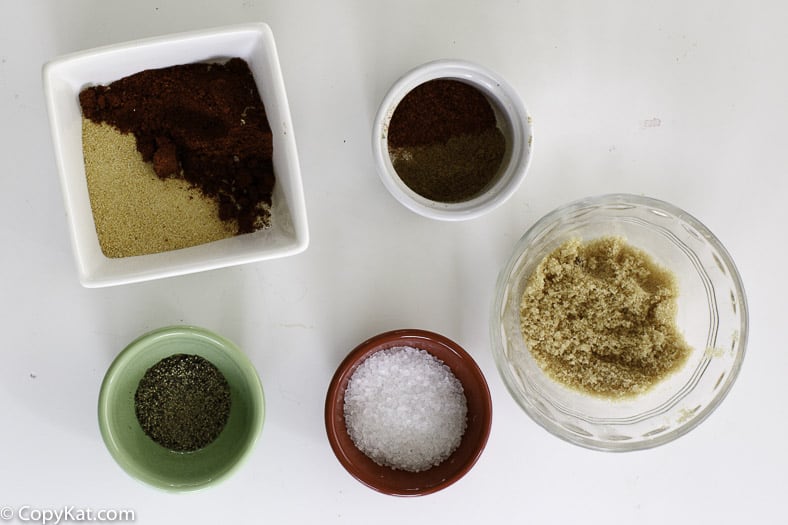 How to Make a Good Burger Seasoning
Make a good burger by combining the right combination of seasonings. This spice blend has the right combination of sweet, salty, zesty, and savory flavors.
These herbs and spices will add the right touch and turn a good burger into an amazing burger. This blend of spices is the perfect combination of flavors.
When you prepare a homemade spice blend, it is made up fresh, and full of flavor. What's in this spice blend?
paprika
smoked paprika
ground black pepper
kosher salt
brown sugar
garlic powder
onion powder
cayenne pepper
Want to customize your spice blend?
Of course, you can customize this recipe if you desire. You may want to add more ground pepper, or perhaps a touch of oregano. You can make substitutions for the ingredients you enjoy the most.
A small amount of chili powder can add a Tex-Mex flair to this recipe. If you need a salt-free alternative, be sure to omit the salt.
What's the Difference Between Paprika and Smoked Paprika?
This seasoning recipe uses two types of paprika. You may think that paprika is just paprika, right? In reality, paprika is more interesting in that there are several different varieties.
First off, not all paprika is spicy. Paprika is made from dried and finely ground capsicum peppers, and different regions grow peppers with different levels of heat.
Paprika labeled as "sweet" will have almost no heat at all. Smoked paprika is made from peppers that are slowly smoked over a fire, resulting in a rich smoky-sweet powder. Read more about paprika by clicking here.
Smoked paprika goes well in other foods too! Try some in chili, or sprinkle it on top of your next batch of deviled eggs, the smoke adds a nice touch to everything you add it into.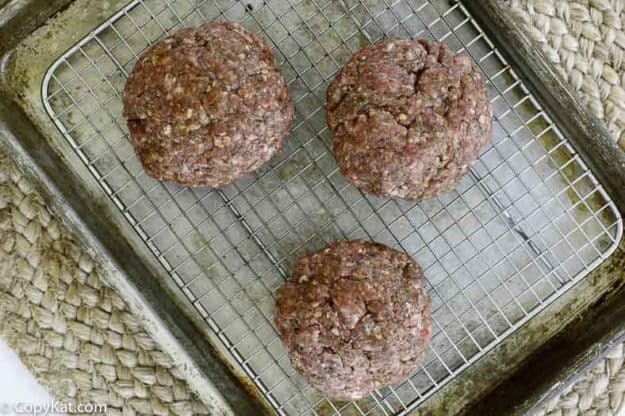 How to Cook the Perfect Grilled Burgers
The most straightforward approach to grilling your homemade burgers is over direct heat, using medium heat on a gas grill or medium-hot charcoal. Do not use high heat on the grill. The outside will be burned long before the inside cooks.
Be gentle with your meat. Overworking ground meat can make it tough. Do not pack the burger patties with too firm of a pressure.
Before you cook burgers, with your thumb, make a small depression in the middle of one side of the burger. This will keep your burger from puffing up while it cooks and helps to ensure an even surface.
To prevent sticking, brush a light coating of vegetable oil on the side of the burger that hits the grill first. If your meat is on the lean side, lightly brush the other side with oil before turning it over.
You want to make sure those yummy meat juices stay inside the patty so don't press on the meat with a spatula.
Resist the temptation to keep checking the underside of your burgers to see if they're browned. Just let the burgers be, so they have time to create their crust. A burger will tell you it's ready when the edges start to curl up.
A couple of interesting links you might like:
23 Ideas for Burgers Mix-Ins
11 Burger Mistakes Everyone Makes
So what's next? It's time to invite your friends over for a cookout. Grab some freshly ground chuck, and fire up that grill. Gather your favorite condiments, and bite into your best burger ever! Savor a job well done.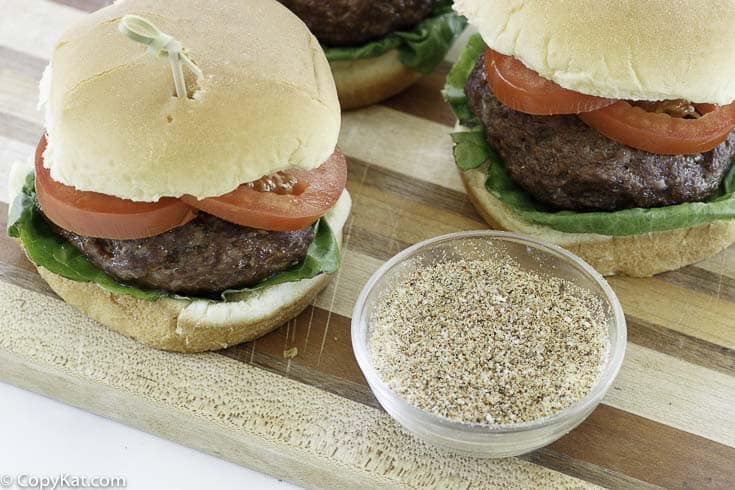 Other ways to use this burger seasoning
Do you love meatloaf? This spice blend is perfect for meatloaf. I like to add about 2 teaspoons to meatloaf when I prepare this. Another way I have enjoyed this spice blend is sprinkling some onto cream cheese and turning my smoker down to about 300 degrees and smoking the cream cheese for about 20 minutes. This also tastes great on baked potatoes, instead of using salt and ground black pepper.
Favorite Burger Recipes
Everyone loves hamburgers, so here are some more copycat hamburger recipes for you to enjoy. And, do let me know what is your favorite way to enjoy burgers.
More DIY Spice Blend Recipes
Be sure to check out more of my easy burger recipes and the best DIY recipes for seasonings and more here on CopyKat.com!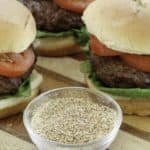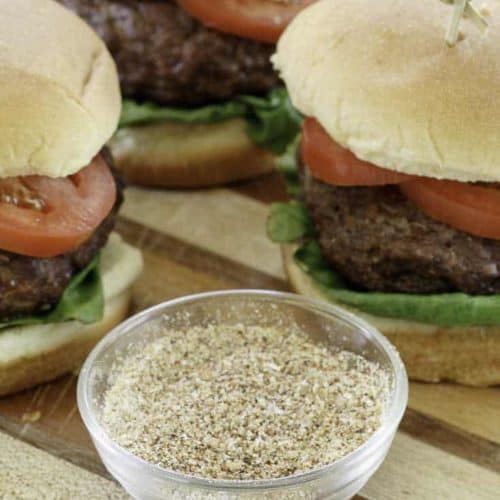 Print
Add to Collection Go to Collections
The best homemade burger seasoning
I think that seasoning works best mixed into the burger so that every bite you take is full of flavor. You'll be the star of all your BBQs with this easy homemade burger spice blend.

Bowl

Air tight container

Spice Jar
2

tablespoons

paprika

2

tablespoons

smoked paprika

4

tablespoons

ground black pepper

2

teaspoons

salt

1/2

tablespoon

brown sugar

1/2

tablespoon

garlic powder

1/2

tablespoon

onion powder

1

teaspoon

cumin

1/2

teaspoon

cayenne pepper
Combine all ingredients and add about 1-½ teaspoons of seasoning to a pound of ground beef. Prepare your burgers as you normally would. This recipe works for hamburgers on a grill, and this recipe works well for burgers you cook on an iron skillet.
Calories:
4
kcal
|
Carbohydrates:
1
g
|
Protein:
1
g
|
Fat:
1
g
|
Saturated Fat:
1
g
|
Sodium:
130
mg
|
Potassium:
20
mg
|
Fiber:
1
g
|
Sugar:
1
g
|
Vitamin A:
195
IU
|
Calcium:
5
mg
|
Iron:
1
mg