Sloppy Joes were a mainstay weeknight dinner in our house when I was growing up in the 80s, but we always made it with a canned sauce (Manwich, or the generic equivalent). Once I started cooking for myself, I realized how easy it was to quickly whip up sauces like that from ingredients I already had in my pantry, and I never looked back. These Homemade Sloppy Joes are quick, easy, full of flavor, AND freezer friendly. 🙌 Plus, I've got some tips for you below to make them even more budget-friendly, since the price of ground beef isn't getting lower anytime soon.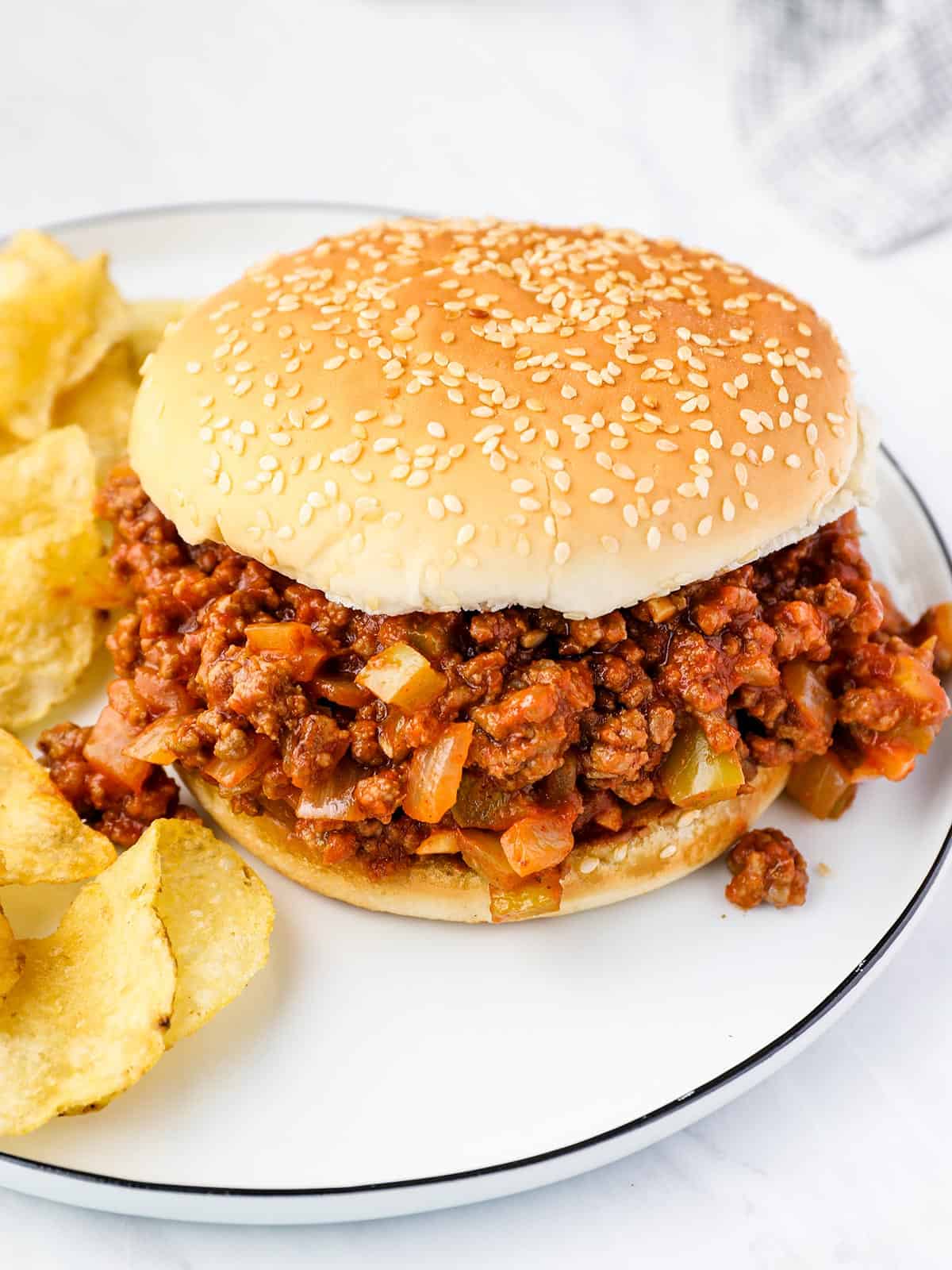 What is Sloppy Joe Sauce?
Sloppy Joes are a loose meat sandwich made with ground beef, peppers, and onions in a special red sauce, and the sauce is totally what makes a sloppy joe sandwich. It's a savory, tangy, and slightly sweet tomato-based sauce. While some recipes simply use heavily seasoned ketchup for the sauce, our recipe is a bit more rich in flavor with tomato sauce, tomato paste, Worcestershire, vinegar, sugar, Dijon, and chili powder.
How to Serve Sloppy Joes
Sloppy Joes are traditionally served on a hamburger bun, sometimes with cheese, sometimes without. But you can totally get creative. Pile it into a tortilla and turn it into a sloppy joe taco, spoon it over a baked potato, eat it as a bowl meal over rice, or go for the ultimate budget option and just eat it on white bread (if you know, you know).
And don't forget some chips or steak fries to serve on the side! …Or maybe some roasted broccoli. 😉
Budget Options
Ground beef is pretty expensive these days, so there are a few things you can do to make your sloppy joes a little lighter on the wallet. Here are some ideas:
Buy your ground beef in bulk, then divide and freeze the other portions (or make a double-batch of sloppy joes and freeze half).
Replace half of the ground beef with lentils or black beans.
Shred and sauté any extra vegetables you have before browning the beef to help bulk up and extend the ground beef.
Don't forget to freeze your leftover tomato paste for the next time you make sloppy joes (or any other recipe that uses tomato paste)!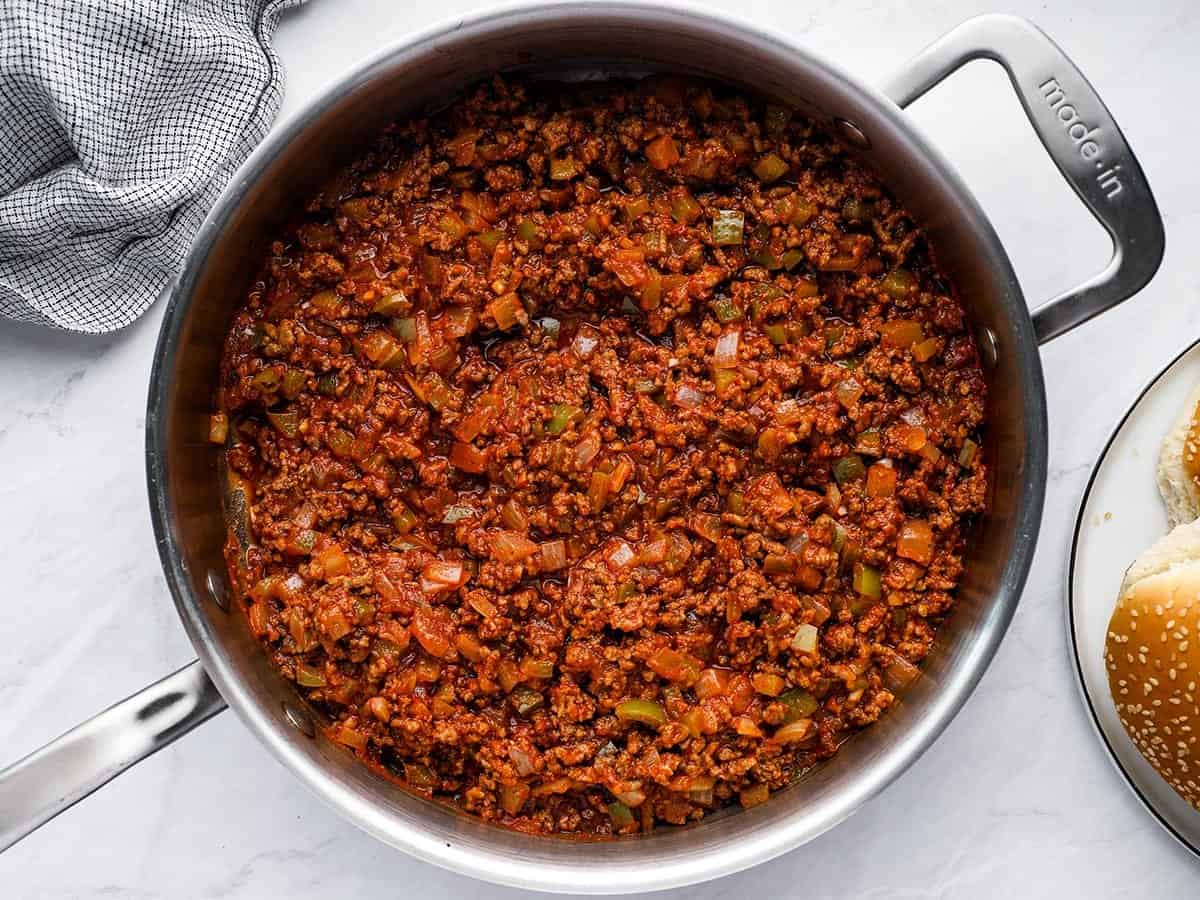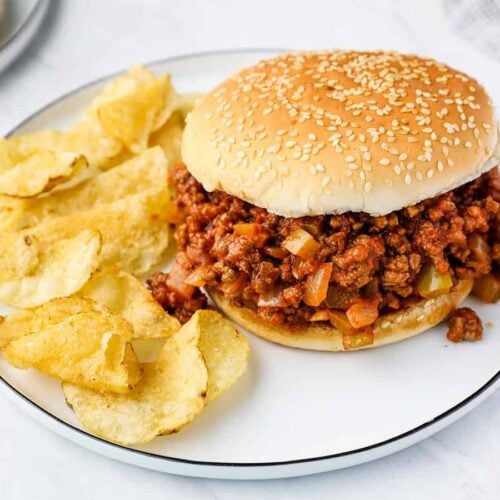 Sloppy Joes
Ground beef in a tangy sauce piled onto a soft bun, homemade Sloppy Joes are an easy, classic American weeknight dinner.
Servings
5
¾ cup meat sauce each
1

yellow onion

$0.32

1

green bell pepper

$0.79

2

cloves

garlic

$0.16

1

Tbsp

olive oil

$0.16

1

lb.

ground beef*

$5.49

1

15oz. can

tomato sauce

$0.79

3

Tbsp

tomato paste

$0.21

2

Tbsp

apple cider vinegar

$0.12

2

Tbsp

brown sugar

$0.08

1

tsp

Dijon mustard

$0.06

1

tsp

chili powder

$0.10

1

tsp

Worcestershire sauce

$0.02

3/4

tsp

salt

$0.03

5

hamburger buns

$1.87
Finely dice the onion and bell pepper, and mince the garlic.

Add the olive oil and beef to a skillet and cook over medium heat until the beef is cooked through. Drain off any excess fat.

Add the onion, garlic, and bell pepper to the skillet with the beef. Continue to sauté until the onions are soft and translucent.

Finally, add the tomato sauce, tomato paste, vinegar, brown sugar Dijon, chili powder, Worcestershire sauce,and salt to the skillet. Stir to combine.

Allow the meat and sauce to simmer over medium-low for about 5 minutes.
*You can use any fat percentage ground beef. If using a higher fat content beef, like 80/20, you'll want to drain the excess fat after browning. 
Serving:
1
sandwich
|
Calories:
440
kcal
|
Carbohydrates:
36
g
|
Protein:
22
g
|
Fat:
23
g
|
Sodium:
1138
mg
|
Fiber:
3
g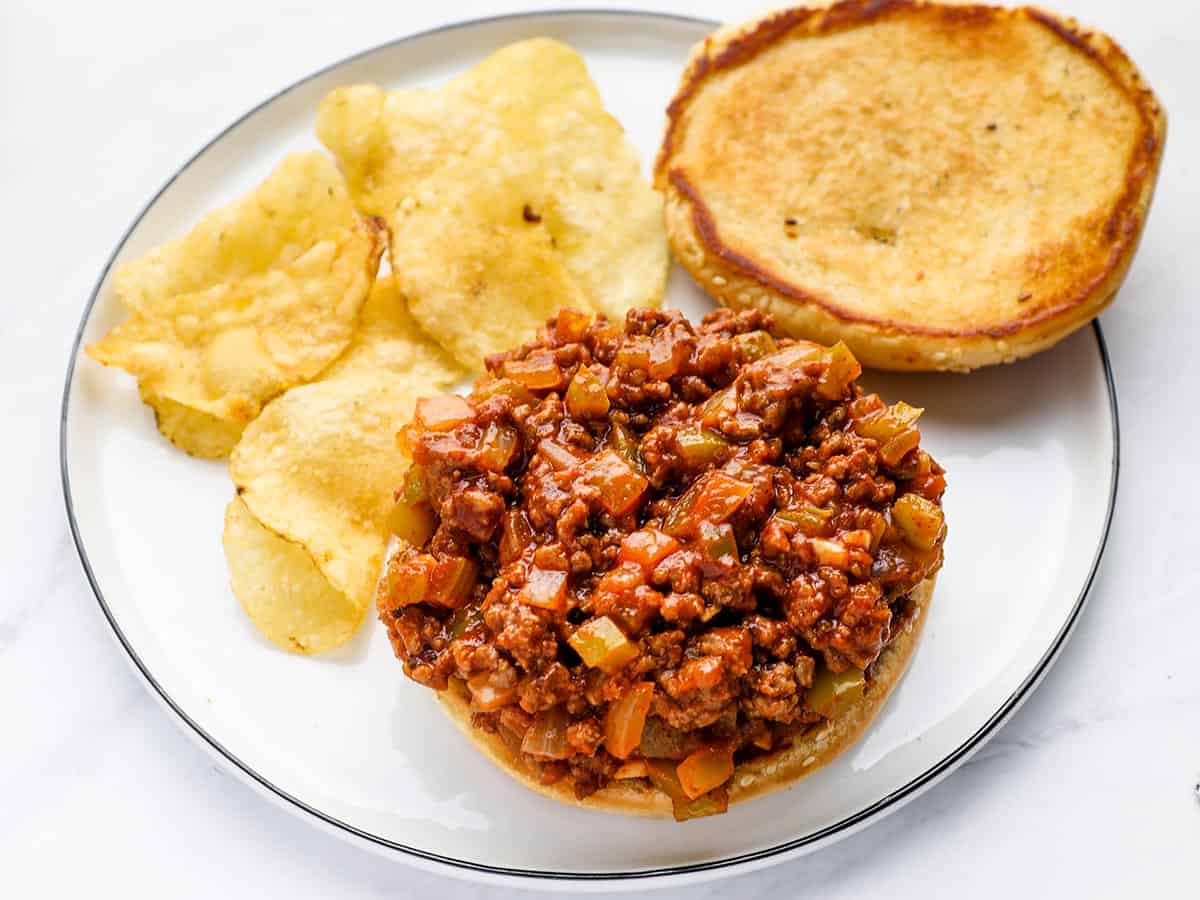 How to Make Sloppy Joes – Step by Step Photos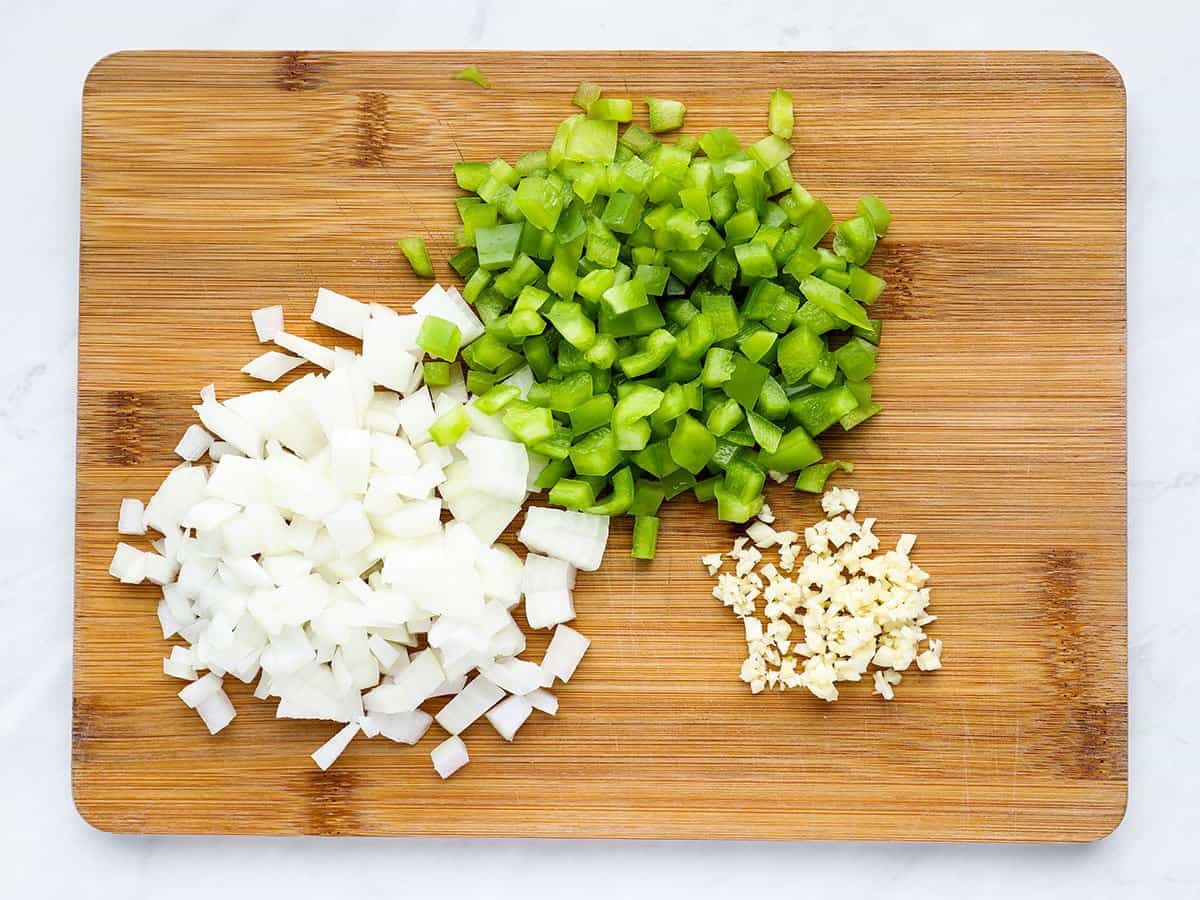 Chop the vegetables first, so they're ready to go. Finely dice one yellow onion and one green bell pepper, and mince 2 cloves of garlic.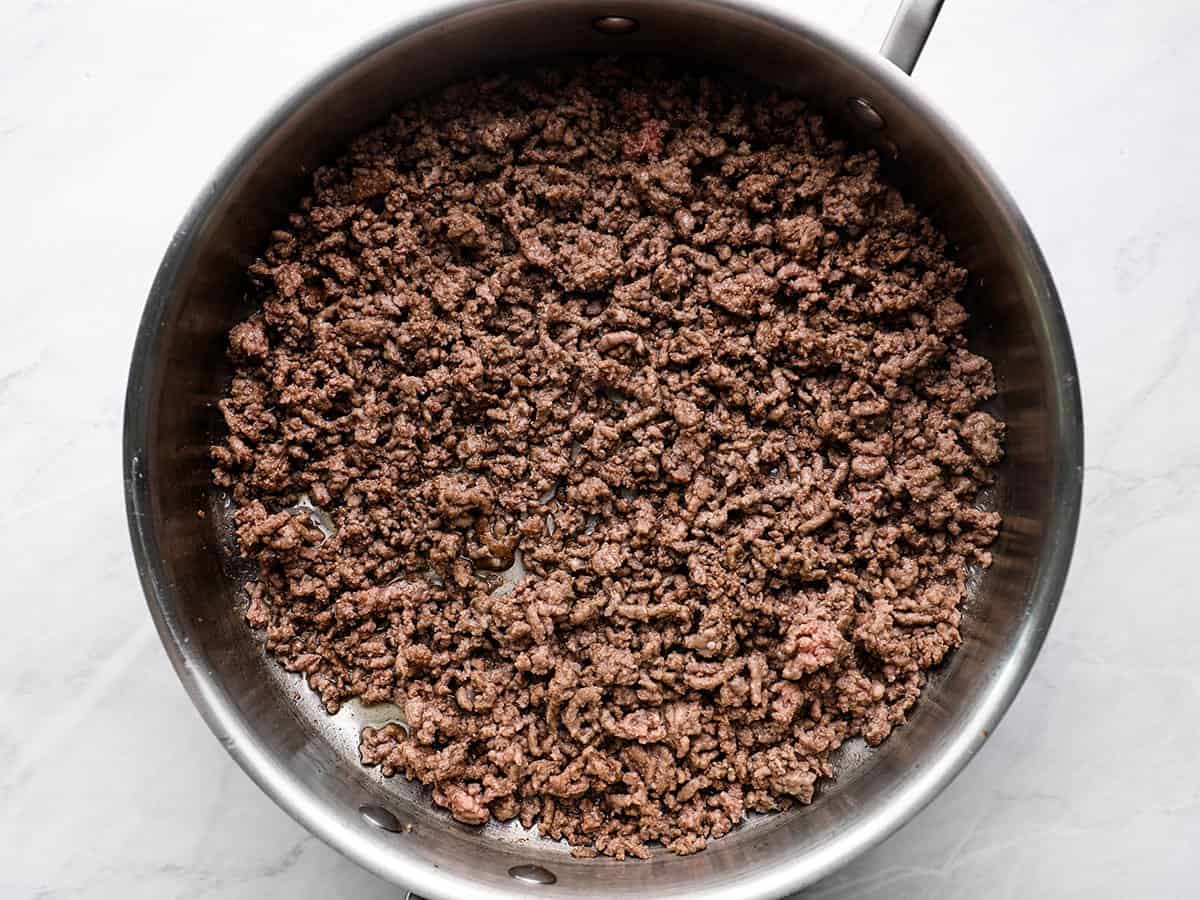 Add 1 Tbsp olive oil and 1 lb. ground beef to a large skillet. Cook over medium heat until the ground beef has browned. If you're using a higher fat content ground beef, you'll want to drain off the excess fat after it has browned.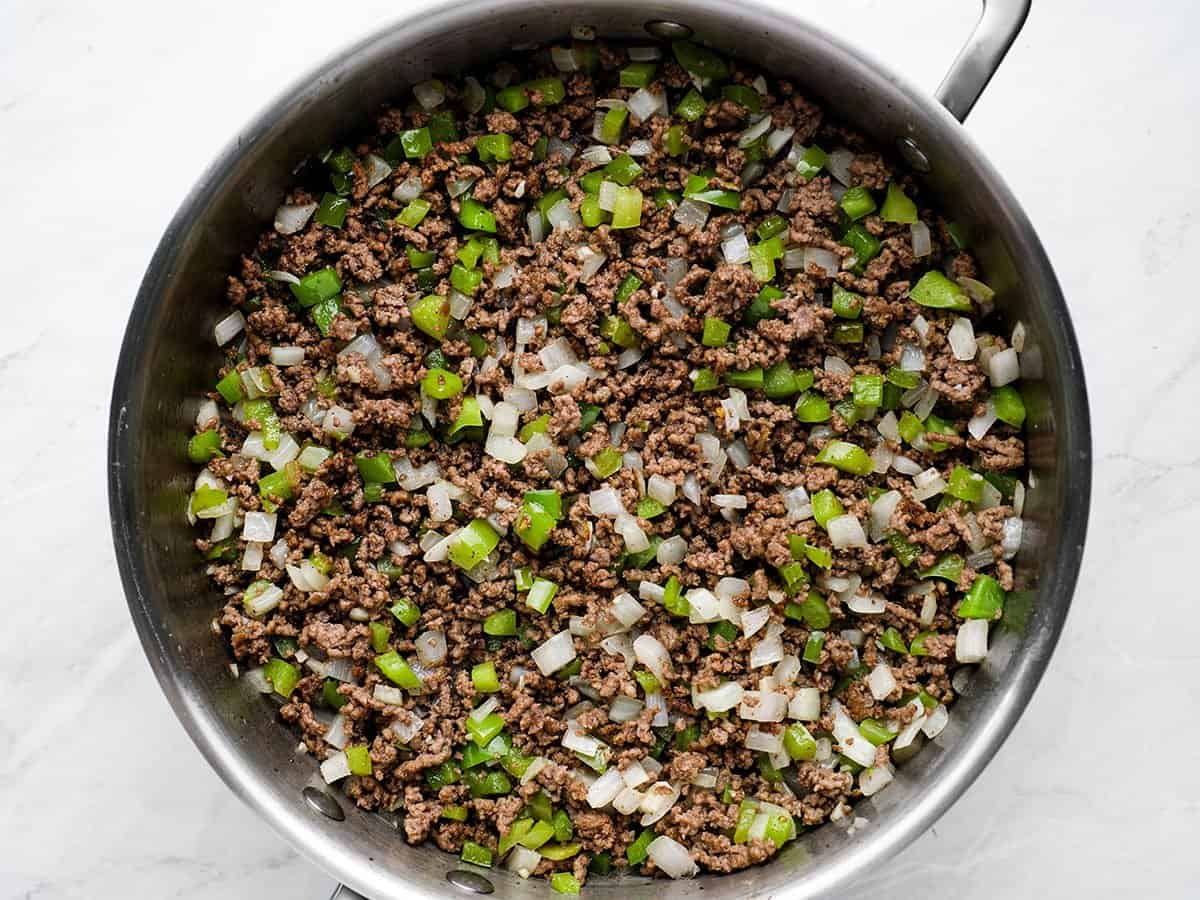 Add the onion, bell pepper, and garlic to the skillet and continue to sauté until the vegetables have softened.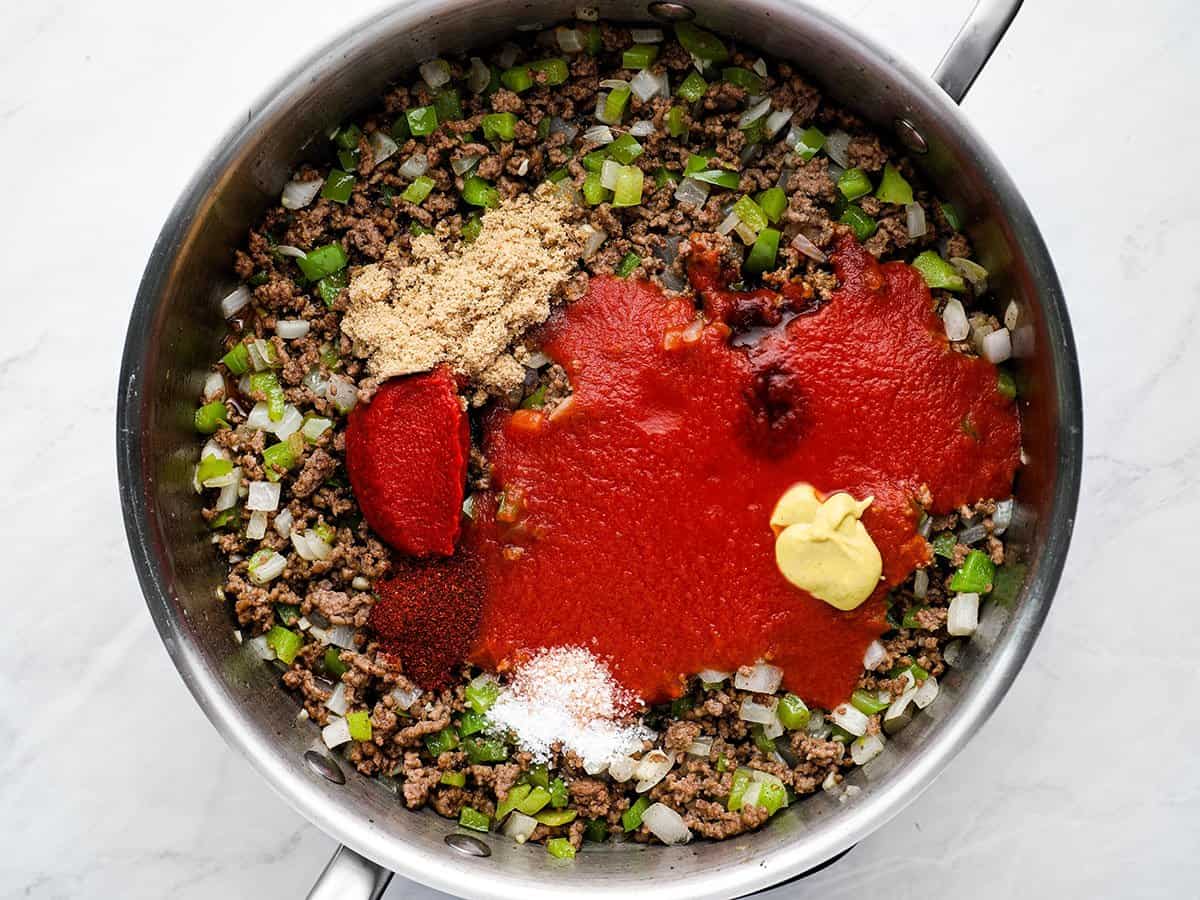 Finally, add the ingredients for the sauce: one 15oz. can tomato sauce, 3 Tbsp tomato paste, 2 Tbsp apple cider vinegar, 2 Tbsp brown sugar, 1 tsp Dijon mustard, 1 tsp chili powder, 1 tsp Worcestershire sauce, and ¾ tsp salt.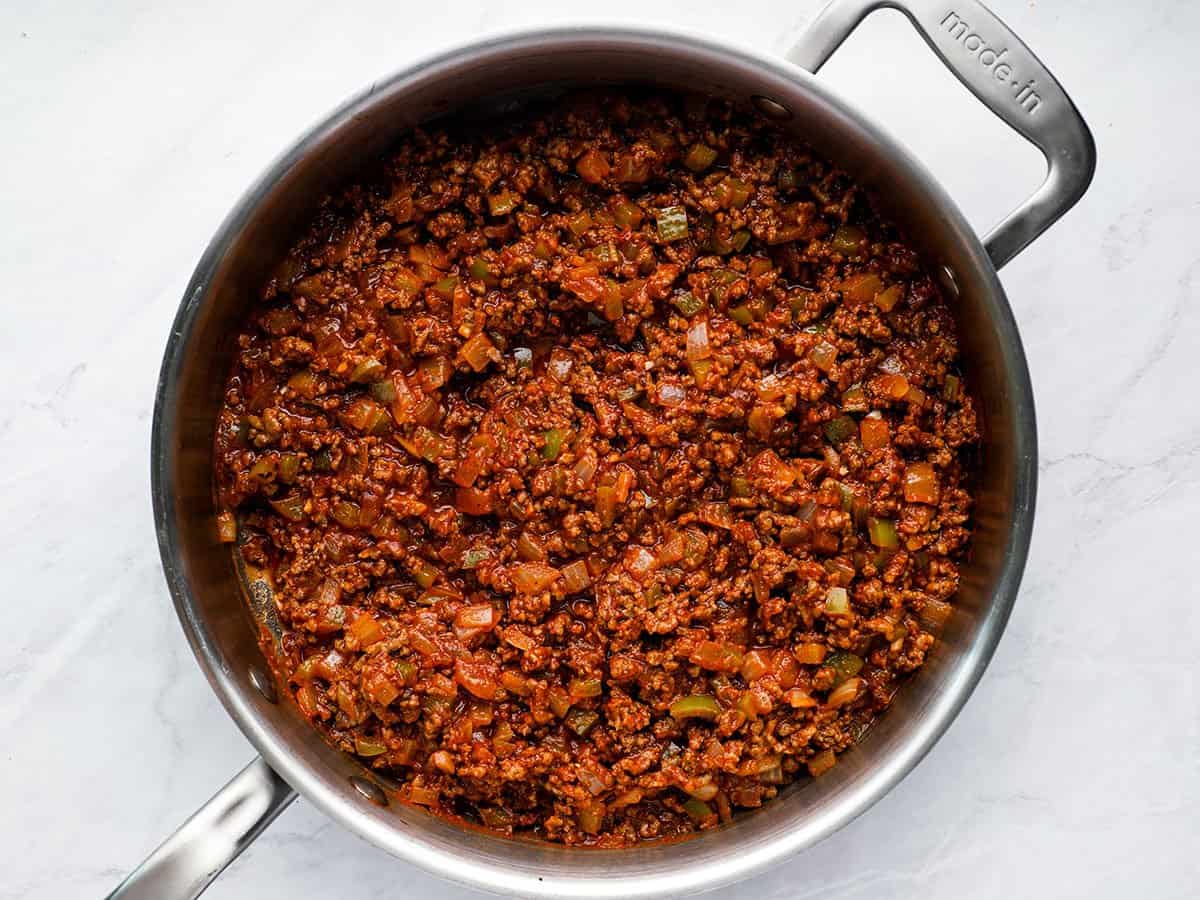 Stir everything to combine and heat through. Let the meat and sauce simmer over medium-low for 5-10 minutes, or until it has thickened to your liking.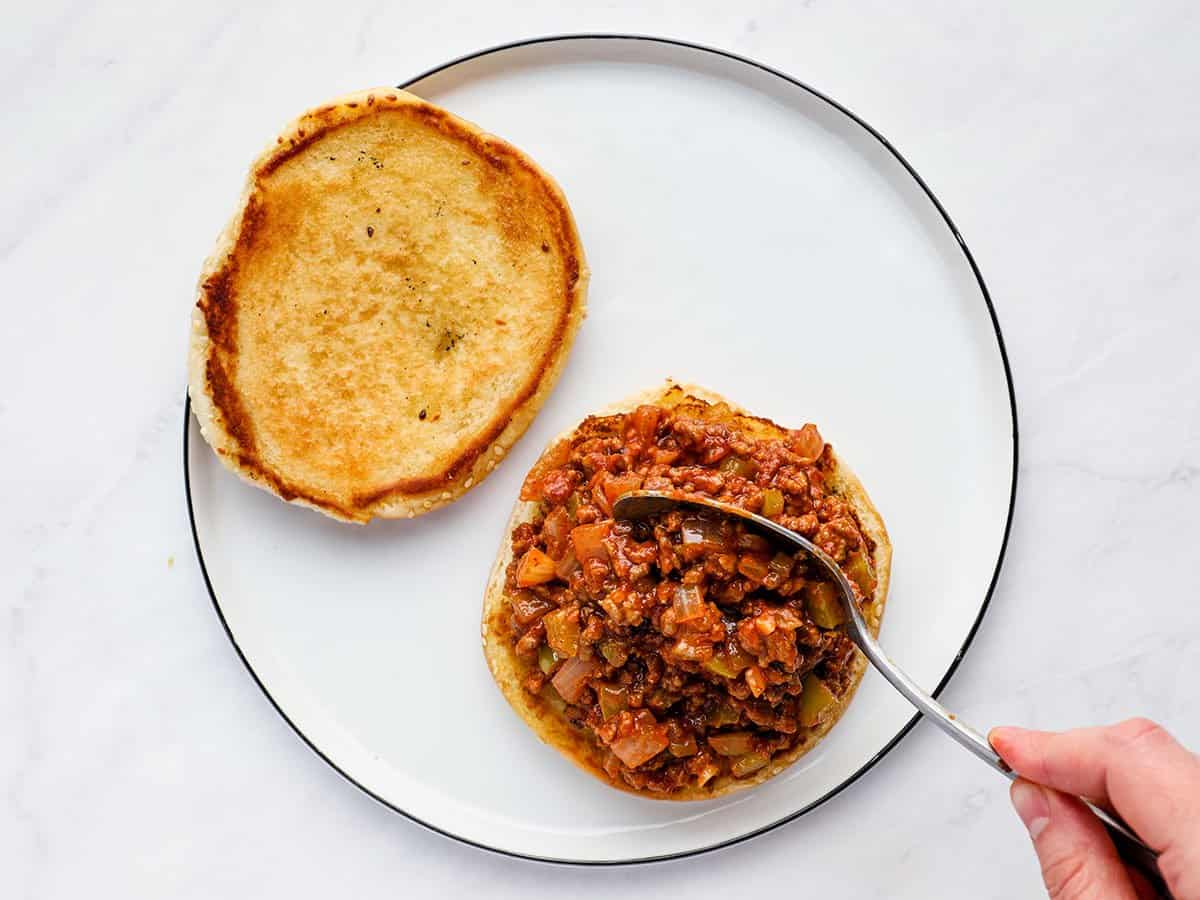 Toast your buns in a skillet or in the oven, then pile the saucy meat mixture on top.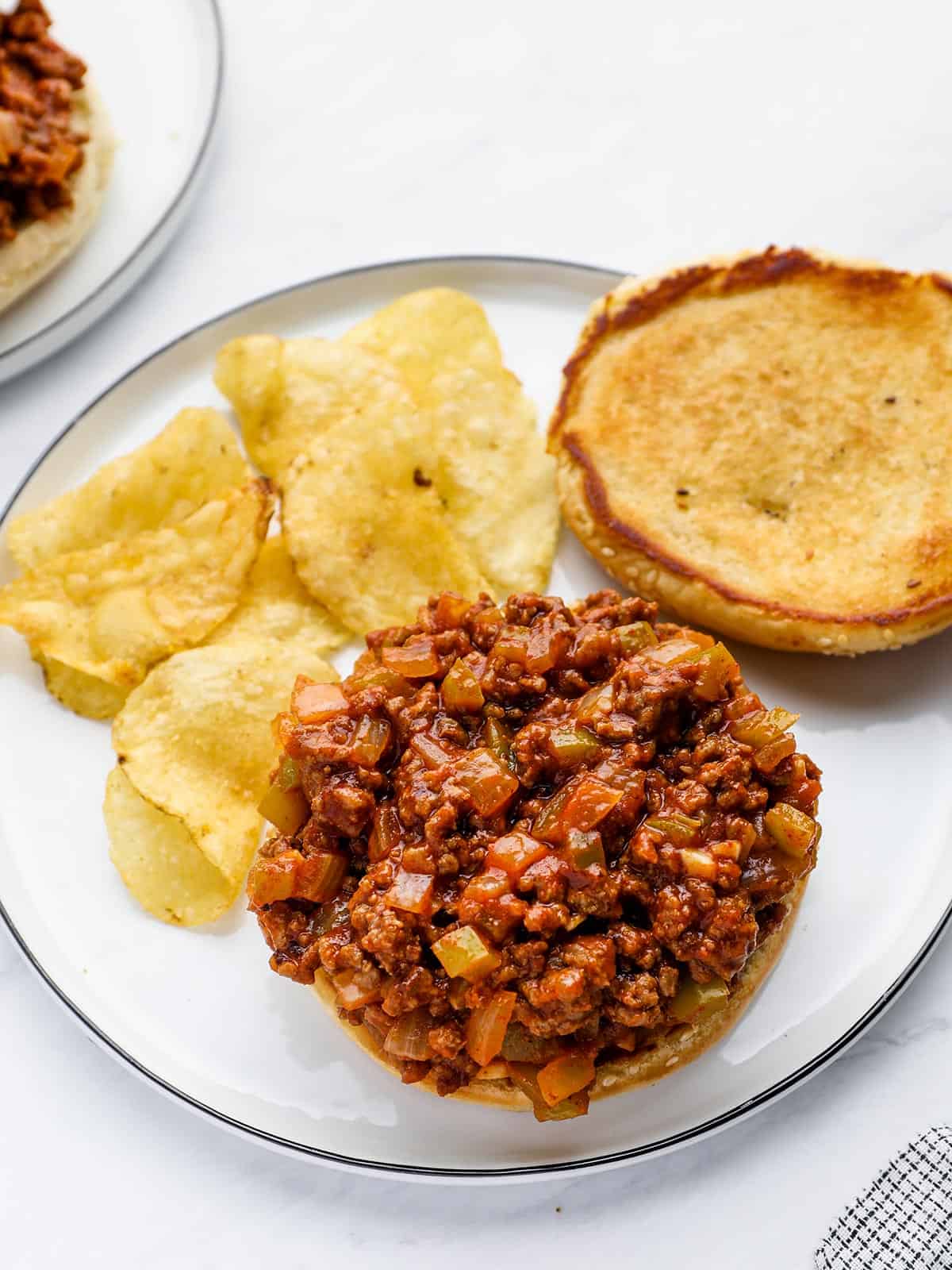 Enjoy your sloppy joes with some chips and plenty of napkins because they're as messy as they are delicious!