This Easy Cinnamon Roll Cake Recipe is delicious as a breakfast cake or a dessert pizza. Turn a can of cinnamon rolls into a sweet, ooey-gooey cake with a sweet glaze for this easy recipe!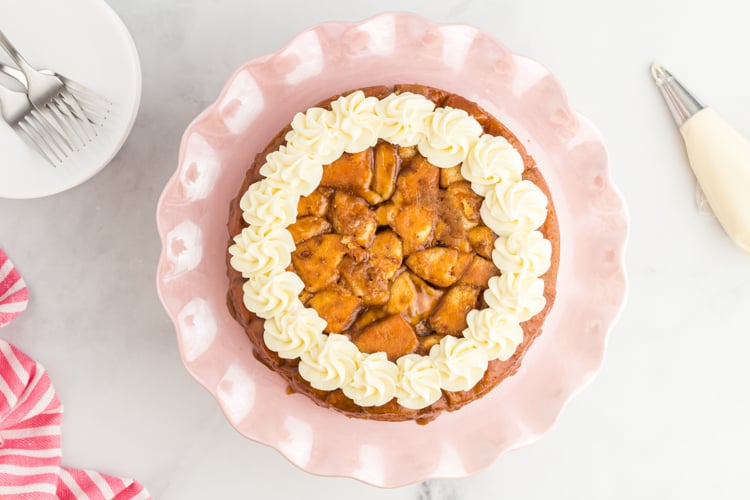 The hardest part of today's cinnamon roll cake recipe is deciding. Is it breakfast? Or is it dessert?
This delicious Cinnamon Roll Cake is both.
SAVE THIS EASY CINNAMON ROLL COFFEE CAKE RECIPE TO YOUR FAVORITE PINTEREST BOARD!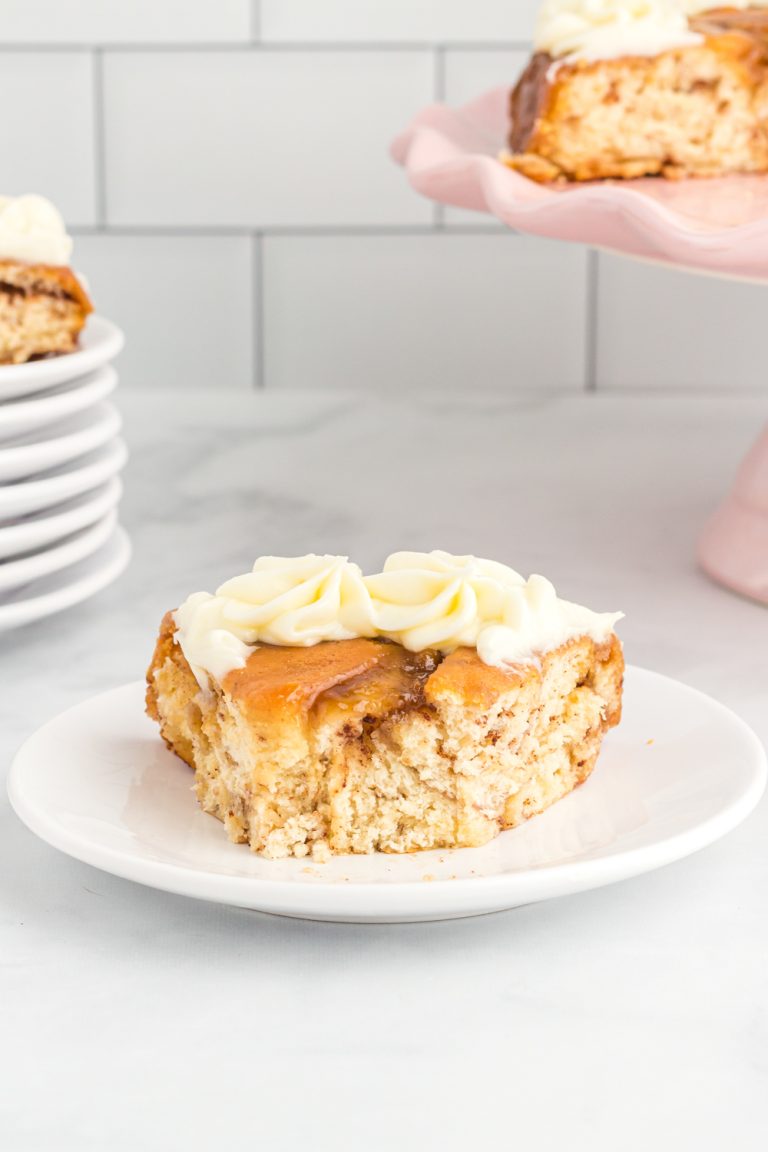 Made from cinnamon rolls, this is an easy cake recipe you can justify serving for breakfast AND / OR dessert. It's all the gooey sweet fluffy taste you love in cinnamon rolls, baked into a sliceable breakfast cake!
The best part, is that it's such a great recipe. So you have my full permission to eat this cake ANY time of day! It will pair perfectly with a cup of coffee or glass or orange juice, too.
Of course if you don't prefer doings the easy way and want "the real thing" meaning made from scratch, then by all means make my Homemade Cinnamon Rolls for breakfast. That cinnamon filling and vanilla cream cheese frosting will seriously make you swoon.
OR, make my homemade Cinnamon Roll Layer Cake with cinnamon cake layers, a cinnamon brown sugar mixture and a delicious buttercream for dessert.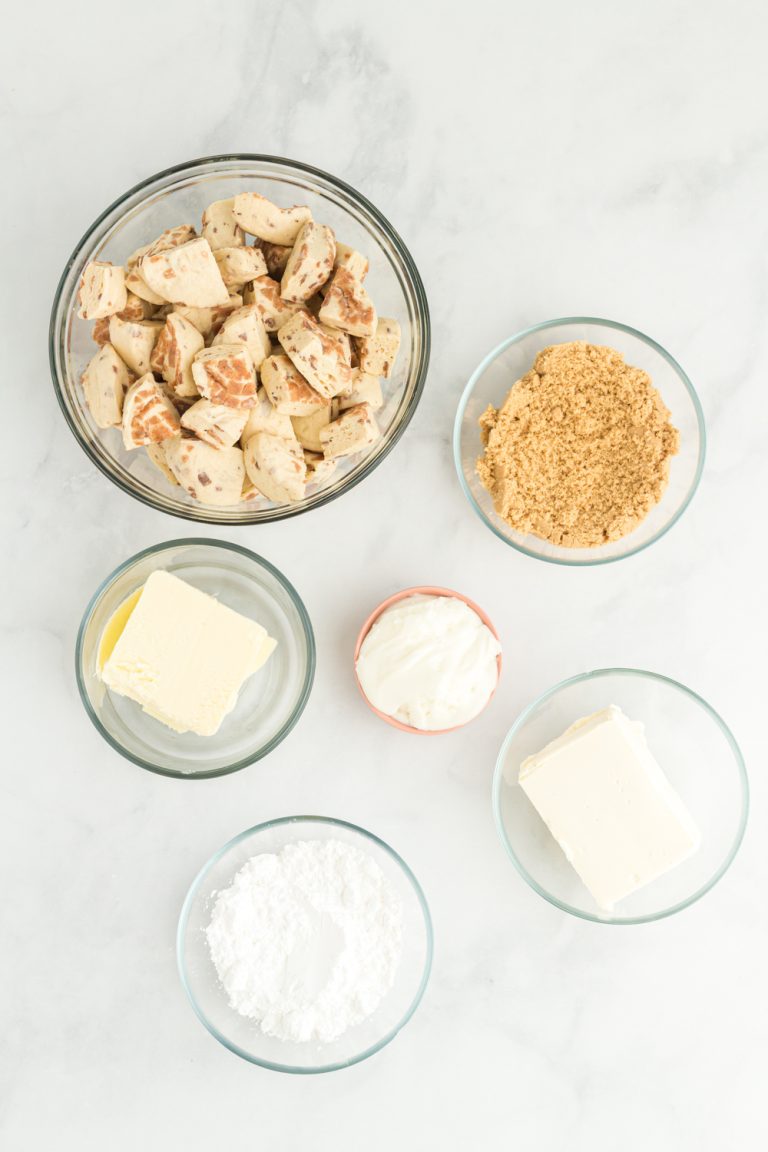 What do I need?
To make this cinnamon cake, you will need the following ingredients:
Refrigerated cinnamon rolls
Unsalted butter
Cream cheese – Make sure to use the sticks, not the kind in a tub.
Light brown sugar
For the simple glaze, you will need these ingredients:
Icing packets – Reserved from the refrigerated cinnamon rolls canister
Cream cheese
Confectioner's sugar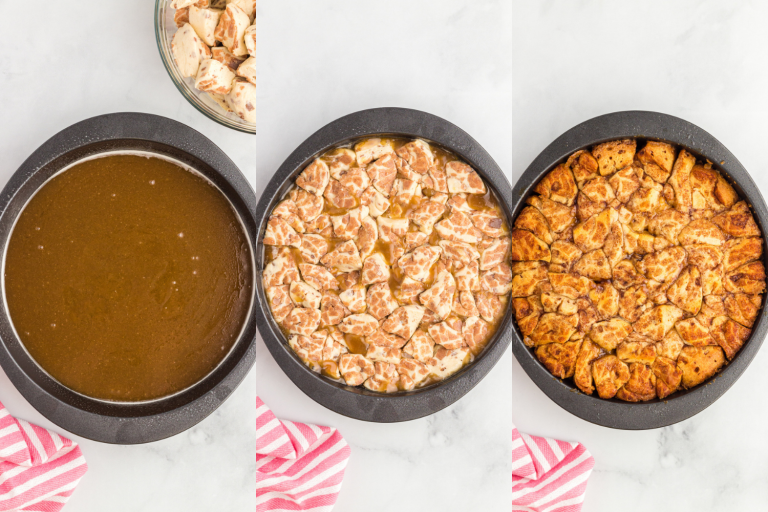 Do I serve it for breakfast or dessert?
When it comes to cinnamon roll cake, the only thing I can advise: follow your heart.
Okay, but really! This cake uses cinnamon rolls which are a favorite breakfast treat and typically considered a breakfast food. But it's sweet, frosted and is cinnamon swirl CAKE!
So, that means you can't go wrong no matter what.
I think it's an ideal addition to a brunch table, along with a few savory options like this Meat Lover's Pizza Frittata or a Denver Scrambled Breakfast Braid.
No one will turn this down as a dessert either. Serve it as it is, or go extra decadent and add a scoop of vanilla ice cream.
Just be prepared for everyone to ask how you made it. . . and watch how surprised they'll be when you tell them how easy it is! Share it with them, and it's sure to become one of their favorite recipes, too!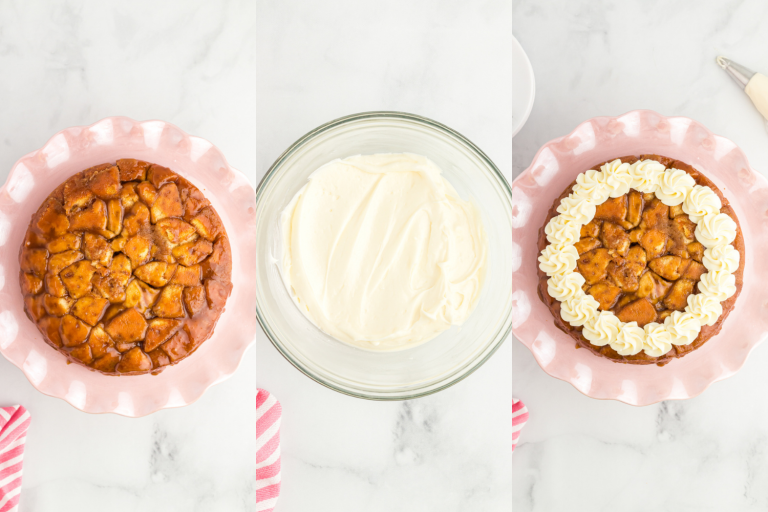 Does the brand of cinnamon rolls matter for this recipe?
I have only used the Pillsbury refrigerated cinnamon rolls(the 8 roll, 351 gram tubes) for this recipe and they work perfectly.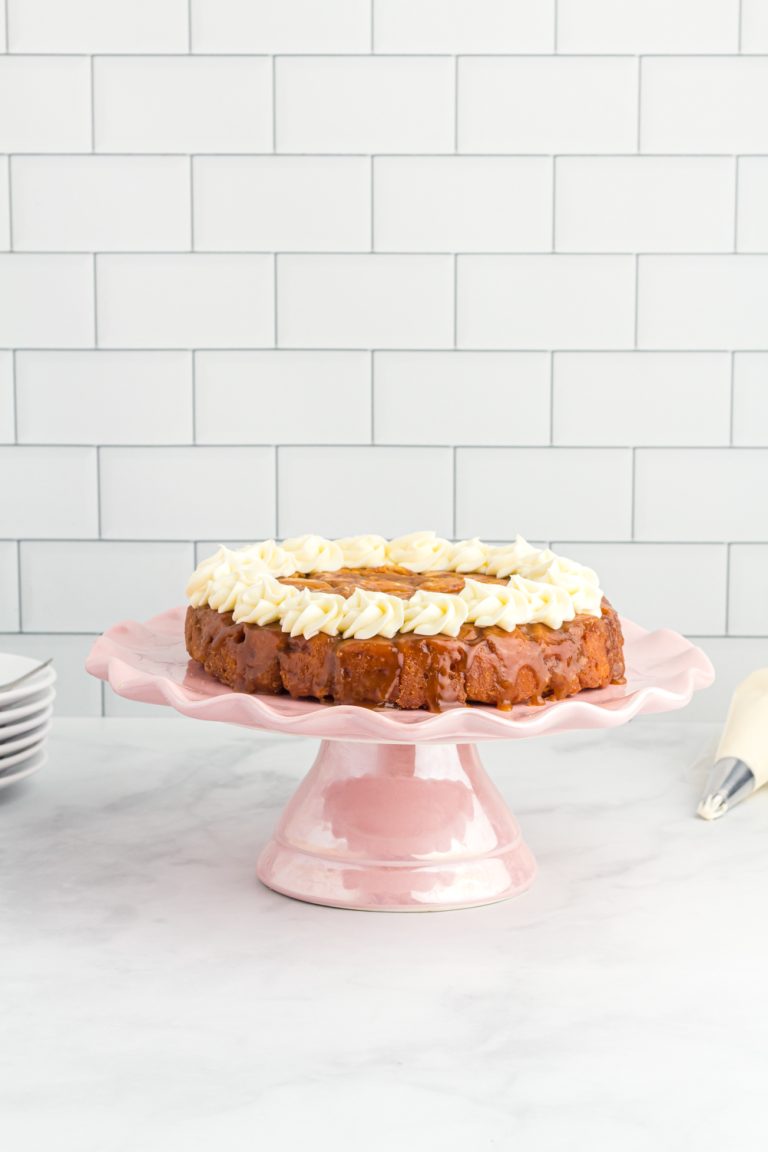 How do I store this cinnamon roll cake?
The frosted cake can be stored in an air tight container in the fridge for up to 4 days. Cinnamon cake without the cream cheese glaze is safe to keep at room temperature in a sealed container for about 3 days.
It's important that since the frosting contains cream cheese, that you keep it refrigerated when you're not eating it!
My family has never found it difficult to eat a whole pan of cinnamon roll cake in a short time frame and, once you taste it, you'll know what I mean.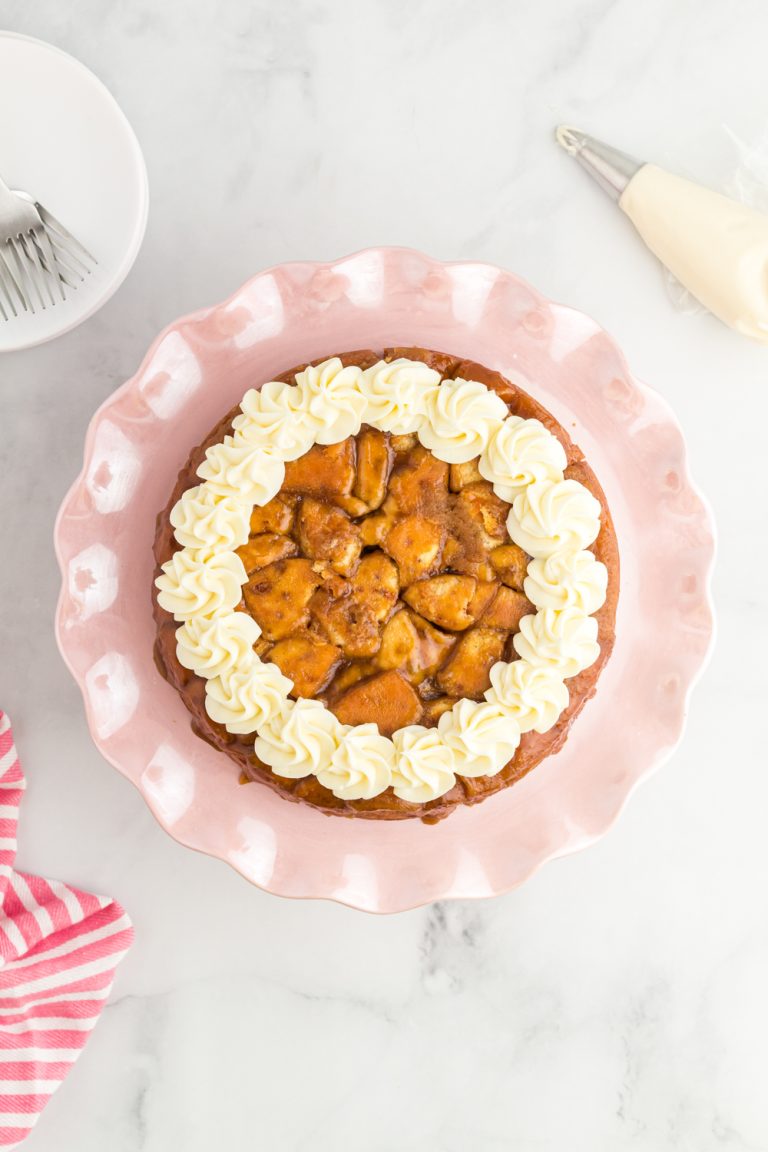 Cake Recipes
Anyone who knows me will not be surprised to hear that I have an affinity for breakfast cakes. I'm a baker, after all!
If you love cinnamon cakes, this Cinnamon Sour Cream Coffee Cake is an absolute must try recipe. Super moist, sweet and bursting with warm cinnamon flavor, it's just what I want with my morning coffee.
This Orange Cranberry Coffee Cake tastes as good as anything you'd find at a bakery, but is easy (and less expensive) to make at home. Try this straightforward Cranberry Coffee Cake recipe, too!
When I'm not eating cake for breakfast, I'm eating it. . . well, any other time of day.
You'll love these other easy cake recipes I've baked and shared over the years!
Chocolate Cherry Dump Cake
Cinnamon Roll Layer Cake
Lemon Marshmallow Poke Cake
Patriotic Layer Cake
Oreo Cake
Pumpkin Chocolate Chunk Cake
Cinnamon Sour Cream Coffee Cake
Peanut Butter Upside-Down Banana Cake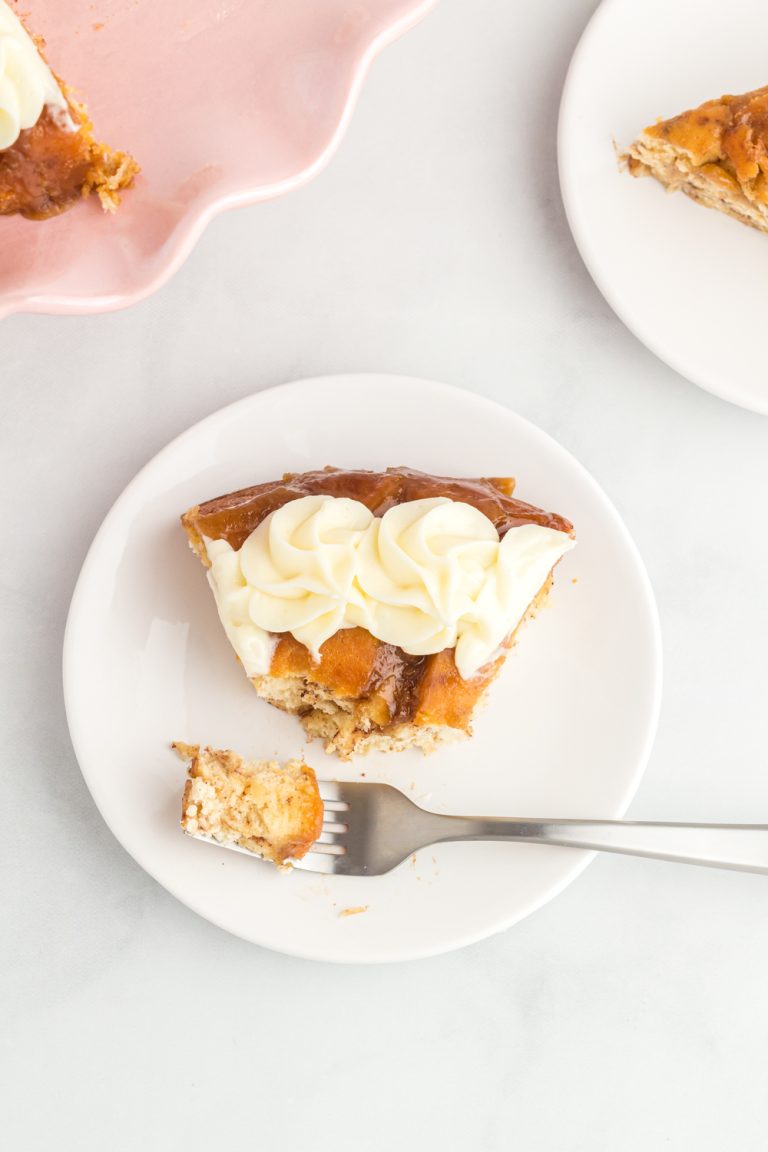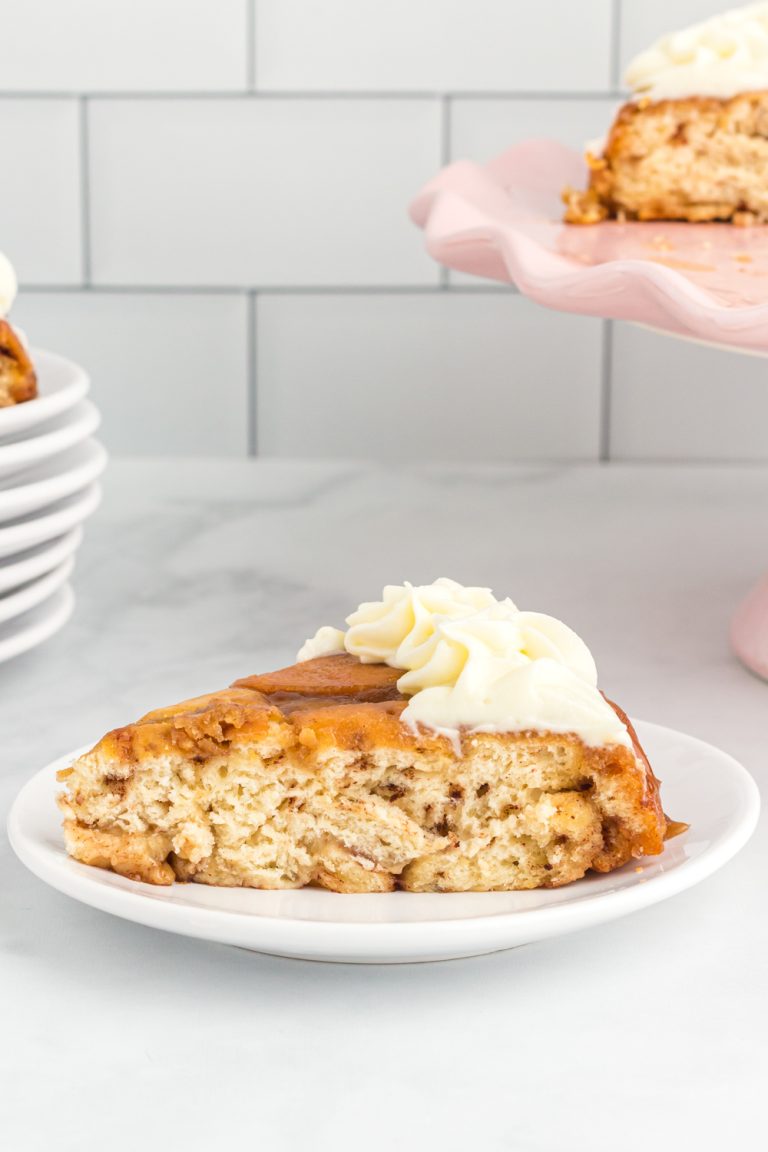 Crack open a can of cinnamon rolls to make this ooey-gooey breakfast cake. Cinnamon Roll Cake is delicious any time of day and is sure to become a family favorite!
Print
Cinnamon Roll Cake
This Easy Cinnamon Roll Cake Recipe is delicious as a breakfast cake or a dessert pizza. Turn a can of cinnamon rolls into a sweet, ooey-gooey cake with a sweet glaze for this easy recipe!
Servings
8
people
Calories
258
kcal
2

8 roll packages refrigerated Pillsbury Cinnamon Rolls with icing (351 grams each tube)

½

cup

unsalted butter

½

cup

light brown sugar, packed
Preheat oven to 350°F. and prepare a 9″ round baking pan by spraying it with cooking spray.

Cut each individual cinnamon roll into quarters.

Melt butter in a medium microwavable safe bowl until melted. Immediately stir in brown sugar and stir until completely mixed.

Pour butter and brown sugar mixture into the prepared pan.

place the cut cinnamon roll pieces, cinnamon side up, in an even single layer over the butter and sugar. You'll really have to squish them in there to make them all fit, but they should be in a single layer pressed very tightly together.

To prevent any spills in the oven, place a sheet of aluminum foil on a baking sheet, and place the cake pan on top before placing into the oven.

Bake for 25 minutes. If sides of cake start to rise up too much during baking, take a fork and lightly press the sides back into the butter mixture so the the sides don't dry out and burn.

Once it's done baking, let cool for 5 minutes before flipping onto a serving tray or platter. Don't let the mixture cool for longer than 5 minutes before flipping it out and over or the sugar mixture in the bottom of the pan will start to dry, making the cake stick to the pan.

Let cool completely before frosting.
Frosting
In a large mixing bowl, beat together on high both icing packages, cream cheese and confectioners' sugar until smooth. Pipe frosting over cake edges once cake has cooled.

Store in a sealed food safe storage container in the fridge for up to 4 days. The cake must be refrigerated because of the cream cheese frosting. If the cake is not frosted, it is safe to leave out at room temperature for up to 3 days if sealed tightly in a food storage container. The frosting must stay refrigerated.
Serving:
1
person
|
Calories:
258
kcal
|
Carbohydrates:
22
g
|
Protein:
1
g
|
Fat:
19
g
|
Saturated Fat:
12
g
|
Polyunsaturated Fat:
1
g
|
Monounsaturated Fat:
5
g
|
Trans Fat:
0.5
g
|
Cholesterol:
52
mg
|
Sodium:
74
mg
|
Potassium:
50
mg
|
Sugar:
22
g
|
Vitamin A:
640
IU
|
Calcium:
36
mg
|
Iron:
0.1
mg
The post Cinnamon Roll Cake appeared first on 365 Days of Baking.