Smoked Eye of Round Roast is incredibly delicious, tender, and juicy. A horseradish herb rub flavors this roast perfectly. The best recipe for smoking a boneless beef roast on a pellet grill like Traeger or Pit Boss.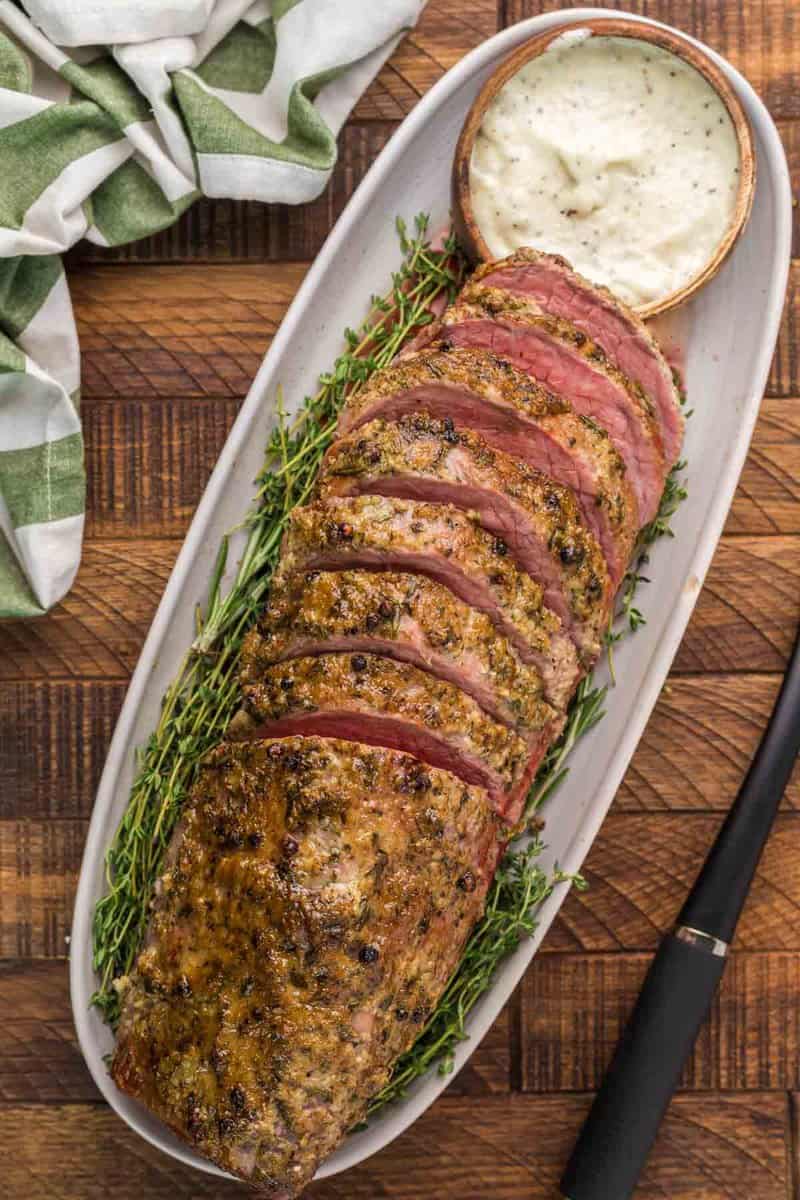 This post contains affiliate links. As an Amazon Associate, I earn from qualifying purchases.
Why You Should Try Smoking an Eye of Round
When just beginning your meat-smoking journey, this is the type of recipe you should be making. The ingredients are inexpensive, the instructions are easy-to-follow, and the results are delicious.
Even if you're an experienced pitmaster, this simple smoked eye of round recipe is worth trying for those times when you are looking for great taste without a lot of hassle.
What Is Eye of Round Roast?
This large and lean cut of beef comes from the cow's hardworking hindquarters, and therefore it can be chewy if prepared incorrectly. But cook it low and slow, and this troublesome joint transforms into a tender, flavorful roast.
Due to its reputation as a more difficult cut to cook well, it is relatively inexpensive, a welcomed bonus.
Recipe Ingredients
For the roast:
Eye of round roast
Extra virgin olive oil
Mayonnaise
Horseradish
Garlic cloves
Shallot
Peppercorns – black or mixed
Coarse sea salt
Fresh rosemary leaves
Fresh thyme leaves
For the horseradish sauce:
Mayonnaise
Horseradish
Garlic paste or fresh minced garlic
Ground black pepper
Salt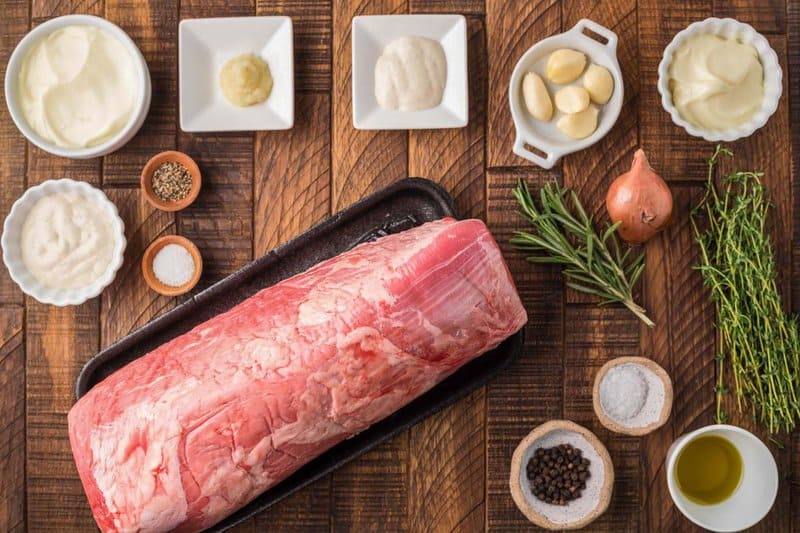 What If I Can't Find an Eye of Round Roast?
Before looking for an alternative, try asking for a round eye pot roast instead. Many stores sell this cut under that name. However, a top round roast is a good option if you can't find the cut under any name.
How To Prepare Whole Eye of Round Roast for Smoking
There is no need to brine the beef, but make sure to trim off all the fat and silverskin before seasoning it. Removing all of the silverskin cleanly isn't always easy, but don't worry about losing a little beef at this step.
If you leave the silverskin on, no one will want to eat the tough and leathery roast.
What Type of Seasoning Should You Use?
The included recipe for the seasoning paste is delicious, but you have options if you prefer a dry rub.
Buy one of the great premade rubs out there, or try making your own. A simple smoked eye of round dry rub is 3/4 cup of cracked black pepper, 1/2 cup of granulated garlic, 1/2 cup of kosher salt, and a 1/4 cup of smoked paprika. Combine well before using and store any extra inside an airtight container in a cool, dry place.
What Type of Wood Should You Use
This Smoked Eye of Round recipe calls for hickory, but feel free to use your favorite type of wood. For a milder flavor, try oak instead. Whichever type of wood you use, make sure to use a quality product that is food safe.
How to Smoke Eye of Round Roast
To prepare the dish:
Heat the smoker, and let it come up to 225°F. Maintain the smoker at a steady temperature with the lid closed for at least 15 minutes before adding the meat.
While waiting, combine the ingredients for the seasoning paste in a blender or food processor.
Blend in short bursts until smooth.
Use a paper towel to blot the meat dry to prevent the seasonings from falling off in the smoker.
Use your hands to coat the entire roast with the seasoning paste.
Put the roast directly onto the grill grates of the smoker. If you are using a meat thermometer, place the end of the probe into the thickest part of the roast.
There are no hard and fast rules for how long to smoke an eye of round. Just continue to smoke the beef until the internal temperature reaches 125 degrees F. Depending on several factors, it can take between three and five hours.
Remove the fully smoked roast and place it on a clean surface. Cover the meat loosely with aluminum foil, and let it rest for about 30 minutes.
While the roast is resting, whisk together the ingredients for the horseradish cream sauce in a small bowl.
Slice and serve the smoked roast beef with the sauce on the side.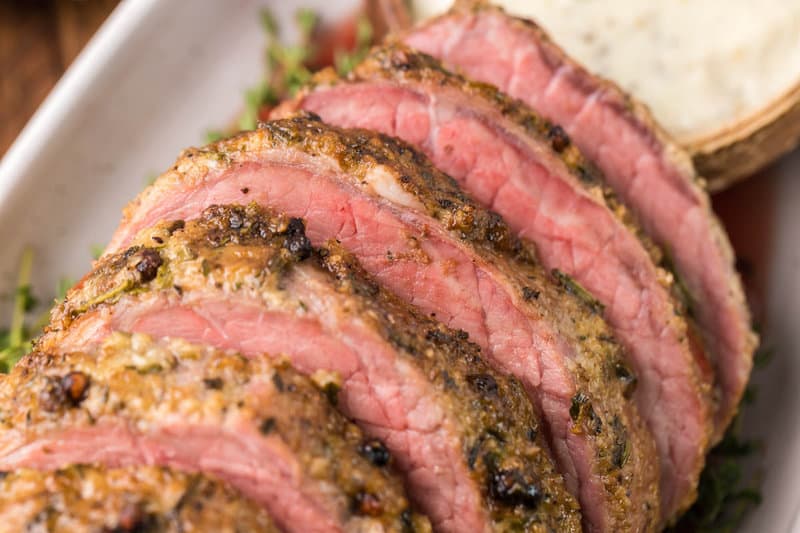 How To Get a Perfect Smoke Ring
Low and slow is the key to creating a beautiful smoke ring. Smoke rings develop when the nitrogen dioxide gas from wood or charcoal combines with the moisture in the meat to produce nitric oxide. The nitric oxide reacts with the myoglobins to create the ring.
Hardwood and briquette charcoal-fired smokers make the best smoke rings, but you can still get decent results from a pellet smoker.
Rest Before Your Slice
As much as you want to jump in and try the smoked meat immediately, you must let it rest for at least 30 minutes. Resting the roast allows it to reach the perfect medium-rare temperature while remaining juicy and tender.
How to Slice Traeger Smoked Eye of Round Roast
Use a very sharp knife to cut the roast against the grain thinly. The best knife for the job is a slicer or electric carving knife. You can use a serrated knife if you don't have either one.
Cutting the meat with a deli meat slicer is an excellent option if you want to make sandwiches.
What To Serve With Smoked Eye of Round Roast
Turn the smoked beef into perfect cold smoked roast beef sandwiches or slice the roast a little thicker and pair it with a few sides. Serving at least one potato dish with the meat is a must.
Keep it basic with a classic baked potato or get a little fancier and make Lyonnaise Potatoes, baked beans are another favorite, but don't forget to eat your greens. Green beans or Roasted Brussel Sprouts with Bacon are great choices.
How To Store Leftover Roast Beef
Many people prefer eating cold roast beef, and you can store wrapped leftovers in the fridge for up to five days. Keeping the beef whole will help prevent the meat from drying out.
Favorite Smoker Recipes
Popular Beef Recipes
Check out more of my easy beef recipes and the best dinner recipes here on CopyKat!
Print
Add to Collection Go to Collections
Smoked Eye of Round Roast
Smoked eye of round roast is an incredible main dish to make for a barbecue.
Roast
4

pound

eye of round roast

2

tablespoons

extra virgin olive oil

2

tablespoons

mayonnaise

1

tablespoon

horseradish

5

garlic cloves

1

shallot

½

tablespoon

peppercorns

1

teaspoon

coarse sea salt

1

tablespoon

fresh rosemary leaves

1

tablespoon

fresh thyme leaves
Preheat the smoker to 225°F for 15 minutes with the lid closed.

Blot roast with a paper towel to dry. This will help the paste to adhere as it smokes.

Add olive oil, mayonnaise, horseradish, garlic cloves, shallot, peppercorns, sea salt, rosemary, and thyme leaves to a food processor or blender and blend into a paste, about 30 seconds.

Coat the roast with the paste.

Place roast directly onto the smoker grates. Smoke until internal temperature reaches 125°F. Cooking times may vary, so it is important to go by the temperature rather than the time. For me, this took just under 4 hours.

Remove the roast from the smoker and place it on a wooden cutting board. Drape a sheet of foil over the top and form into a tent over the roast. Allow the meat to rest for 30 minutes before slicing. The meats temperature will rise 7 to 10 degrees as it rests. Aim for medium-rare for this cut of meat as it can get tough if cooked too long.

Place the sauce ingredients in a bowl. Whisk until combined well.

Thinly slice the roast and serve it with horseradish sauce on the side.
Calories:
460
kcal
|
Carbohydrates:
2
g
|
Protein:
41
g
|
Fat:
31
g
|
Saturated Fat:
6
g
|
Polyunsaturated Fat:
12
g
|
Monounsaturated Fat:
10
g
|
Trans Fat:
0.05
g
|
Cholesterol:
123
mg
|
Sodium:
630
mg
|
Potassium:
665
mg
|
Fiber:
1
g
|
Sugar:
1
g
|
Vitamin A:
59
IU
|
Vitamin C:
3
mg
|
Calcium:
50
mg
|
Iron:
4
mg
The post Smoked Eye of Round appeared first on CopyKat Recipes.