I probably wouldn't survive the summer if it wasn't for big cold "meal salads" like this Big Kale Pasta Salad. It's cold, filling, has tons of flavors and textures to keep me interested, and it's just super easy to pull together. Oh, and it holds up REALLY well in the fridge, too. So yeah, it pretty much wins the "perfect summer meal" prize. 🙂
What's in the BIG Kale Pasta Salad?
I combined a few of my favorite things for this BIG kale pasta salad. I used my favorite homemade balsamic vinaigrette to massage the kale and make it a little more tender, then added some chickpeas for extra bulk, grape tomatoes for freshness, red onion for a savory note, and a little Parmesan for more umami. This one is hitting all the bases!
Dressing Options
If you're not into balsamic dressing or you just don't want to make your own, any store-bought vinaigrette-style dressing will be great with this salad. Italian dressing, Caesar dressing, or tomato basil vinaigrette would also be good.
What Else Can I Add?
As with most salads, this Big Kale Pasta Salad is extremely flexible. Here are some other great ingredient options that you could add in place of or in addition to what I used:
Grilled chicken
Kidney beans
Feta
Pickled red onions
Olives
Shredded carrot
Toasted pita
Baked salmon
Sun dried tomatoes
Avocado
Diced mozzarella
Cured meat (salami, pepperoni, etc.)
How Long Does it Last?
This salad will stay good in the fridge for about 4-5 days. Kale holds up beautifully to dressing and pasta salads in general also hold up very well. If you plan to meal prep the salad, I do suggest that you reserve the rest of the dressing after massaging the kale to add to the salad just before serving (to prevent the salad from drying out as it's refrigerated).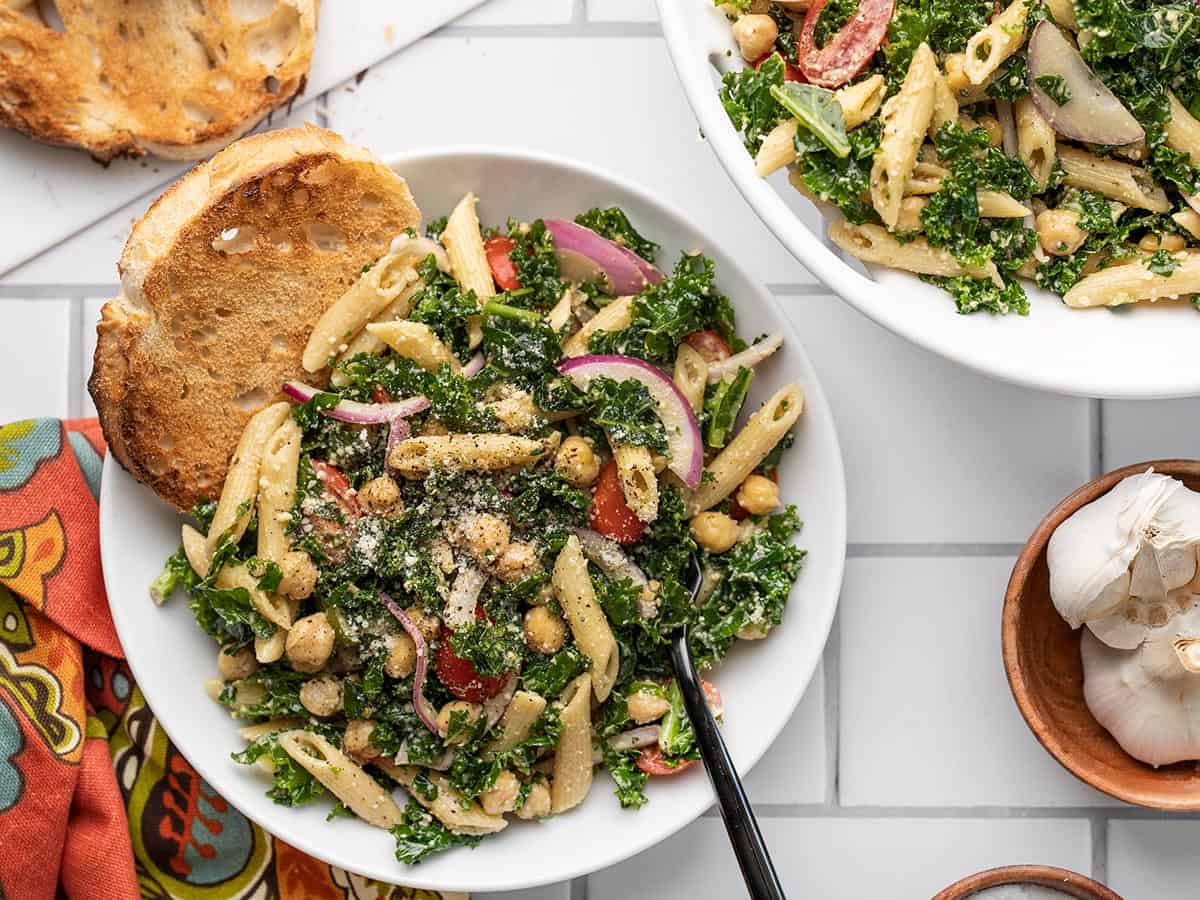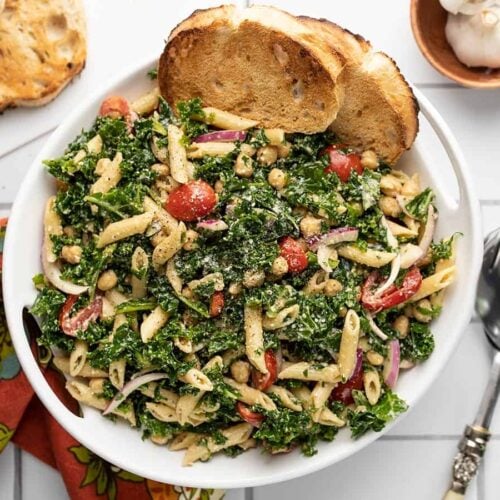 BIG Kale Pasta Salad
This Big Kale Pasta Salad is the perfect fast and filling summer lunch, packed with flavors, textures, and colors. Great for meal prep!
Creamy Balsamic Vinaigrette
Salad
8

oz.

penne pasta

$0.67

8

oz.

chopped kale*

$1.50

1

pint

grape tomatoes

$2.00

1/2

red onion

$0.22

1

15oz. can

chickpeas

$1.09

1/2

cup

grated Parmesan

$0.72
Make the vinaigrette first. Whisk together the olive oil, balsamic vinegar, mayonnaise, Dijon, minced garlic, basil, salt, and pepper in a bowl until smooth and creamy. Set the dressing aside.

Bring a pot of water to a boil for the pasta. Once boiling, add the pasta and boil until tender (7-8 minutes). Drain the pasta in a colander and allow it to cool.

Add the kale to a large bowl. Drizzle ⅓ of the prepared balsamic dressing over the kale and then use your hands to massage the dressing into the kale. Massage the kale for 3-5 minutes, or until it has wilted to half its volume.

Slice the grape tomatoes in half, thinly slice the red onion, and rinse and drain the chickpeas.

Add the drained and cooled pasta to the bowl with the kale, along with the tomatoes, onions, chickpeas, and Parmesan.

Pour the rest of the dressing over top, then stir the salad until everything is evenly combined and coated in dressing. Add salt and pepper to taste, then serve.
*If not using pre-chopped kale, simply remove the stems and tear or chop the kale into small pieces. Rinse and drain the kale well before using it in the salad.
Serving:
2
cups
|
Calories:
355
kcal
|
Carbohydrates:
37
g
|
Protein:
10
g
|
Fat:
19
g
|
Sodium:
316
mg
|
Fiber:
4
g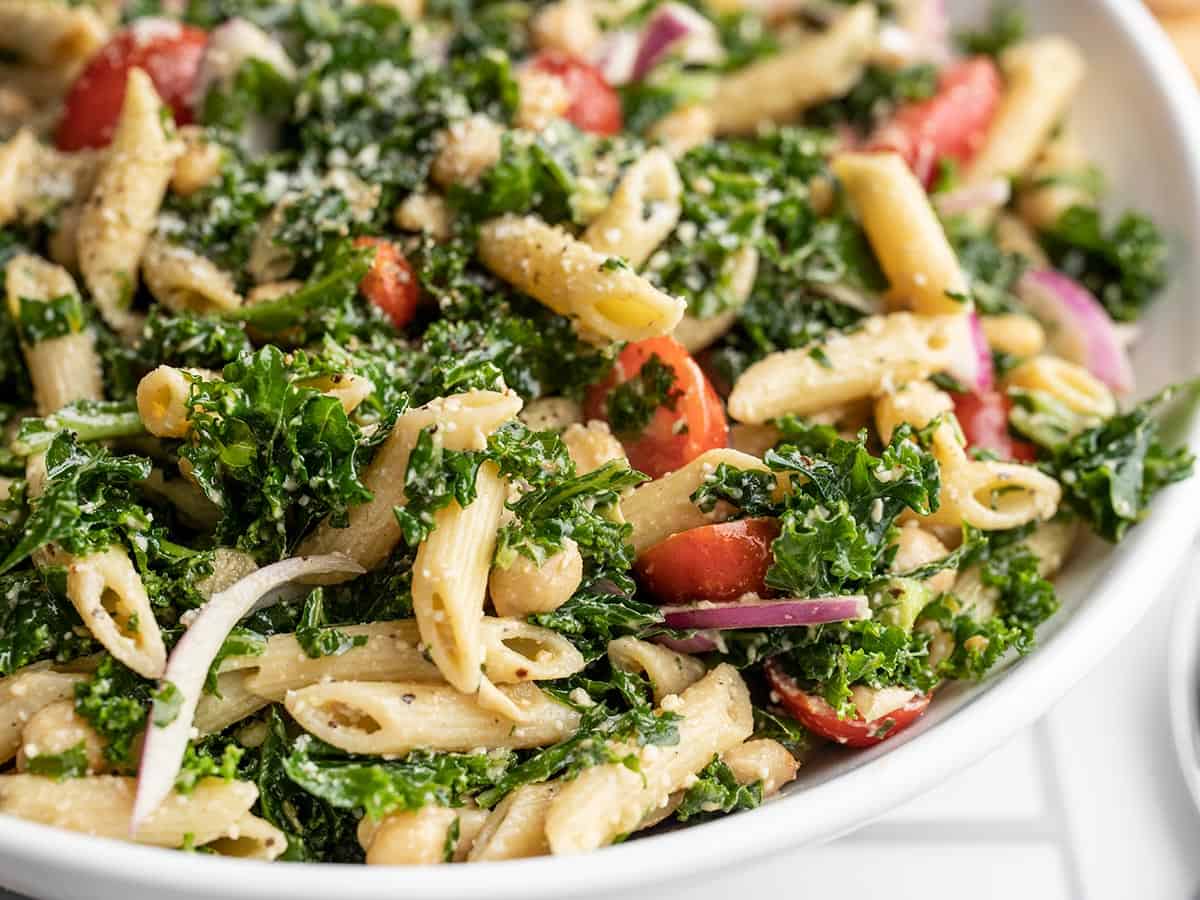 How to Make A BIG Kale Pasta Salad – Step by Step Photos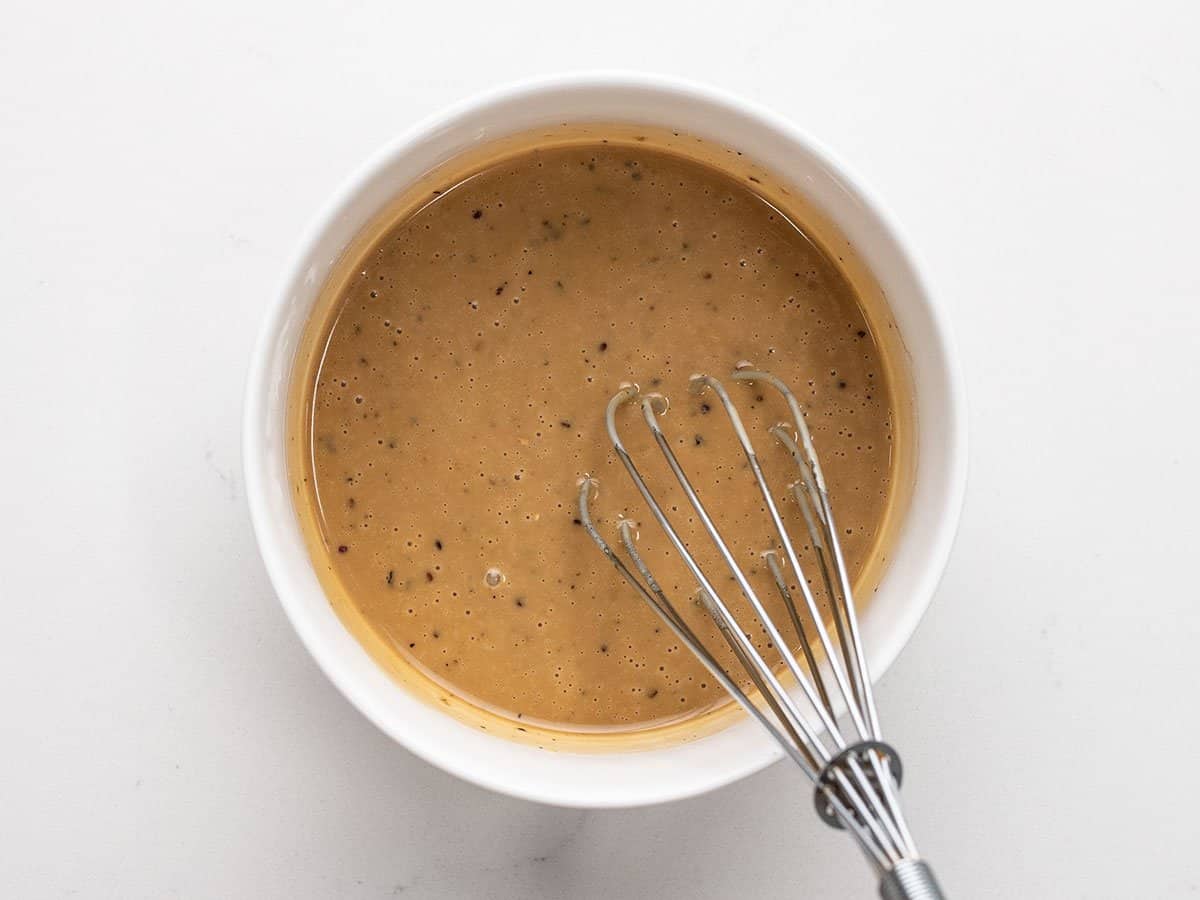 Make the dressing first. Whisk together ⅓ cup olive oil, 3 Tbsp balsamic vinegar, 2 Tbsp mayonnaise, ½ Tbsp Dijon mustard, 1 clove of minced garlic, ½ tsp dried basil, ¼ tsp salt, and ¼ tsp pepper. Set the dressing aside.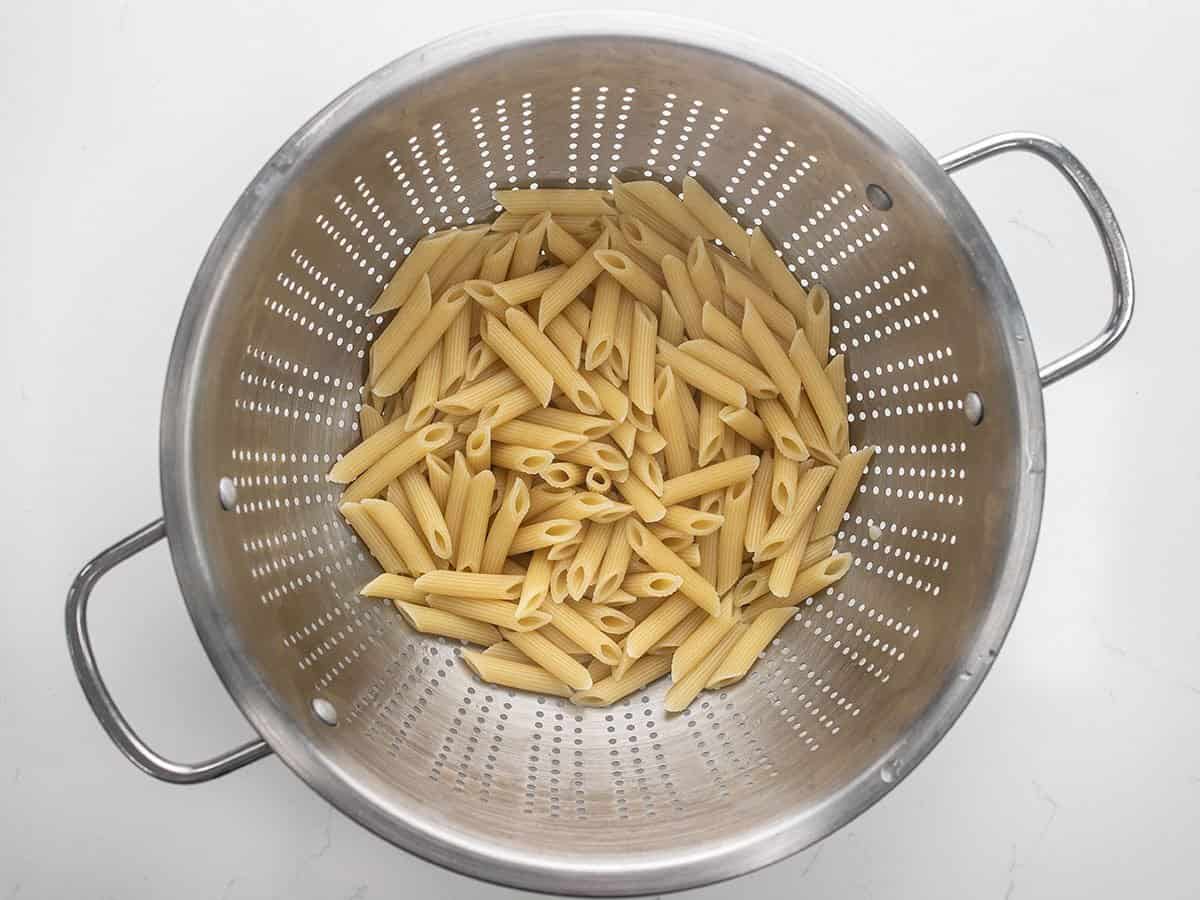 Bring a pot of water to a boil, then add ½ lb. of pasta (any short shape). Boil until tender and then drain in a colander.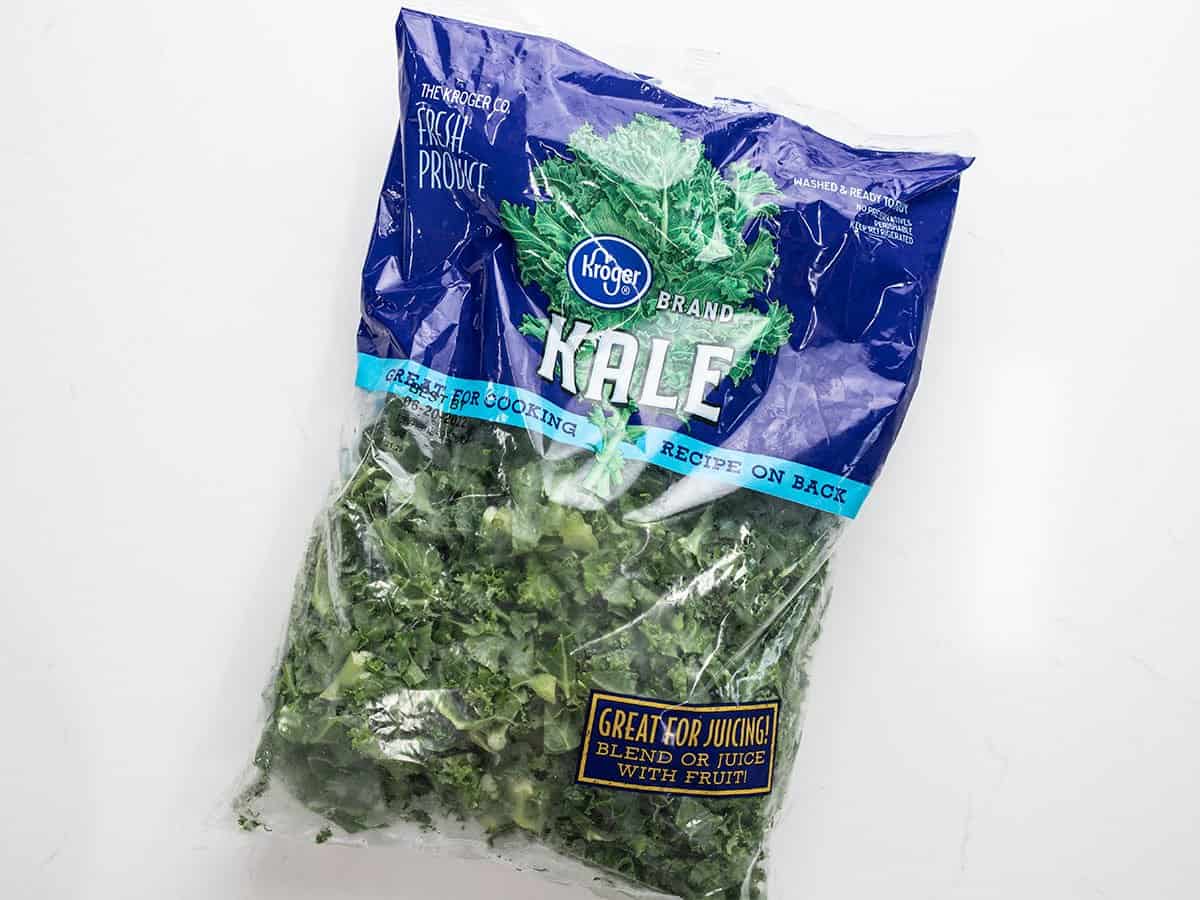 Meanwhile, begin to prepare the kale. I use this pre-chopped kale because it's super convenient and also inexpensive. If you are using a bunch of kale instead of pre-chopped, simply remove the stems and chop the kale into 1-2 inch pieces. I used half of this one-pound bag for my salad.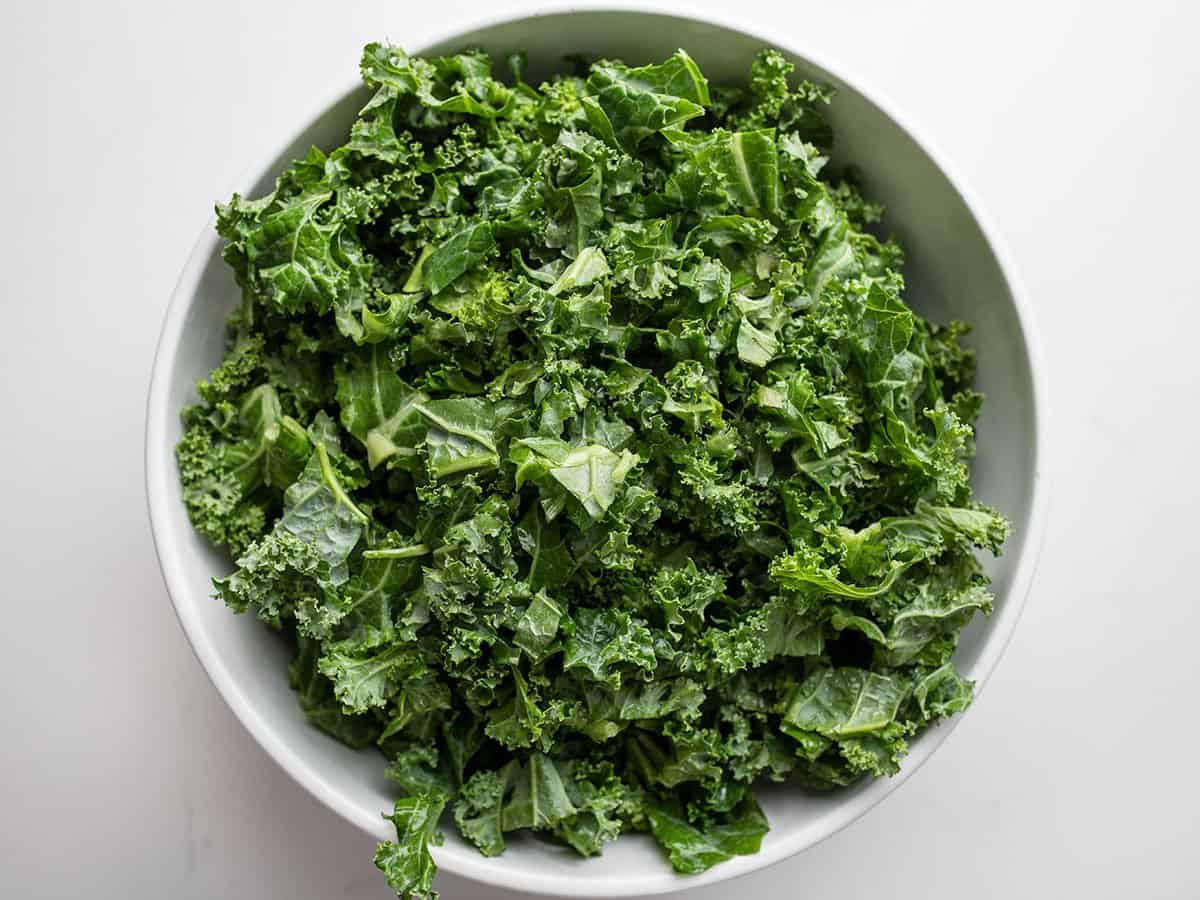 Before massaging the kale, it has a lot of volume and entirely fills my big salad bowl.
Add about ⅓ of the prepared dressing to the kale and then use your hands to massage the dressing into the kale. The kale will get softer and lose volume as it is massaged. Set the kale aside.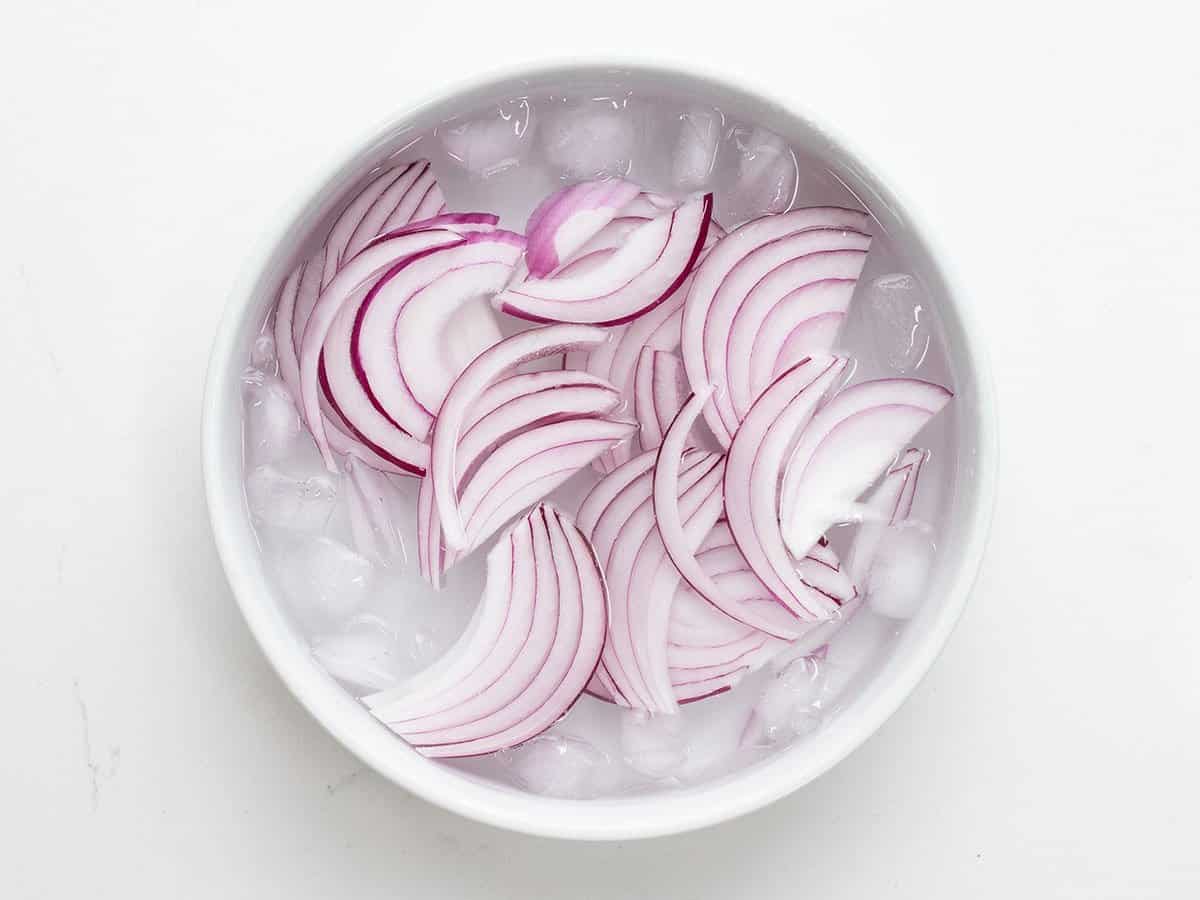 Slice ½ of a red onion. If red onion is a bit too strong for you, you can soak it briefly in ice water to take the sharp edge off.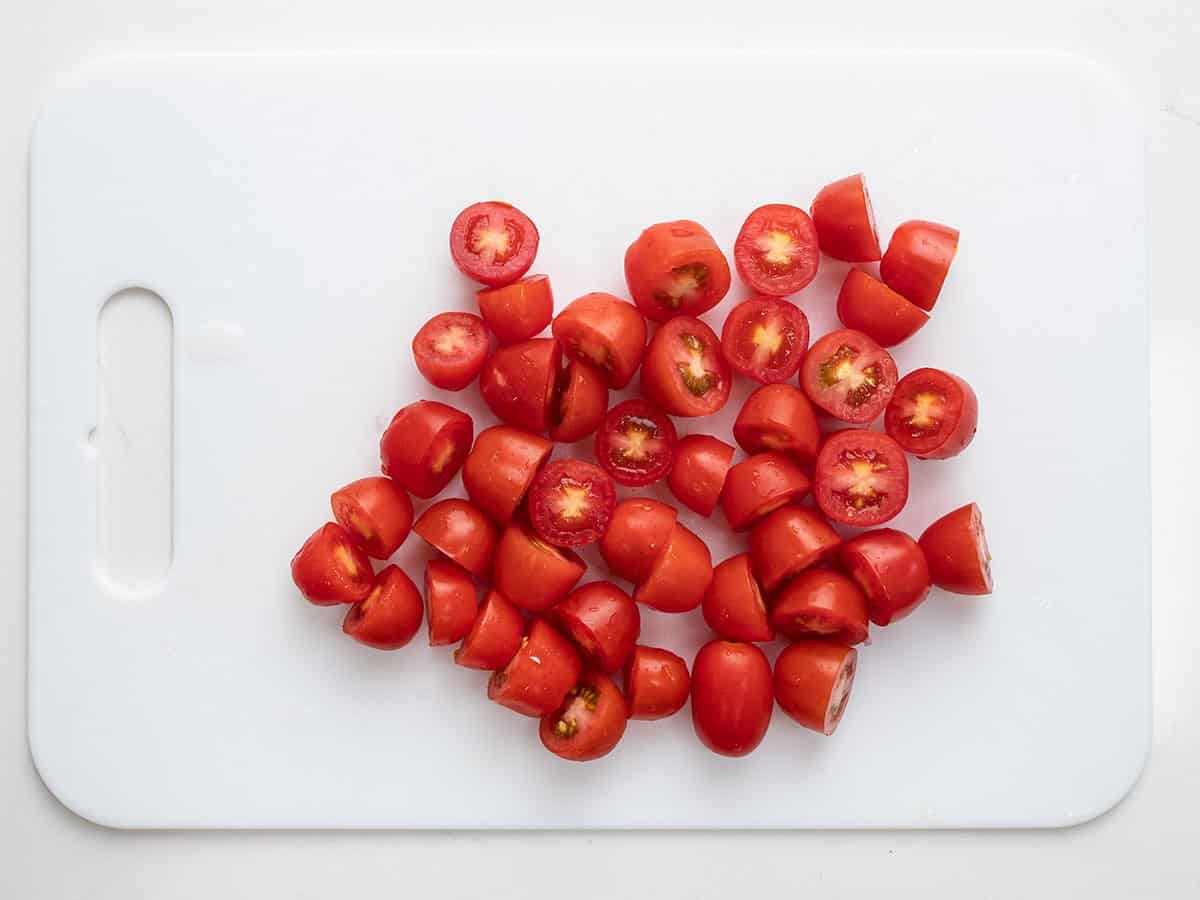 Slice one pint of grape tomatoes in half.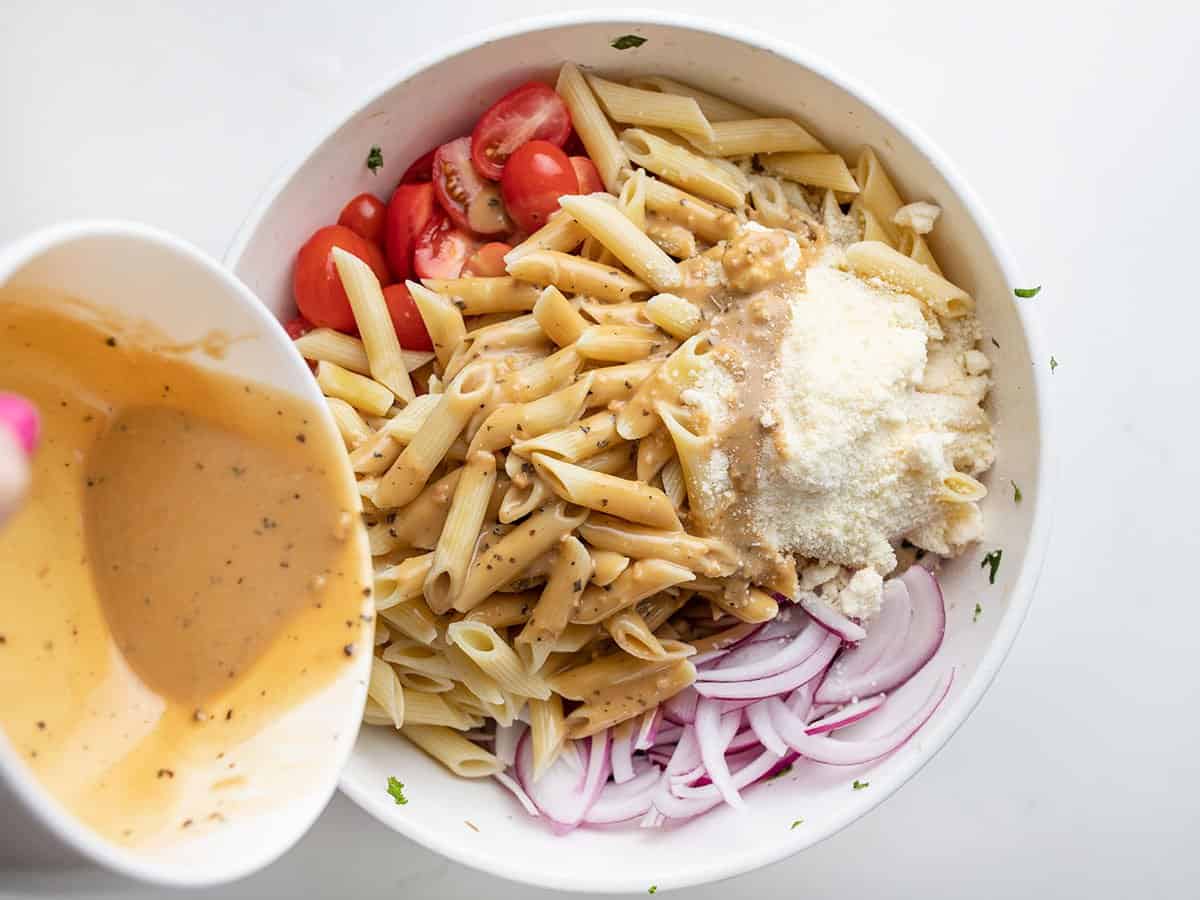 Add the drained and cooled pasta, tomatoes, sliced onions, one drained 15oz. can of chickpeas, and ½ cup grated Parmesan to the bowl with the kale. Pour the remaining dressing over top.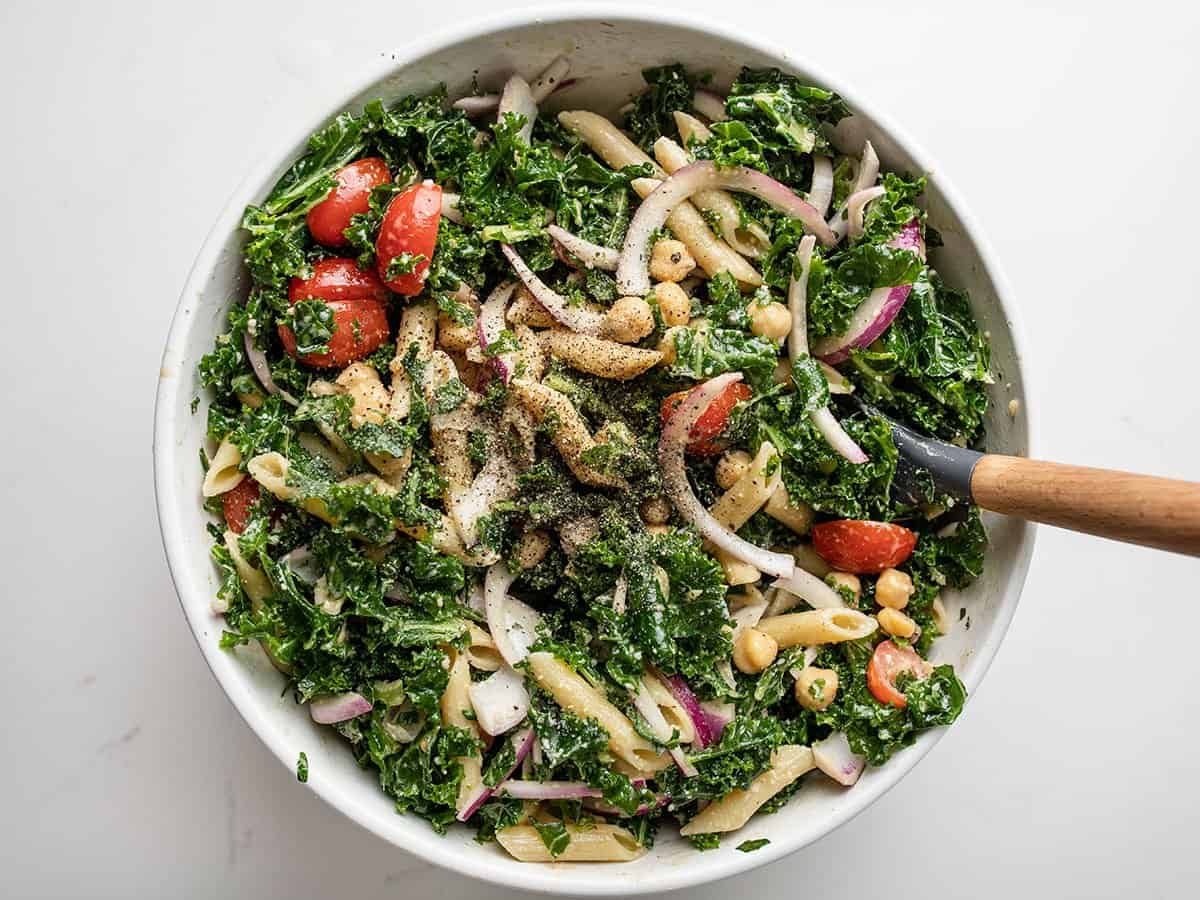 Stir everything together, then season the salad to taste with salt and pepper.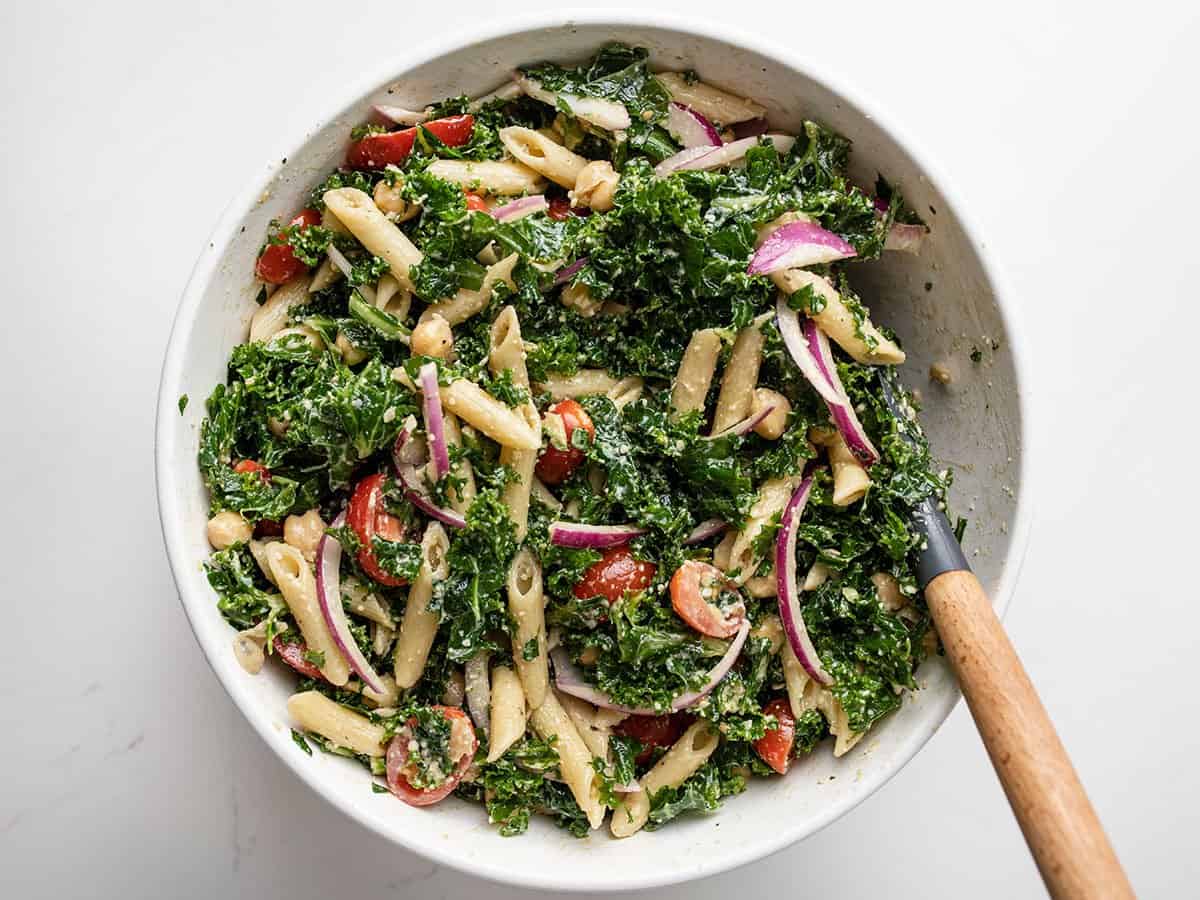 Enjoy the salad immediately or refrigerate for later!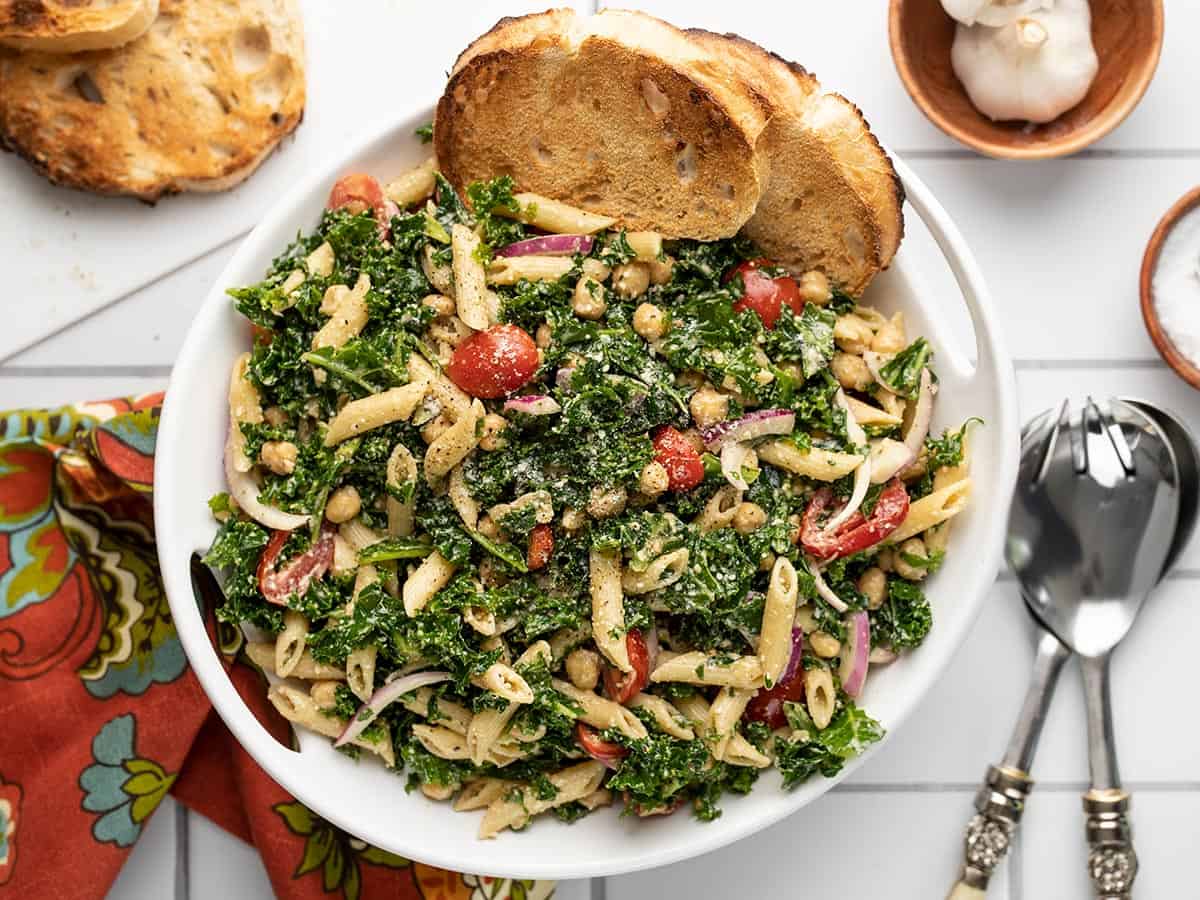 The post BIG Kale Pasta Salad appeared first on Budget Bytes.