Ready to up your breakfast game? Try this traditional Turkish scrambled eggs recipe, also known as Menemen. This one-pan vegetarian egg dish is healthy, filling, easily customizable, and ready in less than 30 minutes from start to finish.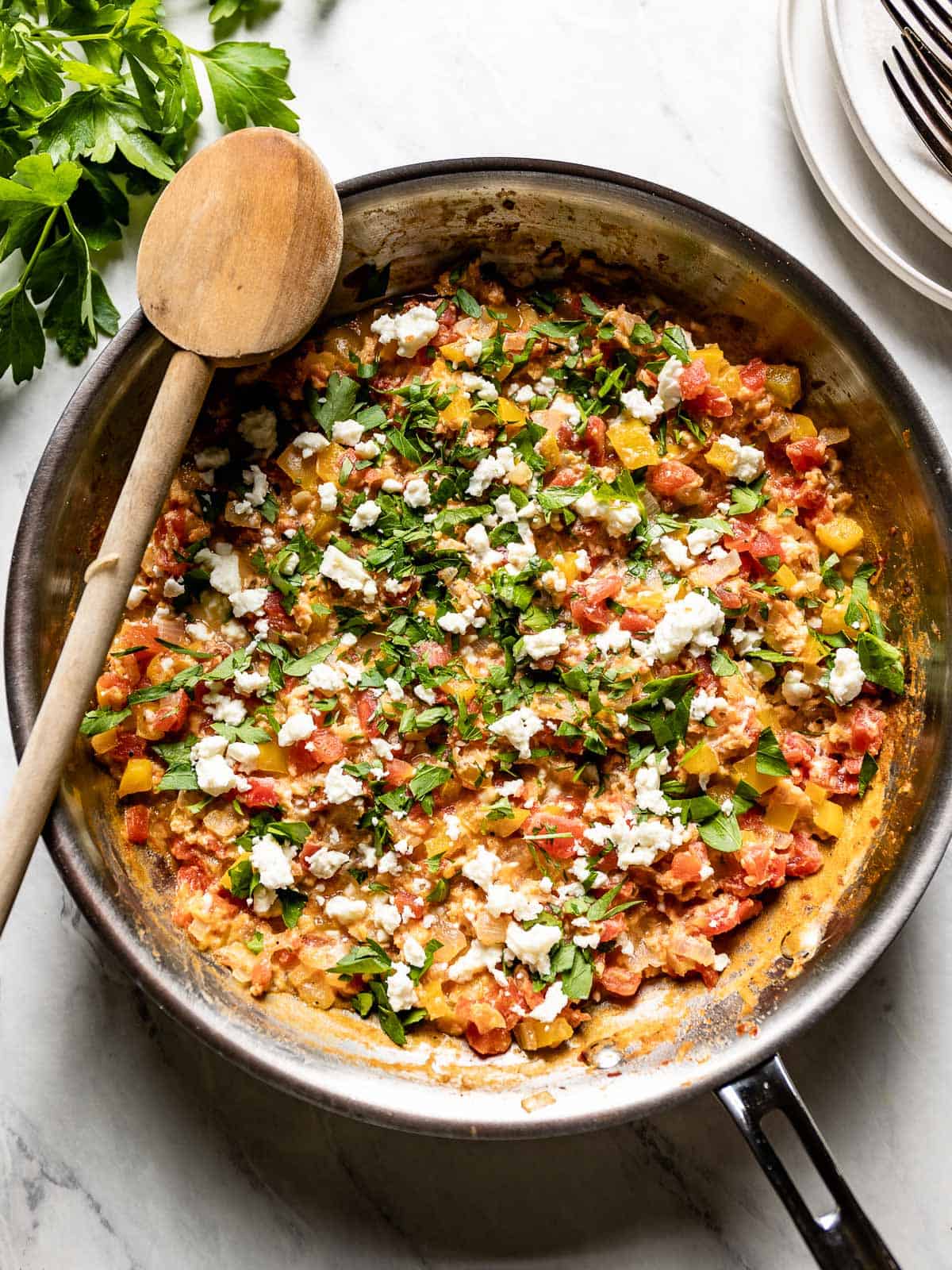 What Is Menemen?
Menemen is a traditional Turkish breakfast recipe made by cooking eggs with onions, peppers, and tomatoes with a subtle hint of spice. It gets its name from a Turkish town called Menemen, located in Izmir.
What to Serve with Menemen?
Menemen is traditionally served in the skillet that it is cooked in while it is still hot and bubbly. It is usually served with crusty bread on the side, which is then dipped into the soft scrambled eggs and vegetables for a satisfying bite.
With that being said, if you want to serve it as Turks do then I would recommend a few must-haves on the side:
Cheese & olives: You can't talk about Turkish breakfast and not include cheese and olives. In terms of cheese, you can use feta cheese, fresh mozzarella cheese, or even cheddar cheese. And for olives, serve it with Kalamata olives, green olives, or a mixture of the two with a drizzle of olive oil and a sprinkle of dried oregano.
Simit: A breakfast staple in Turkey, simit is a sesame-crusted circular bread similar to an American bagel but crustier on the outside and softer on the inside. It pairs wonderfully with menemen and can also be enjoyed with cheese and olives.
Turkish Borek: Borek is made by layering phyllo dough with a filling usually made with cheese and sauteed vegetables. One of the most popular fillings is spinach and feta, which would pair perfectly with this hearty scrambled egg dish.
Ingredient Variations & Substitutions:
The best part of this Turkish soft scramble recipe is that you can easily change it up with whatever you have on hand. Here are a few ideas:
Make it without onions: There is an ongoing debate amongst the diehard menemen fans about making it with or without onions. The good news is that it can be made with or without it. Simply omit using onions and sautee peppers and spices by themselves instead.
Peppers: The traditional menemen recipe uses fresh green Turkish peppers, aka sivribiber, which could be hard to find. In my version here I used bell peppers, but feel free to use whatever pepper you have on hand. Seeded and chopped jalapeno, Anaheim peppers, and even Hungarian wax peppers would all work.
Tomatoes: I used a canned tomato to make it easy and convenient. However, during the summer months, when they are in season, I prefer using two or three medium-size fresh tomatoes instead.
Cheese: Crumbled feta cheese is a very popular topping but you can also add shredded mozzarella cheese on top at the last minute and let it melt on top before serving.
What else can I add?
You can follow the recipe as written or take it up a notch with a few additions to it.
Lamb or Italian Sausage: If you are a meat-eater, you can sautee ½ lbs of sausage at the same time as you sautee onions and peppers.
Spices: Sprinkle it with Aleppo pepper, Urfa chili pepper, or red pepper flakes if you don't mind a little bit of heat.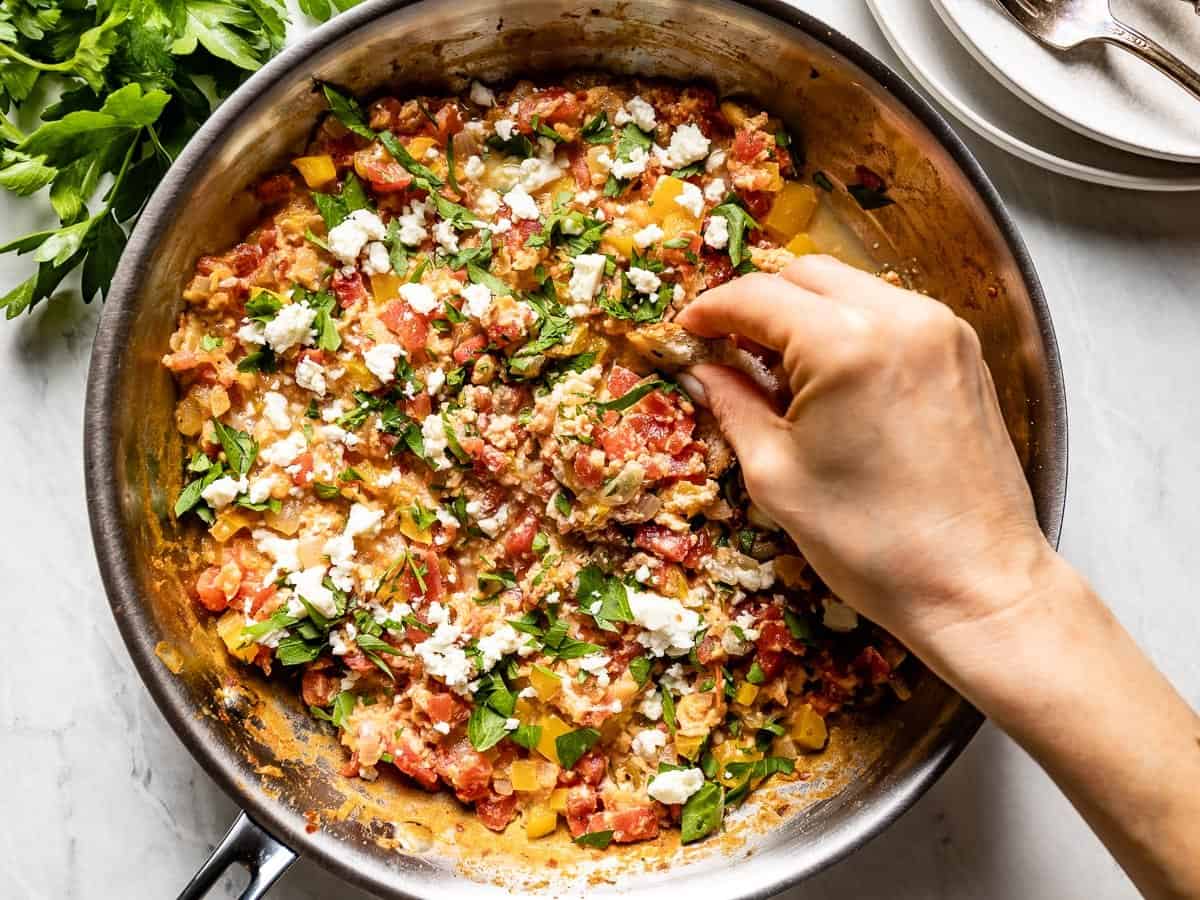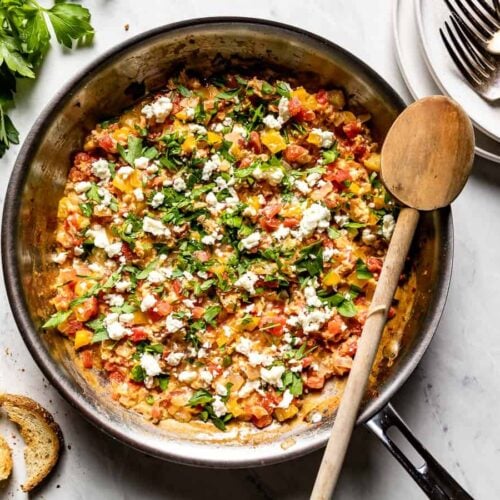 Menemen
Menemen, or Turkish scrambled eggs, is an easy, healthy, and customizable dish that can be ready in less than 30 minutes!
2

Tbsp

olive oil

$0.25

1

yellow onion

$0.37

1

bell pepper (any color)

$0.98

1/2

tsp

dried oregano

$0.05

1/4

tsp

crushed red pepper (or Aleppo pepper)

$0.03

1

15oz. can

diced tomatoes

$0.79

1

tsp

salt

$0.05

1/4

tsp

freshly cracked black pepper

$0.02

4

large

eggs, lightly beaten

$0.78

1/4

cup

chopped parsley

$0.40

1

cup

crumbled feta (optional)

$1.64
Heat olive oil in a 10-inch skillet over medium heat. Add in onion, pepper, dried oregano, and red pepper flakes. Cook, stirring frequently until vegetables are softened for about 7-8 minutes.

Stir in the tomatoes (with their juices), salt, and pepper. Sauté for 2-3 minutes or until tomatoes are heated through.

Gently pour the lightly beaten eggs into the skillet and cook, stirring frequently, until eggs are just barely set yet still soft, about 2-3 minutes.

Immediately sprinkle it with chopped parsley and crumbled feta cheese, if using. Serve with crusty bread on the side.
Serving:
1
serving
|
Calories:
255
kcal
|
Carbohydrates:
7
g
|
Protein:
12
g
|
Fat:
20
g
|
Sodium:
1086
mg
|
Fiber:
1
g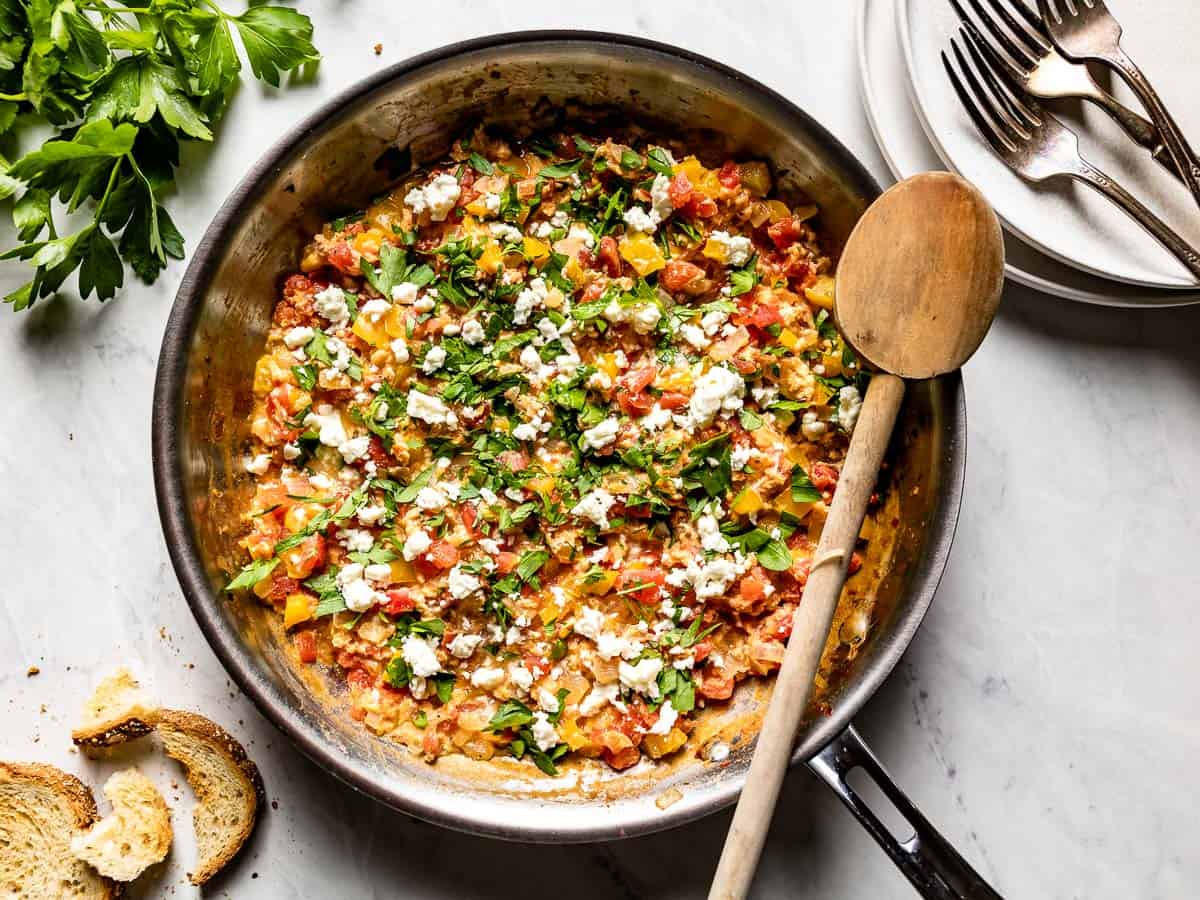 How to Make Menemen – Step by Step Photos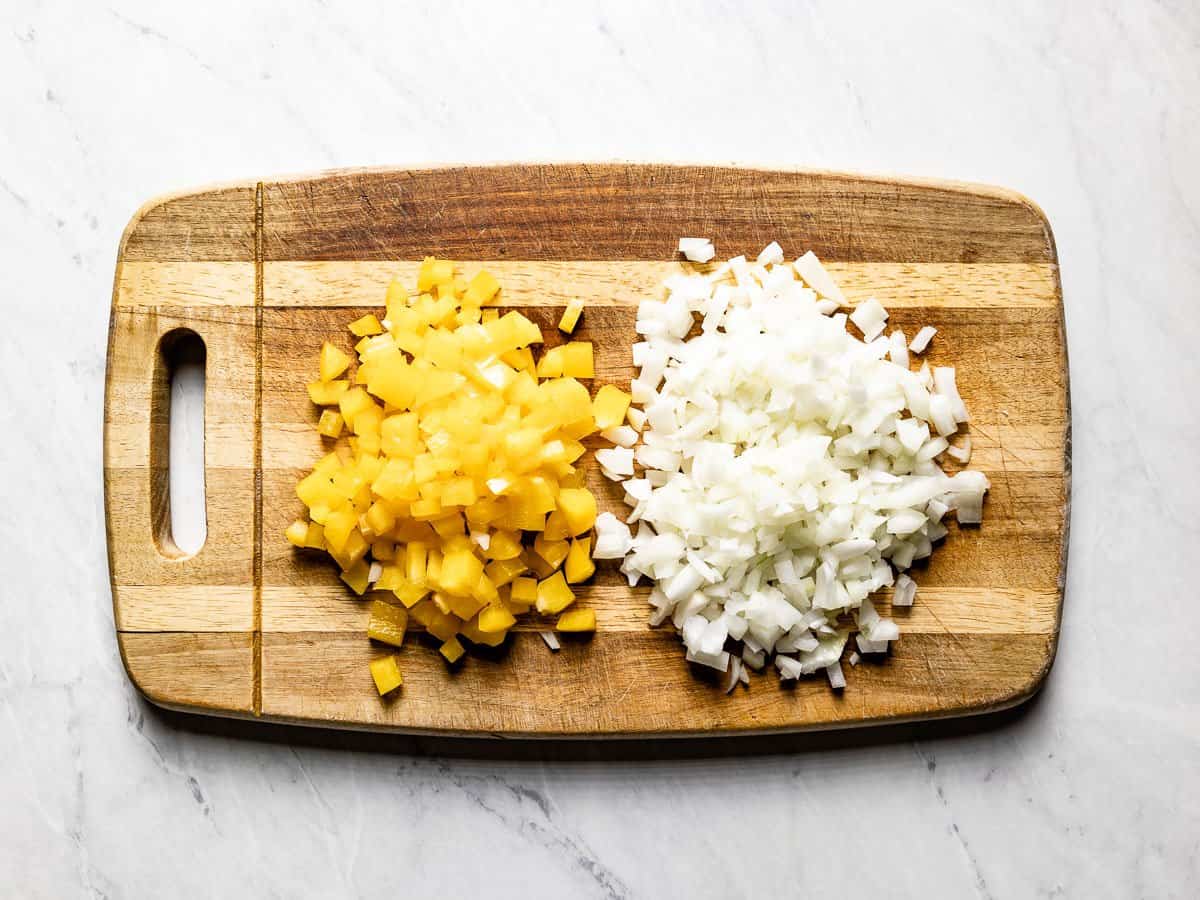 Begin by dicing one bell pepper (any color) and one small onion.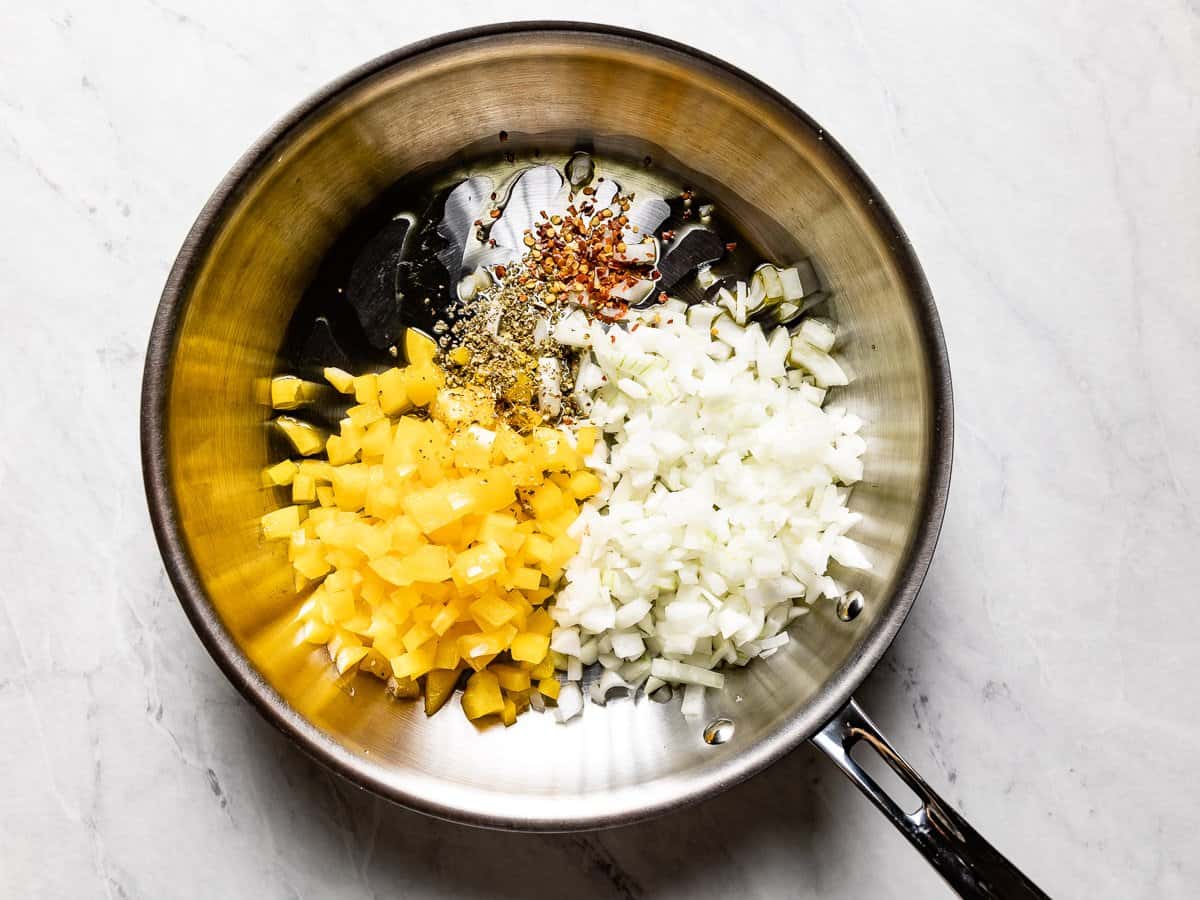 Heat 2 Tbsp of olive oil in a skillet over medium heat. Once hot, add the diced onion and bell pepper, along with ½ tsp dried oregano and ¼ tsp red pepper flakes or Aleppo pepper. Sauté until the vegetables have softened.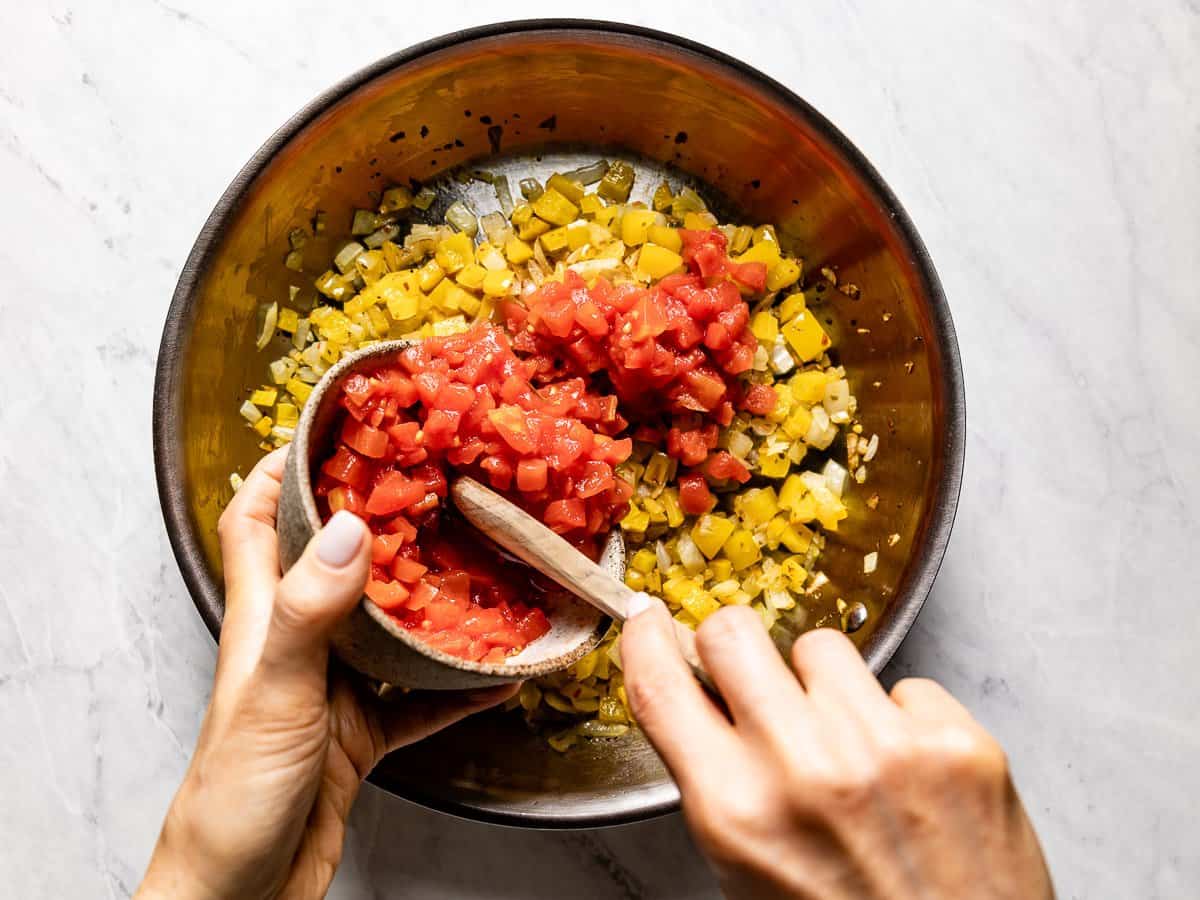 Add one 15oz. can of diced tomatoes (with the juices), 1 tsp salt, and ¼ tsp black pepper. Stir to combine.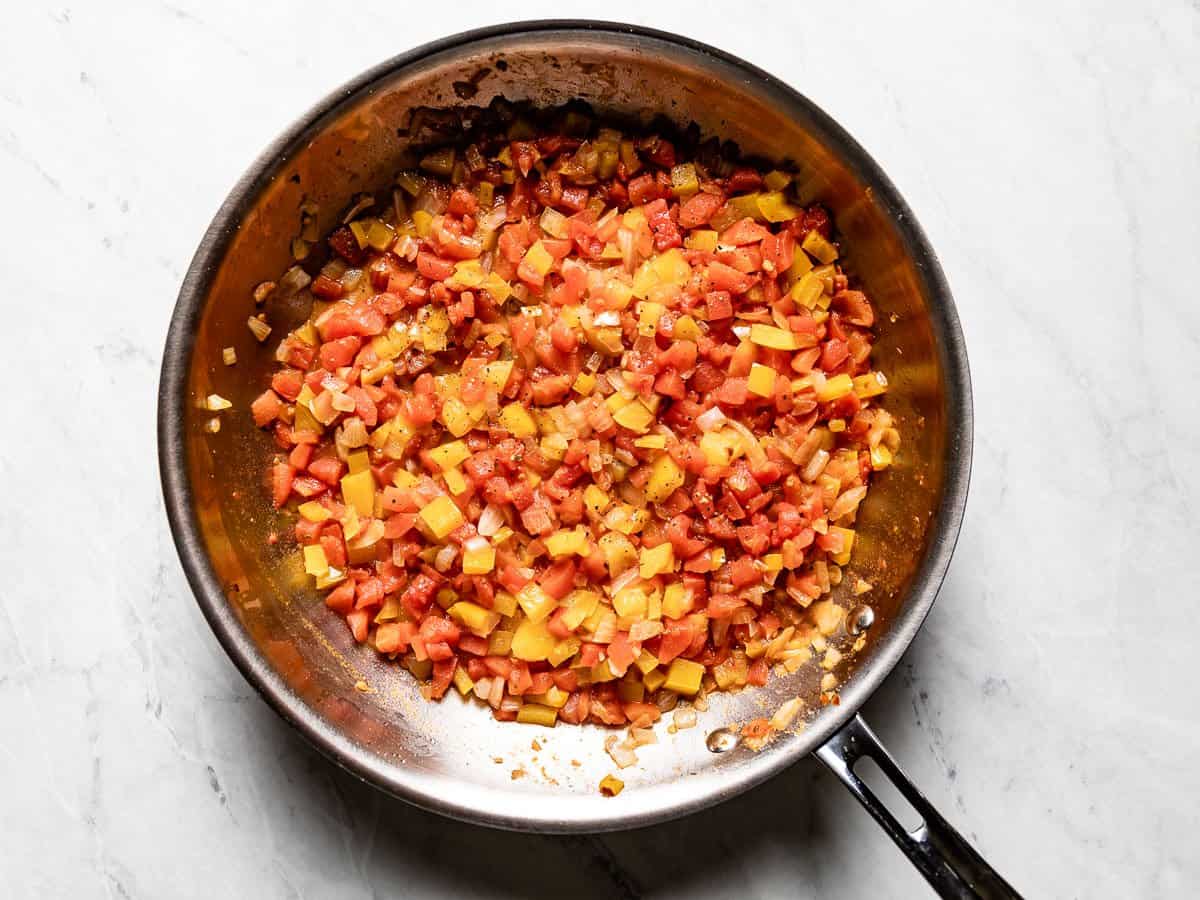 Continue to sauté for about 2-3 minutes more, or until everything is heated through well.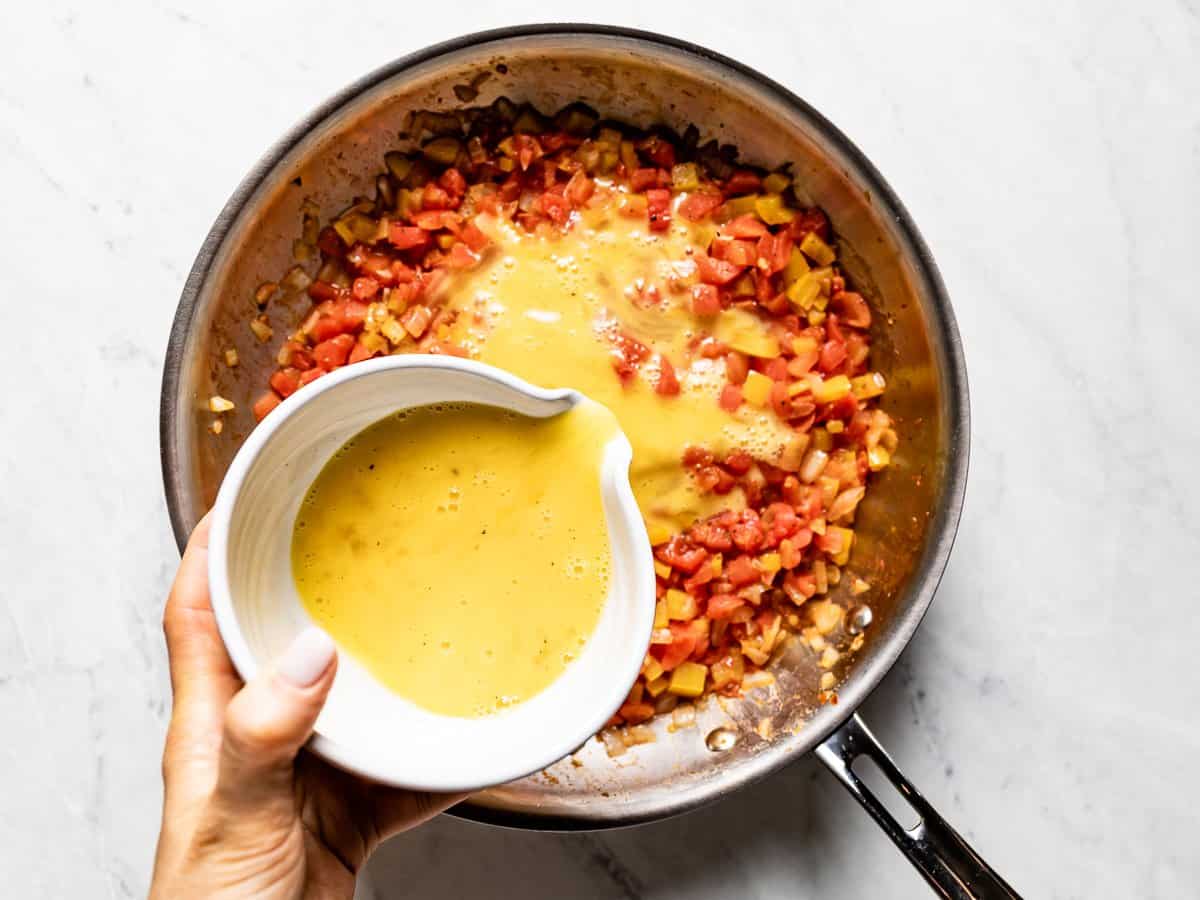 Lightly beat four large eggs, then pour them into the skillet.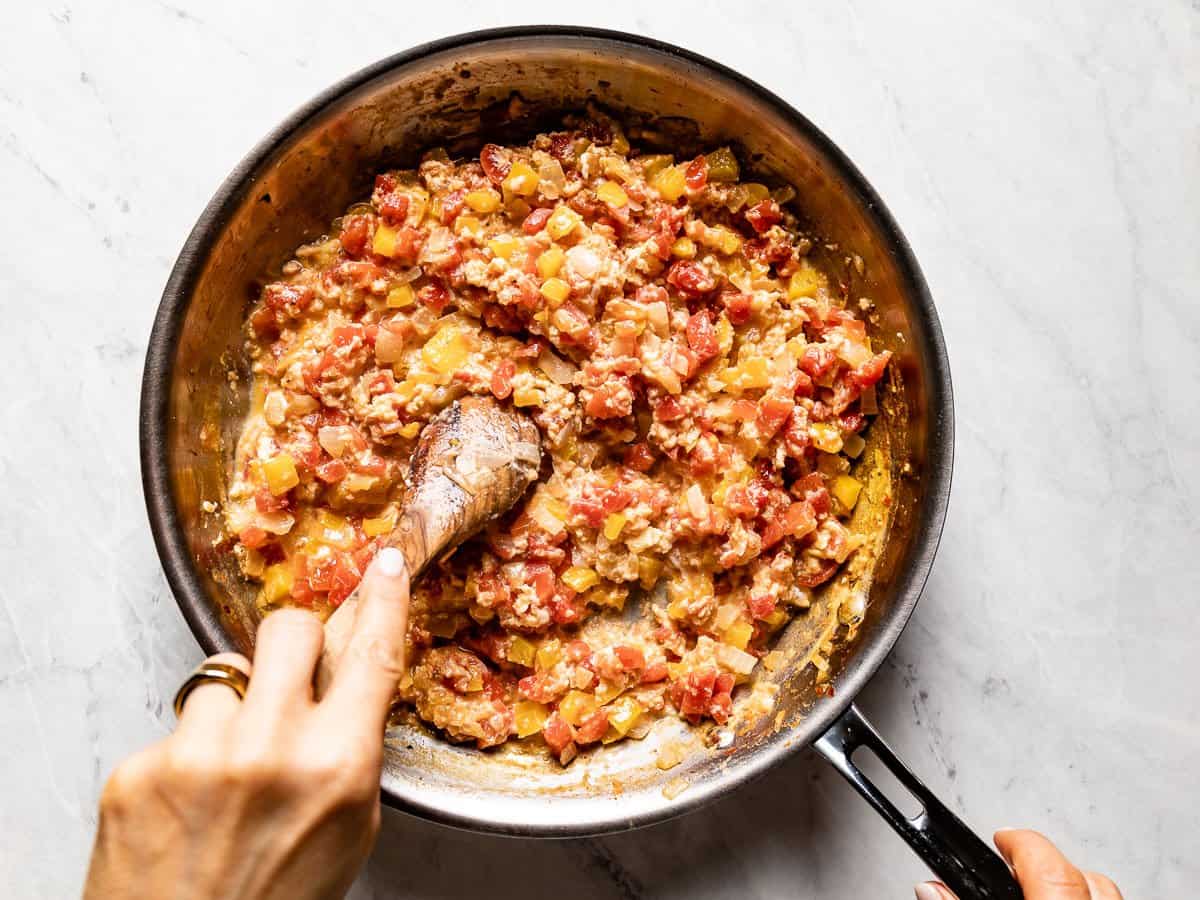 Cook the eggs, stirring frequently, until they are just barely set yet still soft (about 2-3 minutes).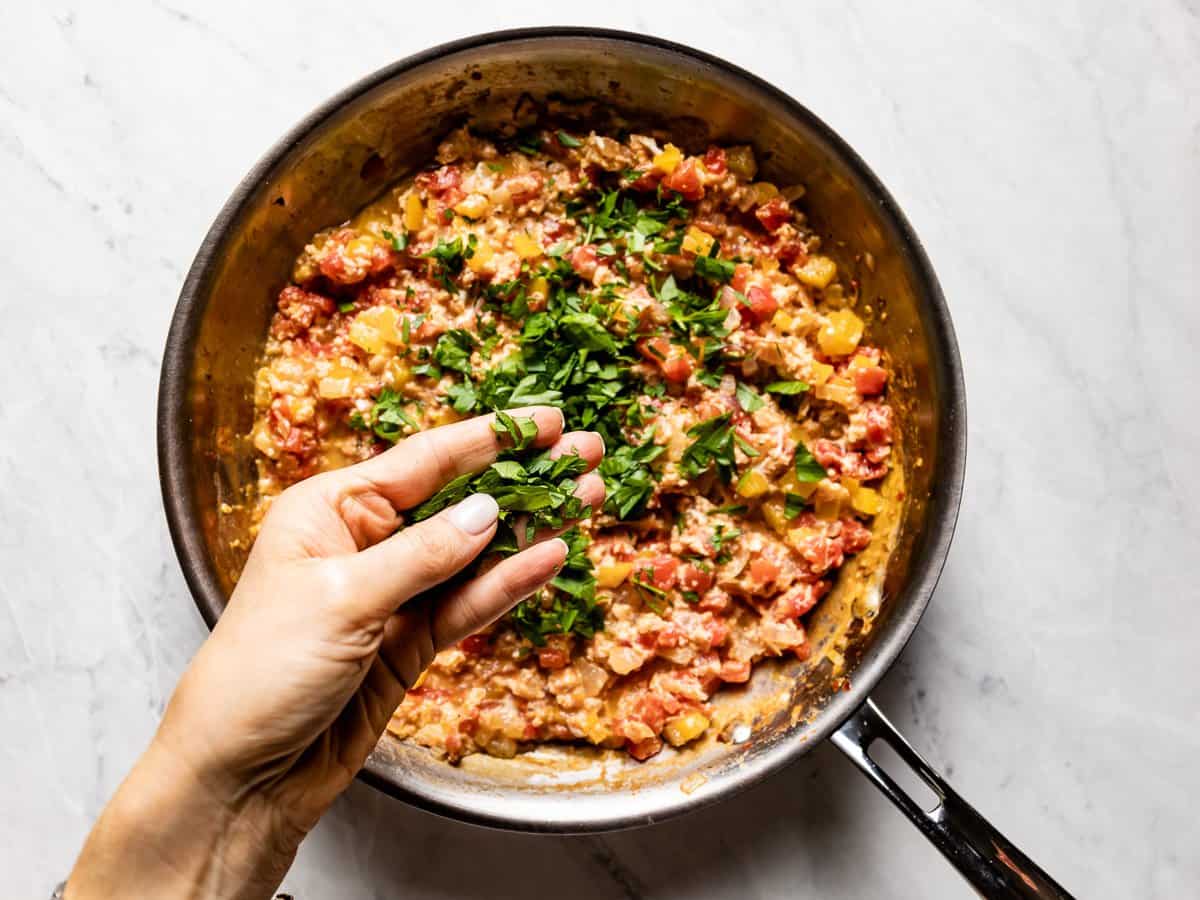 Sprinkle chopped fresh parsley over the eggs.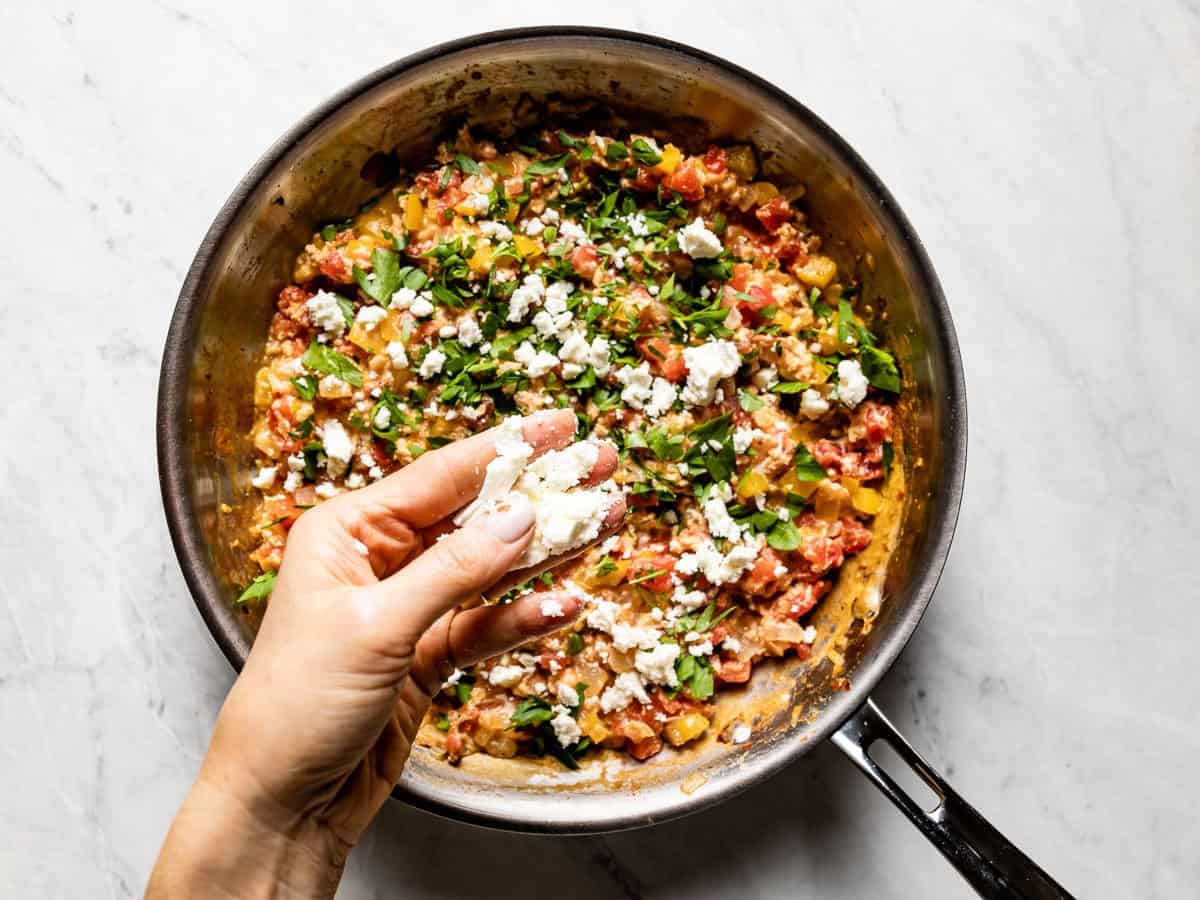 Top with crumbled feta and more black pepper, if desired.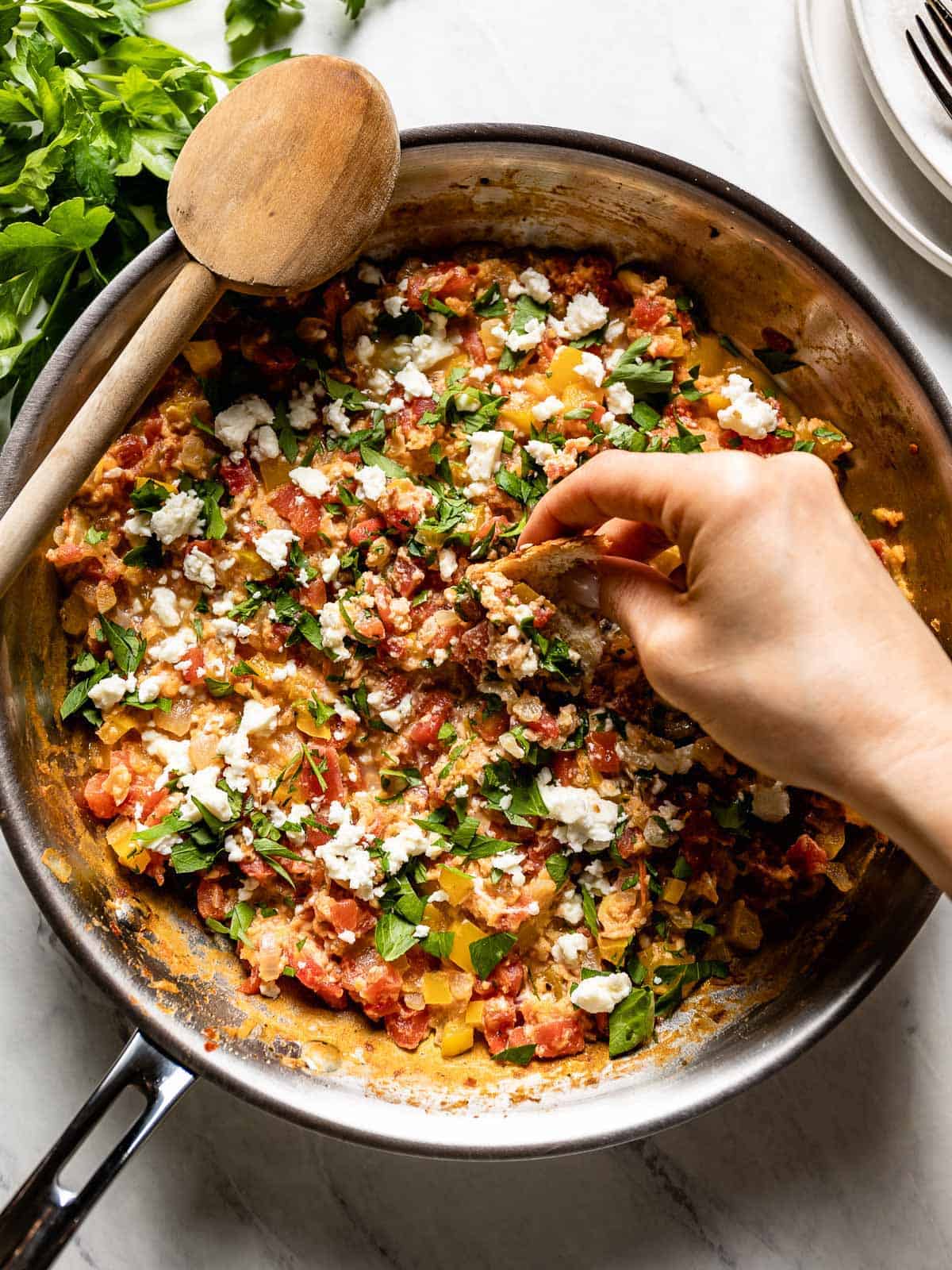 Serve with crusty bread for dipping!