Cracker Barrel Bacon Baked Beans is a popular side dish at the restaurant. It's easy to make these southern baked beans from canned beans and a few more ingredients.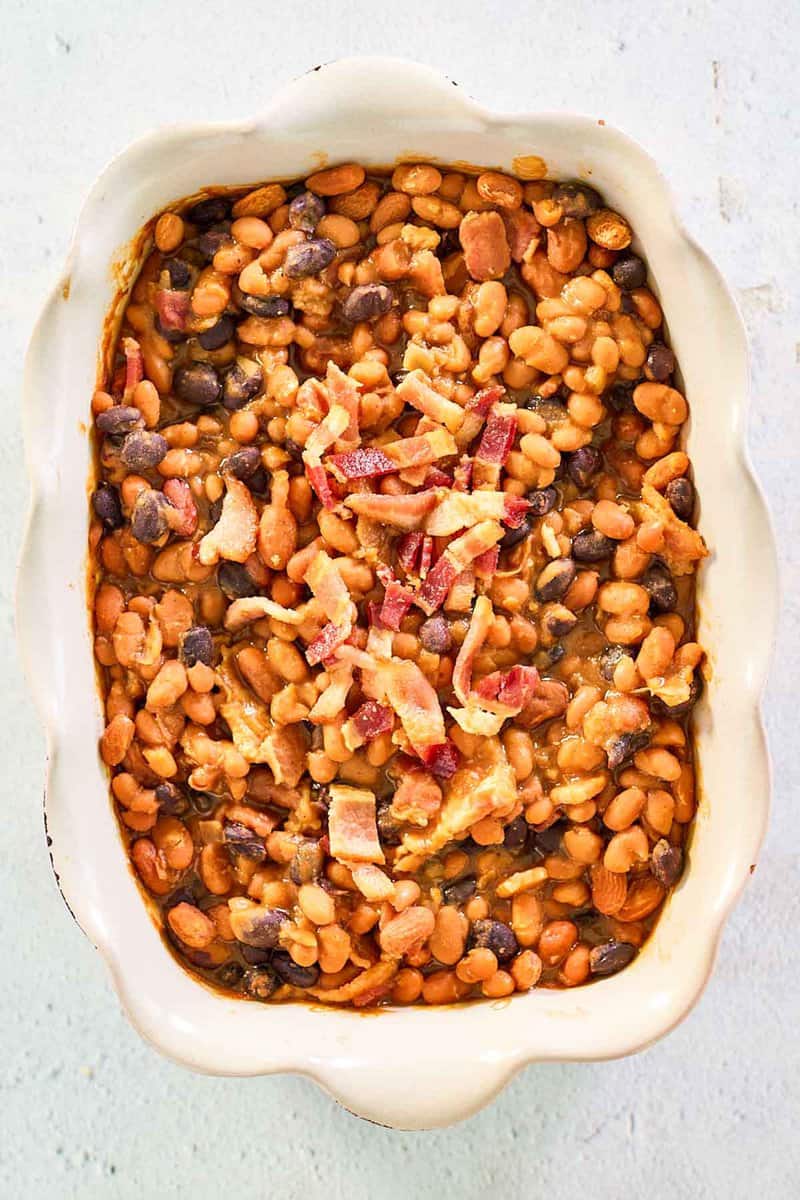 This post contains affiliate links. As an Amazon Associate, I earn from qualifying purchases.
Why Baked Beans Are the Perfect Side Dish To Serve
Baked beans are one of the most versatile side dishes out there. You can eat them hot or cold, and they are perfect for any meal of the day.
The fact that baked beans contain plenty of protein and fiber is secondary to just how delicious they taste. If you want to add more baked beans to your meals, this Cracker Barrel Old Country Store recipe is an excellent place to start.
What Makes This Recipe for Baked Beans With Bacon So Good?
Don't be fooled. Although many people claim to prefer baked bean recipes made from scratch, most won't be able to tell the difference when you serve them these doctored-up canned beans.
You have something pretty special when you combine three different types of beans, smoky bacon, tangy onions and yellow mustard, and sweet brown sugar and molasses. It's so much tastier than regular baked beans.
This baked beans recipe with bacon has more layers of flavor than most homemade baked beans you'll find at a New England supper! Plus they're great for potlucks and summer cookouts.
Cracker Barrel Bacon Baked Beans Ingredients
To make this recipe for Cracker Barrel baked beans with bacon, you'll need:
Bacon
White onion
Pork and Beans, canned
Black beans, canned
Yellow mustard
Dark brown sugar
Molasses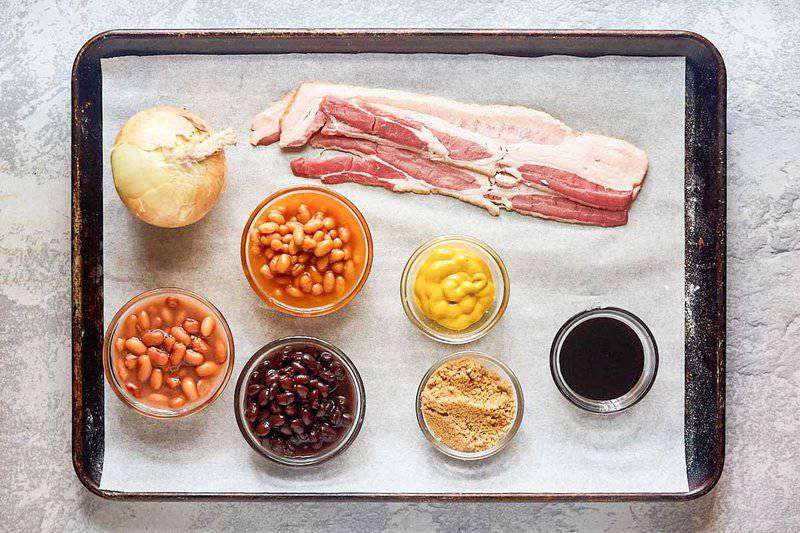 Ingredient Notes
Thick-cut, streaky bacon with a mild smokiness is the best kind of bacon for this recipe, but feel free to use your favorite.
White onion is best for these beans, but you can use yellow onion for a milder flavor.
Choose a brand of pork and beans that isn't overly sweet. A good choice is Van Camp's Pork and Beans in Tomato Sauce.
How to Make Cracker Barrel Bacon Baked Beans
Preheat the oven to 350°F.
Empty the cans of black and pinto beans into a colander placed in the sink. Give the beans a good rinse with cold water and let them drain.
Slice the bacon into bite-sized pieces and chop the onion into small dice.
Heat a skillet on the stovetop over medium-high heat. Add the onions and bacon to the hot skillet and cook until the onions soften and the bacon fully cooks without becoming crisp.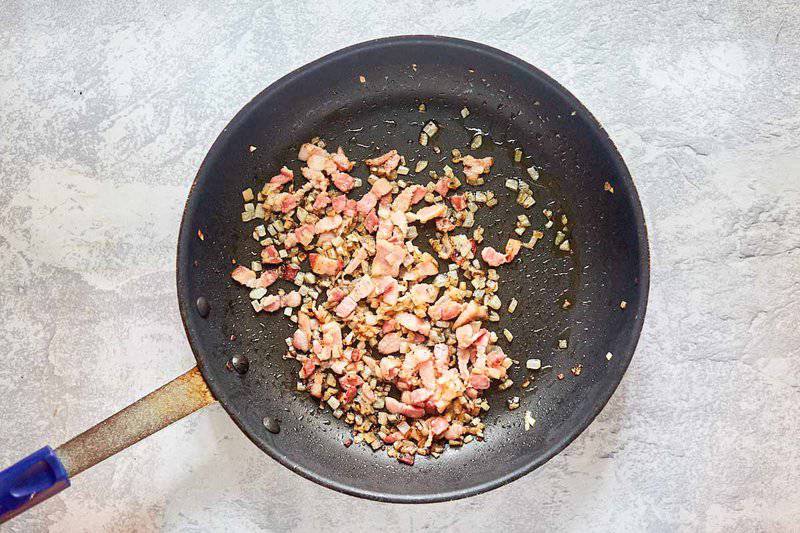 While the bacon and onions are cooking, dump the drained black and pinto beans into a large oven-proof pot with a lid. Pour the canned baked beans directly into the pot without draining.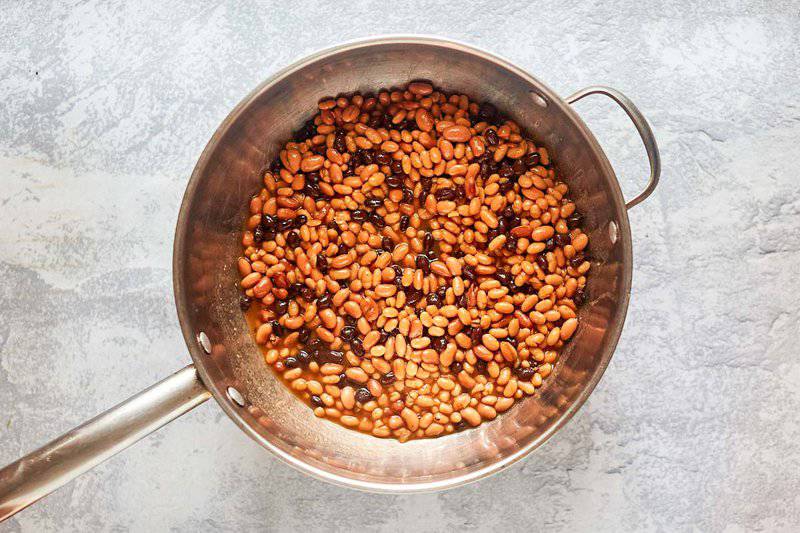 Add the yellow mustard, dark brown sugar, and molasses.
Use a slotted spoon to transfer the cooked onions and bacon into the pot, leaving as much bacon grease behind as possible. Give the ingredients a good stir.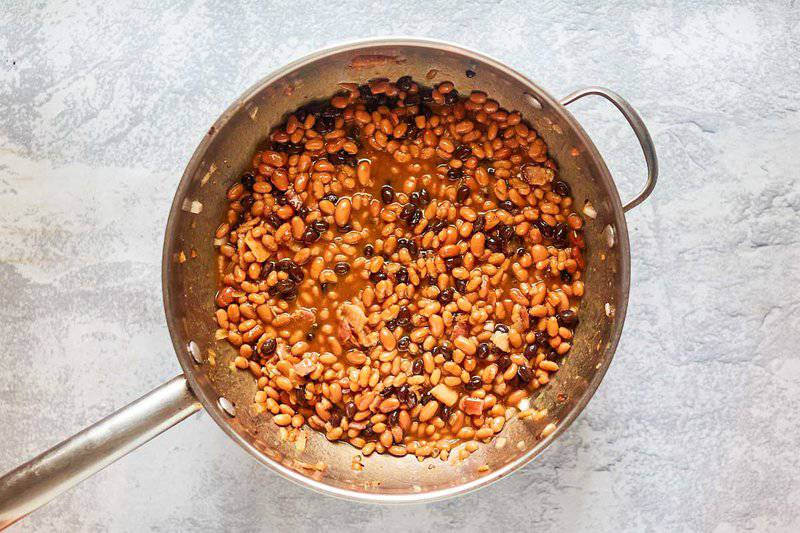 Cover the pot with a lid, and place it in the oven for about an hour.
After an hour, check the beans to see if they are as thick as you like them. If not, cook for another 15 minutes, and check again.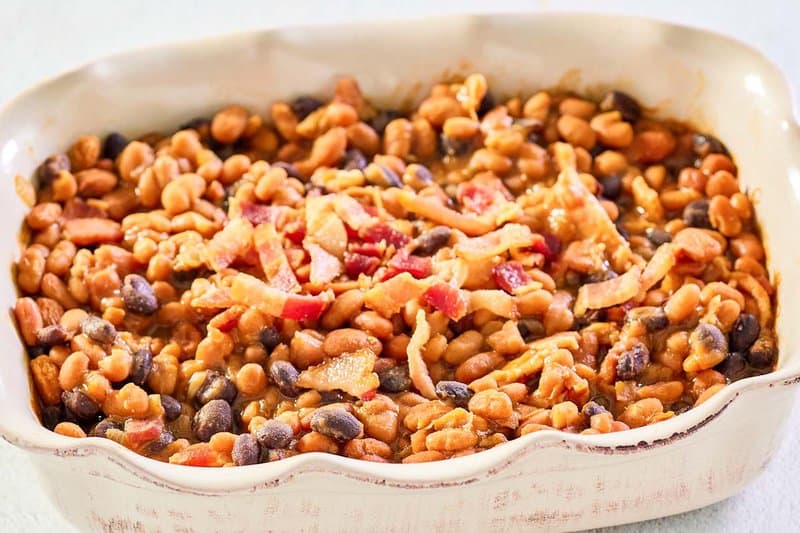 Recipe Variations and Ingredient Substitutions
Vegetarian Baked Beans – Making this recipe vegetarian is easy for anyone who is steering clear of animal products. Just use vegetarian bacon jerky and baked beans. You can add a few splashes of liquid smoke for a more authentic taste.
Add barbecue flavor – Stir in a cup of BBQ sauce.
Add tomato flavor – Stir in 1/2 cup of ketchup.
Add more meat – Sauté a couple of thinly sliced hot dogs along with the bacon and onions to turn this recipe into a hearty meal. Or add a half-pound of browned ground beef.
Use other beans – Feel free to swap out the black or pinto beans for another type of beans. Great Northern and navy beans are classic options, but you can also use butter beans, kidney beans, or just about any other variety you have on hand.
What Goes With Baked Beans
Are you someone who feels baked beans are only good with BBQ and grilled food? Think again. Serve these oven baked beans with bacon alongside scrambled or fried eggs, cornbread, sausages, honey ham, or on top of a baked potato.
How To Store Baked Beans
Let the beans cool completely, then put them in an airtight container in the fridge for up to three days.
To keep them longer, let the beans cool after baking and transfer them to freezer-safe bags. Fill the bags no more than halfway and freeze flat on their side. Store the frozen beans for up to three months. Thaw them in the refrigerator overnight.
How to Reheat Baked Beans
The best way to reheat leftover baked beans is in the oven:
Preheat the oven to 350°F.
Place the thawed baked beans in an oven-safe container. Add a few tablespoons of water for moisture and give the beans a good stir.
Bake for 20 minutes or until hot. Stir once more, and serve.