Buffalo chicken sliders have all the goodness and flavors of hot wings but without the mess. Seriously, who doesn't love buffalo chicken wings, with this recipe you don't have to get your fingers dirty!
This easy recipe can be made in an Instant Pot pressure cooker or Crockpot slow cooker, and it's perfect for a game night or party.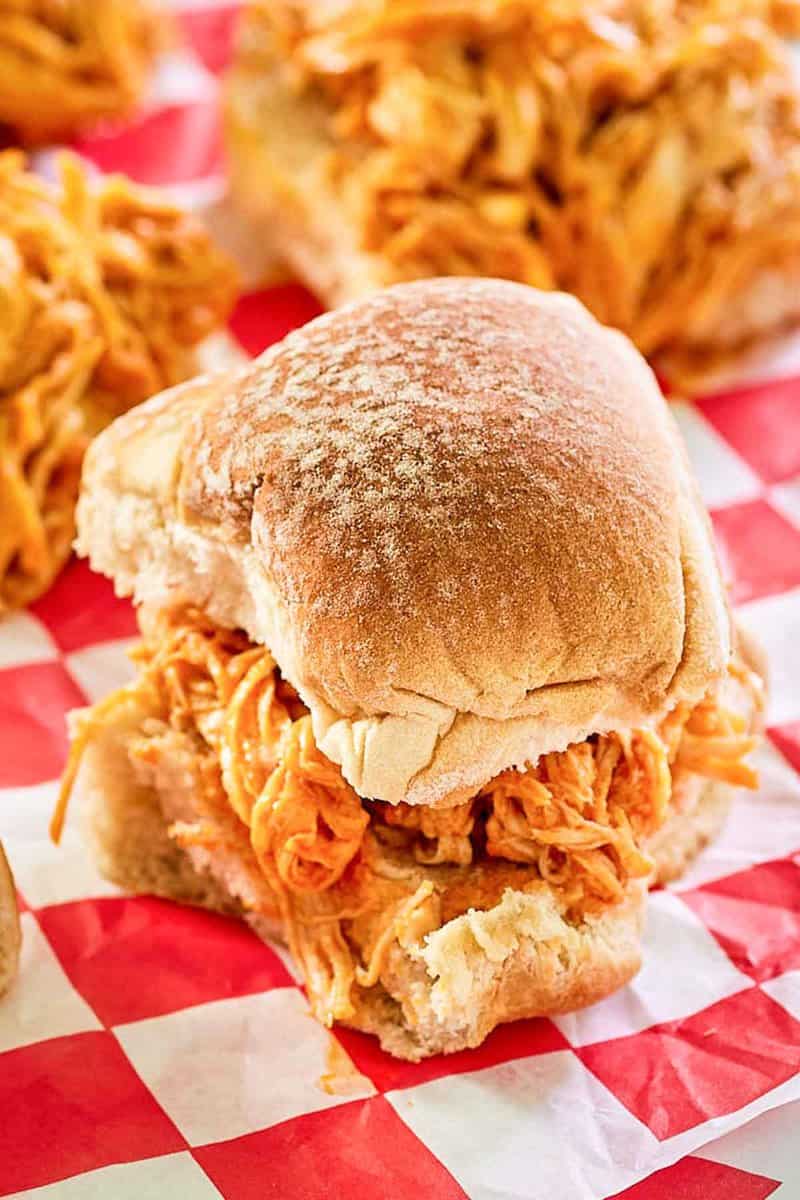 This post contains affiliate links. As an Amazon Associate, I earn from qualifying purchases.
Shredded Buffalo Chicken Sliders
These shredded chicken sliders are so easy to make, and you don't even need a game to enjoy them; they are ready for you any day of the week. Essentially, wherever there are hungry people, bring sliders. You'll be a hero, trust me!
What Makes This Chicken Slider Recipe So Good
This is a super easy chicken main dish that you will love for these five reasons:
With this easy Instant Pot buffalo chicken sliders recipe, there's no time-consuming chopping, sifting, or stirring. Just dumping, cooking, shredding, and enjoying!
The Instant Pot does pretty much all of the work. So, say hello to an easy weeknight dinner! You can have these shredded chicken sliders on the table in less than thirty minutes.
No unfamiliar ingredients or strange substitutions. This recipe is just the way it is.
A slider recipe with big flavor that just can't be beat. Everyone loves the taste of buffalo chicken.
You can make the chicken ahead of time and serve the sliders when you are ready.
This recipe is so good that you won't hesitate to add it to your meal rotation on a regular basis. The whole family will eagerly devour this buffalo chicken piled up on a bun. Even your kids will enjoy these shredded chicken sliders as long as you don't make them too spicy.
These buffalo chicken sliders are unmatchable crowd-pleasers. If you have any upcoming social gatherings, they are sure to be a hit. They are spicy, tangy, and easy to customize with your favorite toppings.
Why Use an Instant Pot to Make Buffalo Chicken?
With a pressure cooker, dinner comes together fast and easy because the cook time is minimum. Prep time for this dish is about thirty minutes if you use your pressure cooker. An Instant Pot makes cooking simple and very clean.
Everyone will think you've been hard at work in the kitchen all day when you will have only spent a few minutes on this dish, drinking a glass of wine between the easy steps.
Buffalo Chicken Sliders Recipe Ingredients
This recipe is so easy and involves no hard-to-find ingredients. Chicken breasts are used for this recipe, but you could make these sliders with chicken tenders, whole chicken, or even dark meat. Here's what you will need:
Chicken
Ranch dressing mix
Butter
Frank's Red Hot sauce
Dinner rolls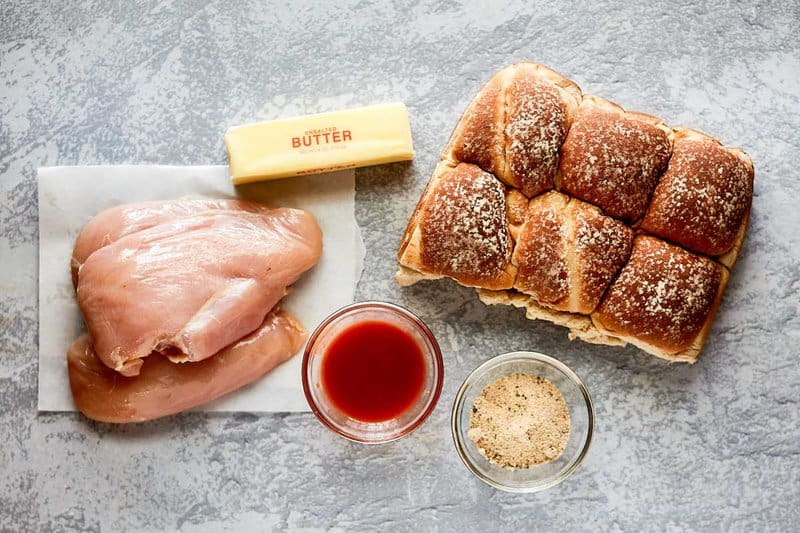 Why Dry Ranch Mix Is Perfect for Recipes
In this shredded chicken sliders recipe, Hidden Valley Ranch dry dressing mix gives this chicken a wonderful flavor.
Can You Use Frozen Chicken Breasts?
Yes! Frozen chicken will cook super fast in your Instant Pot. This recipe is perfect for those days when you forget to take something out of the freezer. With an Instant Pot, you can still have a chicken dinner ready and waiting for your family.
If you use frozen chicken for this Instant Pot buffalo chicken sliders recipe, you need to add some extra cooking time, about thirty minutes.
What Type of Rolls Should You Use For Sliders?
To make sliders you have several options for the rolls. You can use ordinary dinner rolls. Hawaiian rolls are a great choice. If you are lucky, some stores sell pretzel buns.
If you can't find any of those, you may want to try this recipe with hamburger buns. You can also make a buffalo chicken sandwich with Texas toast.
How to Make Buffalo Chicken Sliders
You can make these tasty buffalo chicken in either an Instant Pot or Crock Pot slow cooker.
Instant Pot Method
Simply put all of the ingredients into the pressure cooker. You will not need to add any water to the recipe – the hot sauce and the melted butter provide all the liquid necessary.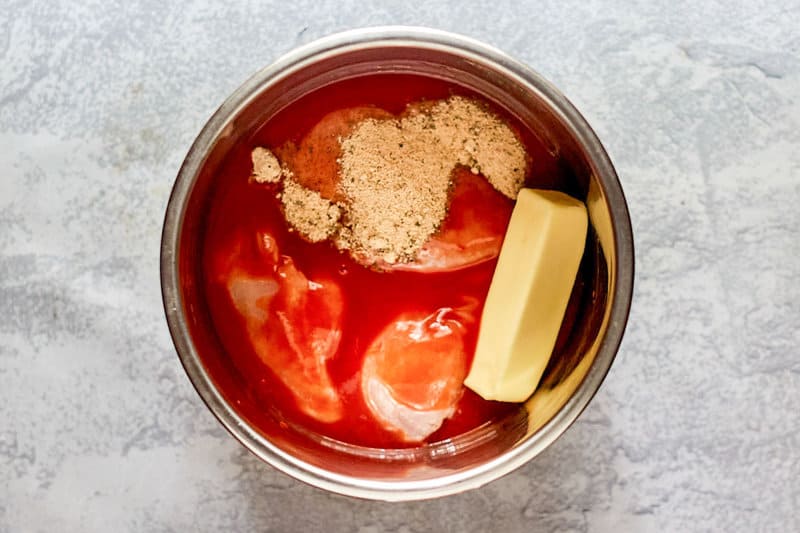 Cook for about 12 minutes on high and then perform a natural release.
Shred the chicken and stir it with some of the buffalo sauce.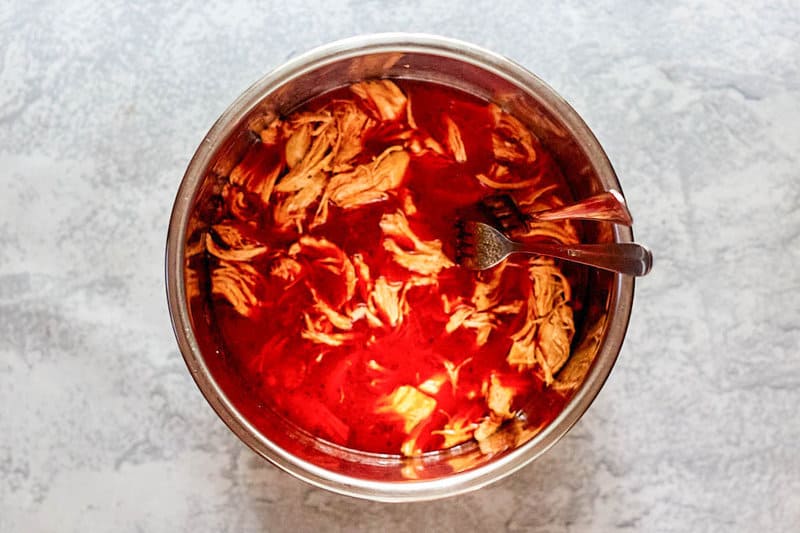 Crock Pot Method
If you don't happen to have an Instant Pot, but you have a slow cooker, you can follow the buffalo chicken sliders slow cooker method. Either way, these buffalo chicken sliders will turn out great. Just put everything into your slow cooker.
How long to cook buffalo chicken in a Crock-Pot:
Cook on low for 4 to 6 hours
Cook on high for 3 to 4 hours
Make the Sliders
Slice the rolls in half and place the bottoms on a baking sheet, baking dish, tray, or platter.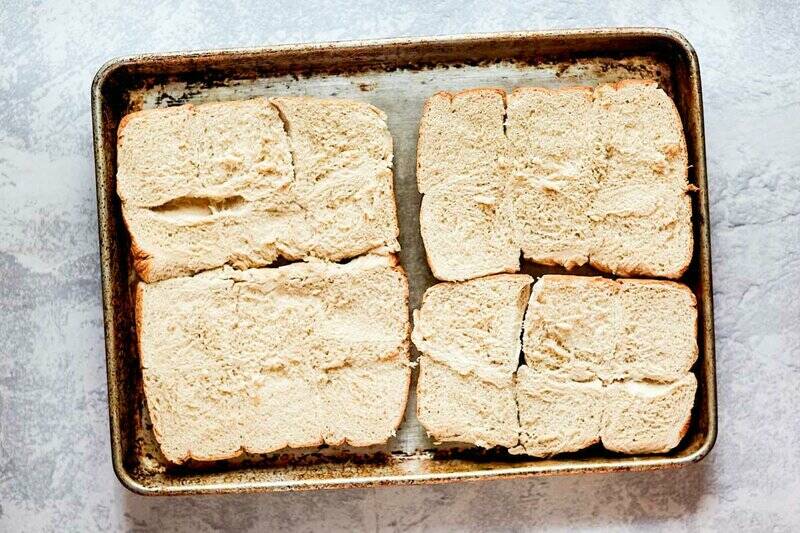 Place the shredded buffalo chicken mixture on the bottom half of the rolls.
Add any toppings you may want on the sliders.
Cover them with the top of the rolls.
Serve as an appetizer or main dish and enjoy!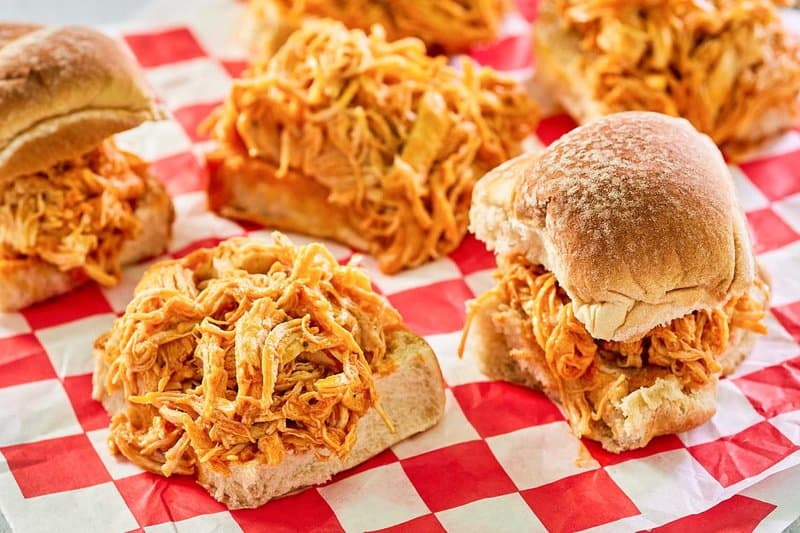 Why Dry Ranch Mix is Perfect for Recipes
I don't normally talk about specific products. In this recipe, I really like the Hidden Valley Ranch Dry Dressing Mix. It's perfect for recipes, and it gives this chicken a wonderful flavor.
I buy mine in bulk at Costco, you can also purchase it on amazon. I also use it in my Taco Soup recipe.
How to Serve Instant Pot Buffalo Chicken Sliders
A good idea is to cook the chicken ahead of time, place it in a slow cooker for your game day, and let your guests assemble their own sliders. One of the best things about sliders is that everyone can add their favorite toppings.
Put out some jars of salad dressing (ranch or blue cheese), tomato slices, lettuce, fresh crunchy coleslaw, and some thin onion slices.
Have a veggie tray with carrots and celery sticks for folks who don't want bread. They can eat the shredded buffalo chicken with them.
For family dinners, serve these sliders up with your favorite sides, such as mac and cheese, baked beans, sweet potatoes, or zucchini chips.
You could also split the buns, brush a little melted butter on them, sprinkle a little garlic salt or ranch seasoning, and toast them in the oven for an extra touch. Or add a layer of melty cheese with cheddar cheese, pepper jack cheese, or mozzarella cheese.
Make-Ahead, Storage, and Freezing
Make-ahead – Cook the buffalo chicken in advance and store it in the fridge for up to 2 days. Warm it up in the microwave or on the stovetop then assemble the sliders and serve.
Storing – Store leftover buffalo chicken in an airtight container in the fridge for up to 4 days. Avoid having leftover assembled sandwiches because they will tend to get soggy.
Freezing – You can easily double this Instant Pot buffalo chicken recipe and freeze some to have on hand for another time. Allow the chicken to cool completely, then store in an airtight container or freezer bag for up to 6 months.
Reheating – Thaw completely, then heat on the stovetop, in the microwave, or slow cooker.
Love buffalo chicken flavor? Try these recipes!
Air Fryer Buffalo Cauliflower
Air Fryer Buffalo Wings
Buffalo Bites
Buffalo Burger
Buffalo Chicken Dip
Buffalo Chicken Poppers
Buffalo Chicken Spring Rolls
Buffalo Chicken Thighs
Buffalo Meatballs
Grilled Buffalo Chicken
Favorite Game Day
Crockpot Shredded Chicken Tacos
Jalapeño Poppers
Buffalo Chicken Sliders
It's hard to beat Buffalo Chicken Sliders. Buffalo chicken is made in an Instant Pot or Crock Pot, then shredded and served on dinner rolls.
2

pounds

chicken

2

tablespoons

ranch dressing mix

1/2

cup

butter

12

ounces

Frank's Red Hot Sauce

16

dinner rolls
Instant Pot Pressure Cooker
Place two pounds of chicken, 12 ounces of hot sauce, 1/2 cup butter, dry Ranch dressing mix into the Instant Pot.

Place the lid on the pot, and make sure the vent is closed. Cook for 12 minutes on high pressure. Perform a natural release.

Shred chicken, and then add back part of the juices from the chicken. To serve place chicken on buns and add the desired toppings.
Crock Pot Slow Cooker Directions
Place all of the ingredients except the rolls into the slow cooker.

Slow Cooker times: Cook on low for 3 to 4 hours. Cook on high for 4 to 6 hours.

Shred chicken, and then add back part of the juices from the chicken. To serve place chicken on buns and add the desired toppings.
Serve with homemade Ranch or blue cheese dressing.
Calories:
590
kcal
|
Carbohydrates:
41
g
|
Protein:
28
g
|
Fat:
34
g
|
Saturated Fat:
13
g
|
Cholesterol:
115
mg
|
Sodium:
2216
mg
|
Potassium:
313
mg
|
Fiber:
3
g
|
Sugar:
1
g
|
Vitamin A:
515
IU
|
Vitamin C:
1.8
mg
|
Calcium:
167
mg
|
Iron:
4.1
mg