Chick Fil A Peach Milkshake is a cool and creamy treat available for a limited time at the restaurant. With this easy copycat recipe, you can enjoy a homemade peach milkshake any time of the year.
This post contains affiliate links. As an Amazon Associate, I earn from qualifying purchases.
Chick Fil A Seasonal Offerings
Summer is the best time of year for riding bikes, spending weekend afternoons at the swimming pool, and of course, getting your fill of peach milkshakes at Chick Fil A! That is because the Chick Fil A Peach Milkshake availability begins in June and ends as soon as Labor Day rolls around.
Fans of this fast food chain look forward to the seasonal flavors of summer. It's a yearly tradition of making a summertime milkshake the old-fashioned way with peaches.
At the restaurant, this refreshing milkshake features Chick-fil-A icedream dessert blended with peaches. It's a popular milkshake and one of the most beloved treats.
So, if you are a huge fan, stop asking when does Chick Fil A have the peach milkshake on the menu and make one yourself using the copycat Chick-Fil-A recipe below.
What Makes This the Peach Milkshake Recipe You Must Try
Sure, you can get a peach milkshake just about anywhere, but most restaurants make them using peach-flavored ice cream. This recipe uses high-quality vanilla ice cream and frozen peach slices to give the milkshake an extra burst of natural fruit flavor often missing in other peach shakes.
This copycat shake has an old-fashioned vanilla taste and sweet peach flavor. The classic summertime taste will standout from the first sip to the last.
Chick Fil A Peach Milkshake Ingredients
Peaches
Vanilla Ice Cream
Milk
Whipped Cream
Maraschino Cherry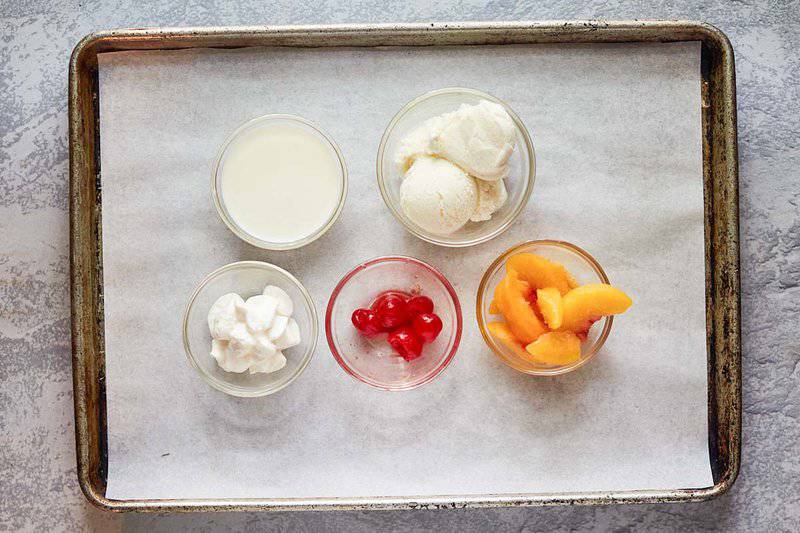 Recipe Notes
If you don't have a professional bartender blender, like a Vitamix, and your blender has trouble breaking down frozen fruit, you can substitute fresh peaches or diced peaches from a can. Just make sure to drain canned peaches before using them in the recipe.
For a thicker, more decadent Chick Fil A peach milkshake, use the highest quality vanilla ice cream you can find. High-fat ice cream from premium brands that don't try to bulk up their product by whipping in a lot of extra air is ideal for the creamiest consistency.
People who want to save calories can also use low-fat ice cream or frozen yogurt, but the shake will have a thinner consistency.
How to Make Chick Fil A Peach Milkshake
To blend up the perfect peach shake Chick Fil A style:
Remove the container of ice cream from the freezer and put it on the counter for about 5 minutes to soften before using. This extra step helps with scooping and allows the ice cream to blend more quickly, and prevents the blender from becoming too warm.
Pour the milk into the blender. Adding the milk first gives the blades room to start spinning.
Add the frozen peaches.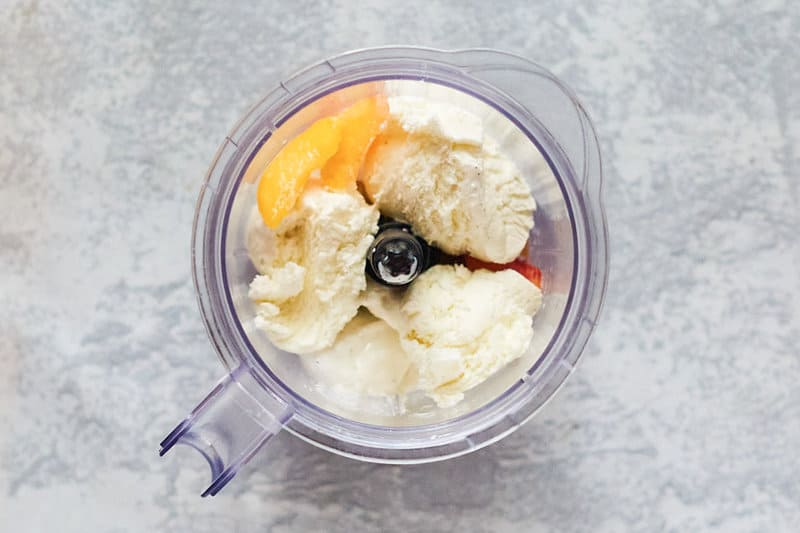 Purée the peaches until they are smooth. You can break down the fruit without overheating the ice cream by pureeing the milk and peaches first.
Add the vanilla ice cream and blend on the MILKSHAKE setting until smooth. Check out the instruction manual for the manufacturer's suggestion if your blender doesn't have a preset milkshake setting.
Pour the shake into a tall serving glass. Using a traditional milkshake glass adds to the fun.
Garnish with whipped cream and a Maraschino cherry topping. Serve immediately with an extra-thick straw and a long-handled spoon.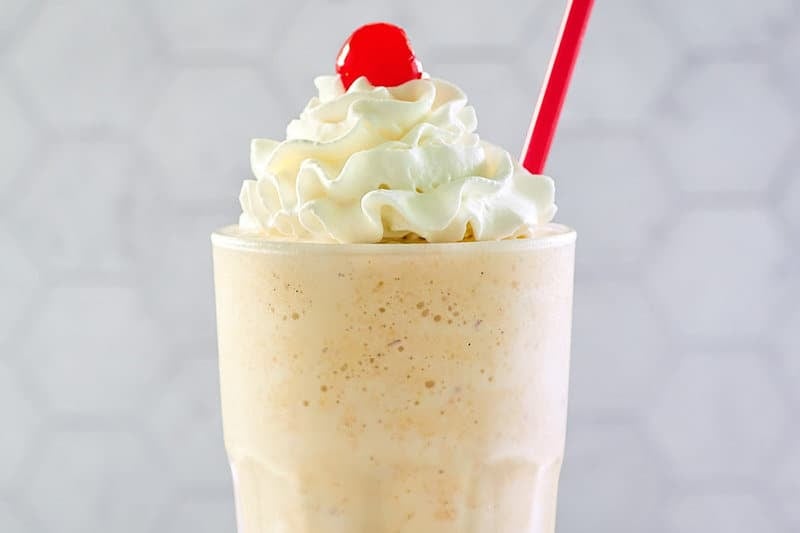 What To Enjoy With a Peach Milk Shake
Sip on this Chick Fil A Peach Milkshake while chowing down on classic summer meals like chicken sandwiches, nuggets, hot dogs, or hamburgers.
Or you can enjoy this favorite seasonal milkshake as a dessert after your meal.
Recipe Variations
Try these suggestions to make your Chick Fil A Peach Milkshake even better:
Instead of topping with a maraschino cherry, try chopping up a dried peach slice and sprinkling the pieces on top of the whipped cream.
Frost the serving glasses by rinsing them with water and putting the wet glasses in the freezer for at least 15 minutes. Frosted glasses will keep milkshakes colder for longer.
Add a shot of peach schnapps to turn this milkshake into a delicious adult cocktail.
Love Chick Fil A? Try These Copycat Recipes!
Chick Fil A Chicken Nugget Recipe
Chick Fil A Frosted Lemonade
Chick Fil A Mac and Cheese
Chick Fil A Sandwich Recipe
Chick Fil A Sauce Recipe
Favorite Milkshake Recipes
Banana Milkshake
Coconut Milkshake
Lucky Charms Milkshake
Shamrock Milkshake
Popular Peach Recipes
Bisquick Peach Cobbler
Dump Cake with Peaches
Peach Cheesecake
Peach Iced Tea
Check out more of my easy milkshake recipes and the best Chick Fil A recipes here on CopyKat!
Chick Fil A Peach Milkshake
You can make a deliciously cool and creamy Chick-Fil-A peach milkshake at home with this copycat recipe.
½

cup

whole milk

½

cup

frozen peaches

2

cups

vanilla ice cream

2

tablespoons

whipped cream

1

maraschino cherry
Place milk, peaches, and vanilla ice cream in a blender.

Blend until smooth and creamy.

Pour the shake into a glass.

Top with whipped cream and a maraschino cherry.
Calories:
683
kcal
|
Carbohydrates:
79
g
|
Protein:
14
g
|
Fat:
35
g
|
Saturated Fat:
21
g
|
Polyunsaturated Fat:
1
g
|
Monounsaturated Fat:
9
g
|
Cholesterol:
138
mg
|
Sodium:
268
mg
|
Potassium:
817
mg
|
Fiber:
3
g
|
Sugar:
71
g
|
Vitamin A:
1624
IU
|
Vitamin C:
5
mg
|
Calcium:
503
mg
|
Iron:
1
mg