Learn how to make the best homemade spaghetti Meat Sauce recipe! Made with ground beef, tomatoes and herbs, this one pot spaghetti sauce recipe is perfect for everything from pasta to lasagna. Pair it with a loaf of homemade Italian Bread and you'll be good to go!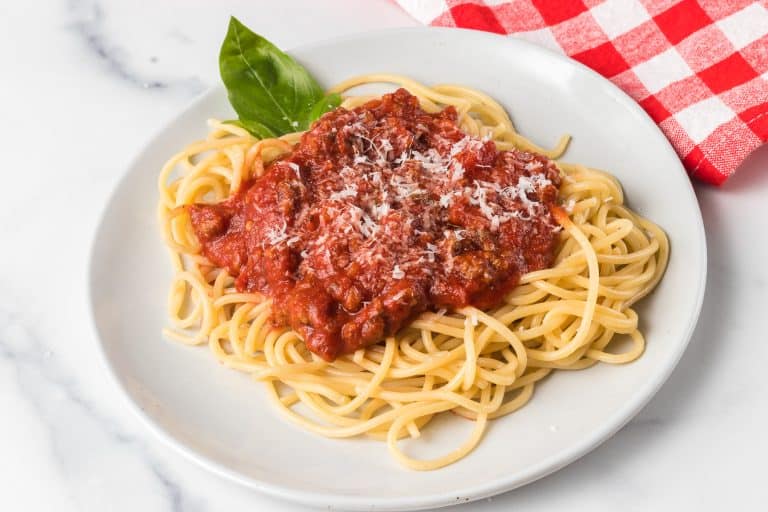 Store bought jarred sauce cannot compare. Making the best meat sauce from scratch makes even a simple plate of spaghetti taste like it came from a gourmet restaurant.
Only I think this recipe is even better than a restaurant meal. It's based on my mom's meat sauce recipe with just a few tweaks, and I've been making it for a long, long time.
SAVE THIS EASY HOMEMADE MEAT SAUCE RECIPE TO YOUR FAVORITE PINTEREST BOARD!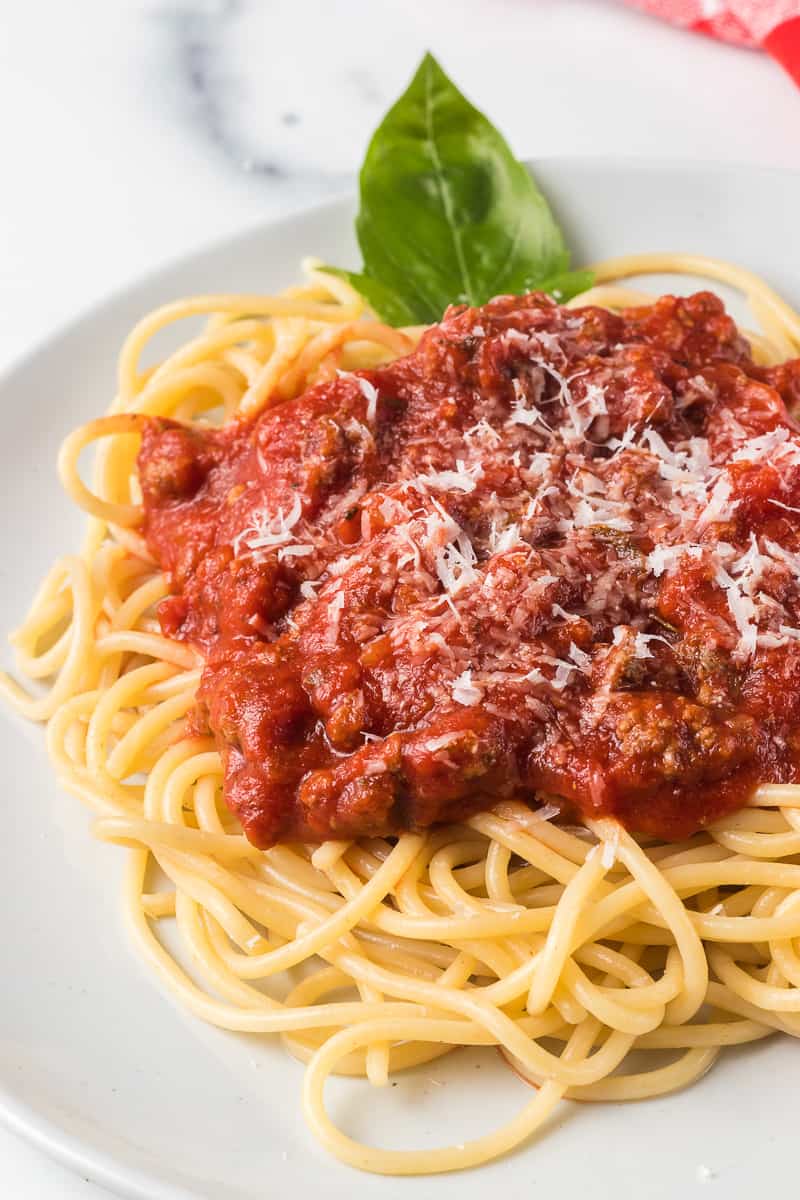 I love this meat sauce over some spaghetti noodles, but honestly, my favorite way of eating it is when it's used in my mom's lasagna. Growing up, my mother's labor of love was her lasagna, which included this amazing recipe. So if you've tried that, you already know about the magic that is this homemade sauce.
It's full of tangy tomato flavor, seasoned with Italian seasoning and packed with plenty of juicy ground beef. It comes together in one pot, simmering for 45 minutes while it fills your kitchen with the cozy aroma of garlic, onion and basil.
Once you taste this great recipe, you'll never be able to enjoy the store bought sauces again. Whether you ladle your sauce over pasta or layer it into lasagna, this is the ONLY meat sauce recipe you'll ever need!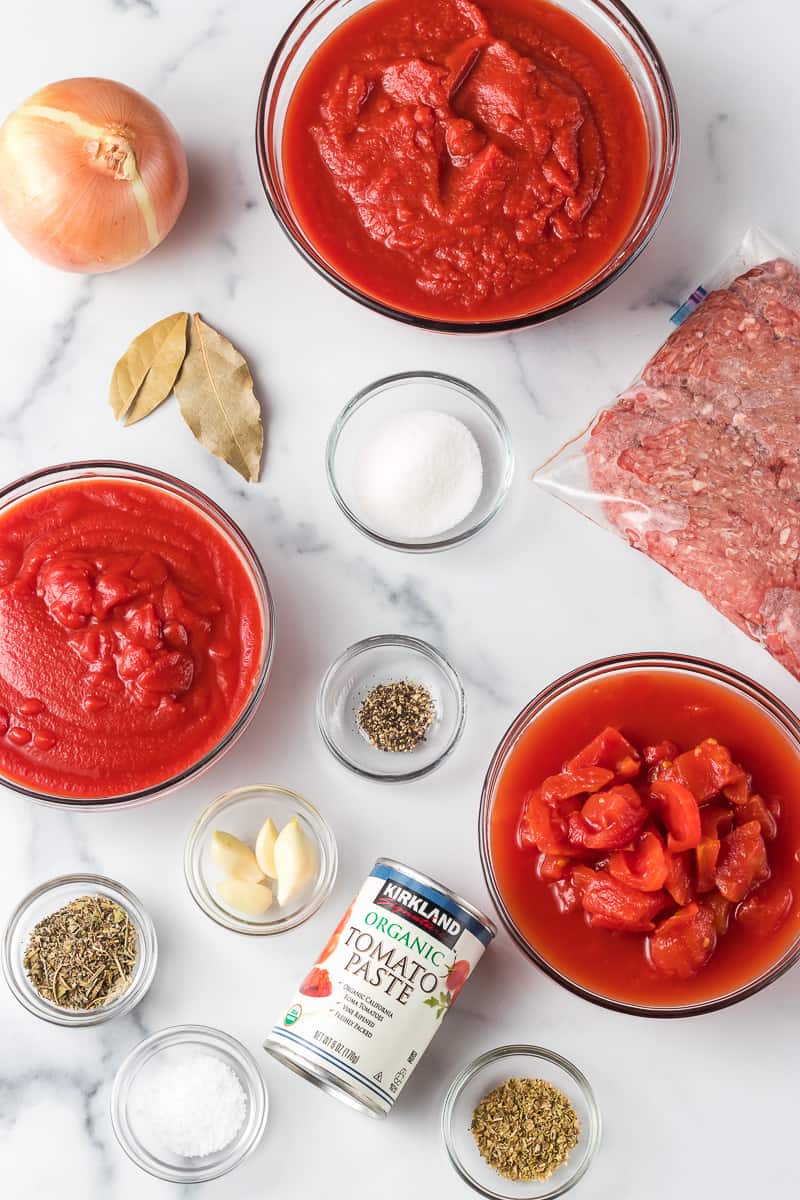 What do I need for the best homemade meat sauce?
You need these ingredients to make my one-pot meat sauce recipe.
Olive oil
Ground beef
Yellow onion
Garlic – Peeled, minced cloves, not garlic powder.
Tomato puree – crushed tomatoes
Tomato sauce – Use the kind that's plain and unseasoned.
Diced tomatoes
Can of tomato paste
Sugar
Dried basil
Dried oregano
Kosher salt
Black pepper
Bay leaves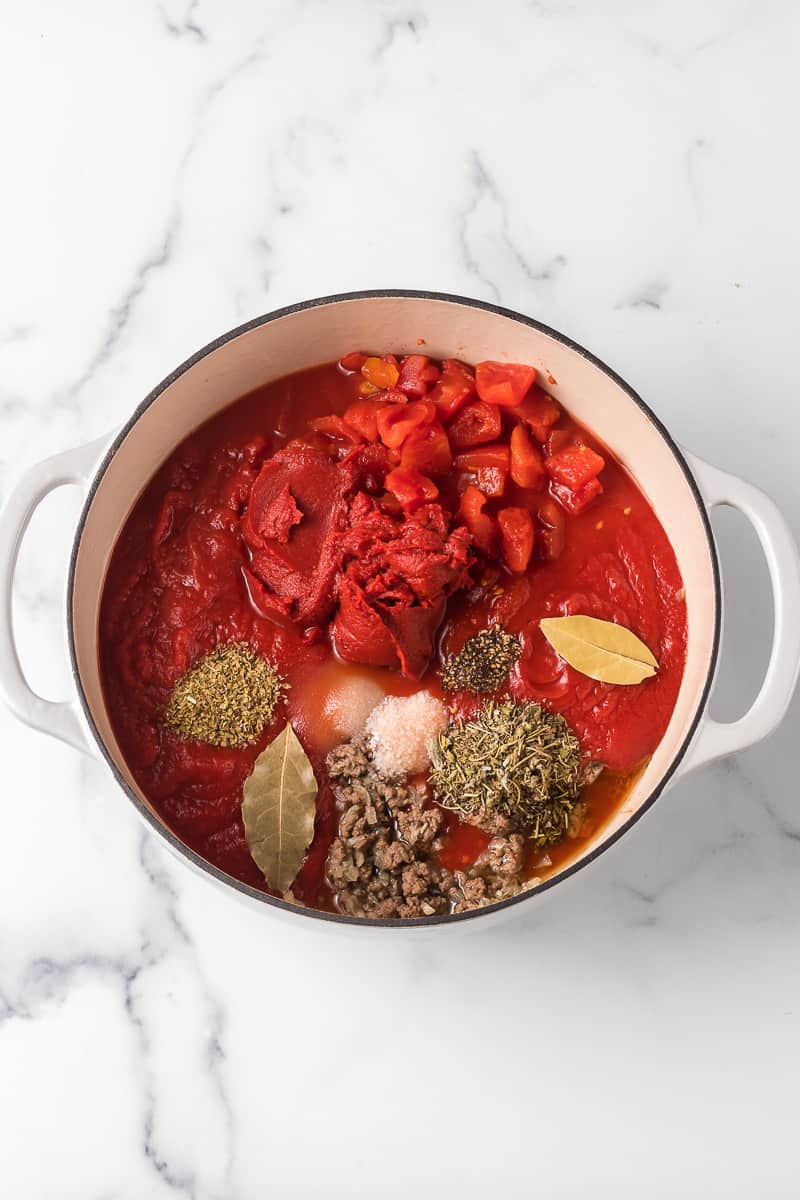 How do I make this homemade spaghetti sauce recipe?
In a Dutch oven or large pot, sauté the onion and garlic in olive oil over medium heat. Add the ground beef and cook until brown.
Now stir in the remaining ingredients. Reduce the heat, cover the pot and let the meat sauce simmer for about 45 minutes, stirring frequently because we don't want the sauce to burn on the bottom! Serve it right away over noodles, or store it in the fridge for later.
Spaghetti sauce with meat keeps well for several days stored covered in the fridge. I think it tastes even better when the flavors have had a chance to blend and deepen.
Can you freeze this hearty meat sauce?
Yes! Freezing is a great way to store homemade spaghetti sauce for a longer period. You can make a double batch, so you'll have plenty for those busy weeknights! Transfer it to gallon sized freezer bags. It stays good for several months in the freezer!
Thaw frozen meat sauce in the microwave or overnight in the refrigerator.
How long will this tomato-based sauce last in the fridge?
This recipe will last 3-4 days in the refrigerator.
TIP: It's a good idea to spray a food safe container with some cooking spray before pouring the sauce into it. This way, there's less chance that it will stain the plastic container.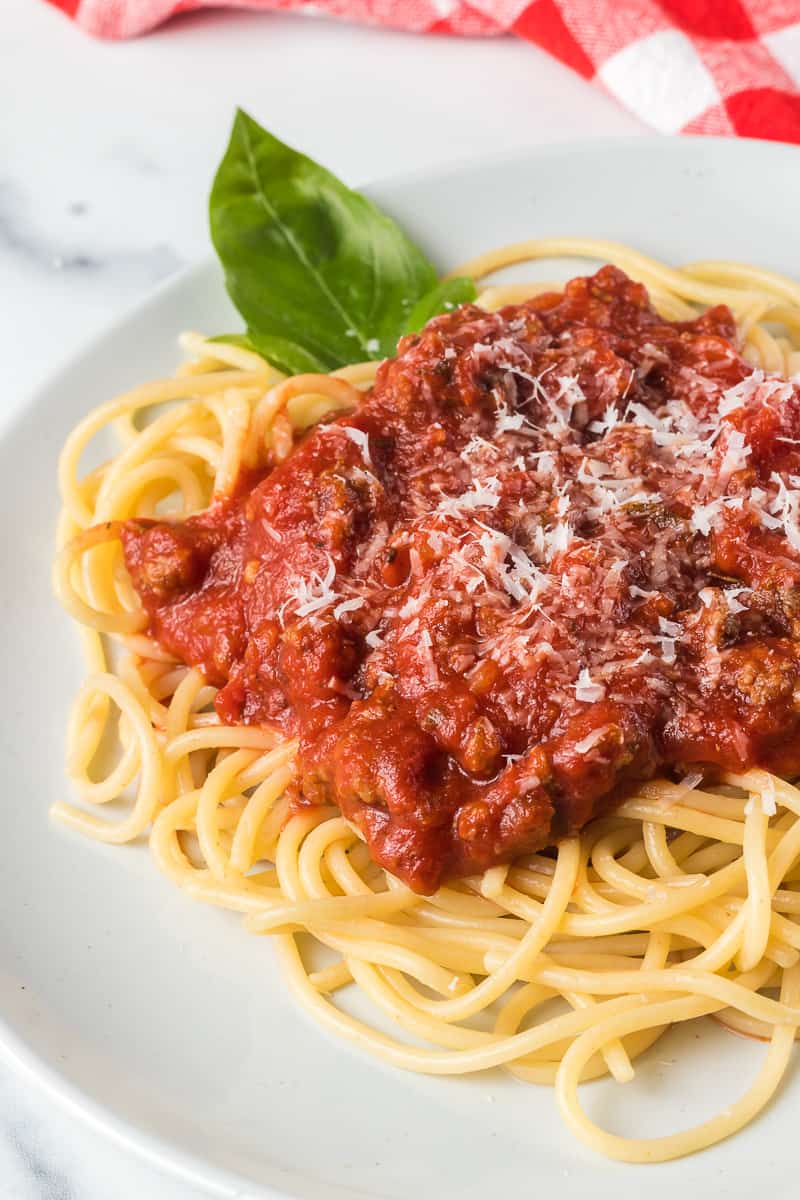 Spaghetti Bolognese vs. Meat Sauce
Is Spaghetti Bolognese just spaghetti sauce with meat? Not exactly. While some Italian-American restaurants and home cooks call any meat sauce "bolognese", there is a difference.
Bolognese sauces tend to be creamier, thicker and have a higher concentration of meat. In many pasta alla Bolognese recipes, the tomato takes a back seat to the ground beef, pork and bacon!
This homemade meat sauce is heavy on the tomato, with just the right amount of ground beef for a hearty, flavorful meal. Of course, you can call it Spaghetti Bolognese if you want a fancier name for your dish than just "spaghetti with meat sauce". Unless you're inviting an Italian chef to dinner, odds are good no one is going to mind.
Your dinner guests will be too busy soaking up every last drop of this delicious meat sauce to care whether it's authentic Bolognese or not!
Tips for making this traditional spaghetti sauce with meat
You can use a combination of lean ground beef, Italian sausage, and ground pork if you'd like extra flavor in your pasta sauce. Alternatively, if you'd like to go with a healthier protein, use ground turkey, and ladel it over some zucchini noodles.
I've noticed when I pay a little bit more for the better tomato products, that it can make a huge difference in the taste. I encourage you to spend a little bit more on the San Marzano tomatoes if you can. They are a specific type of tomato grown in Italy in the San Marzano region. They are a plum tomato that is longer and thinner than those you'll find in your local grocery store. These tomatoes have a great taste and are a touch sweeter with the perfect balance of acidity. I love to make pizza sauce with them as well. You can find them in the canned tomatoes section of your local grocery store or here on Amazon.
Yes, I do use a little bit of sugar in this recipe. I know that some people are dead set against using it, but I really like how it balances the acidity of the tomatoes. I feel that using it is really a matter of personal preference, but I think it makes this sauce taste so much better.
Here are a few different ways to enhance the flavor of this recipe even more so.
Add a teaspoon or two of some red pepper flakes to give it a bit of a kick or a tablespoon of Worcestershire sauce to increase the umami flavor.
Have the rinds of Parmesan cheese stored in your freezer? Add those while the sauce cooks.
Green bell peppers cut into small pieces will add some great flavor as well.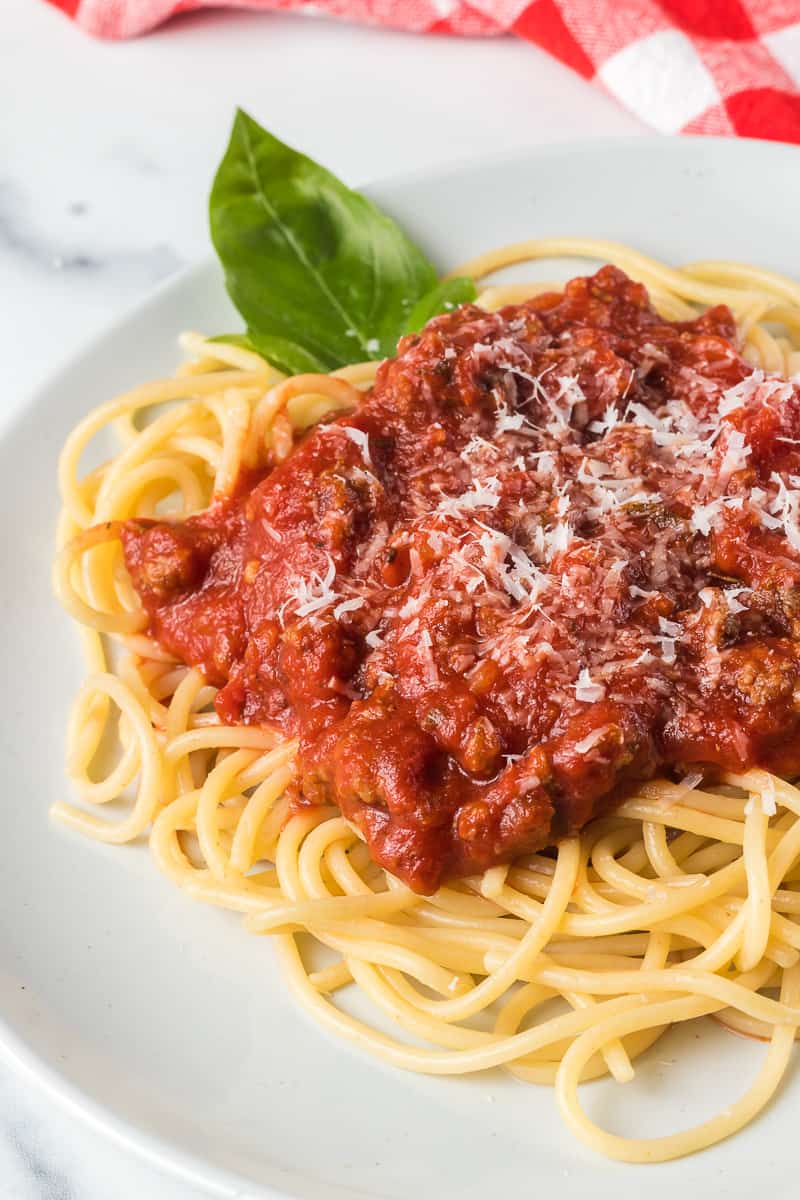 Ground Beef Recipes
Ground beef is a staple protein in my kitchen. If you have a pound or two of beef in the fridge, you're just a few steps away from a satisfying homemade meal.
Along with one-pot meat sauce, you can use it to make everything from Sloppy Joes to Taco Casserole. When we're not eating our pasta with meat sauce, my family loves these Mozzarella Stuffed Meatballs made with ground beef. So tasty served on top of a big bowl of spaghetti!
Not in the mood for Italian food? Try this recipe for Easy Shepherd's Pie (also called Cottage Pie)—savory ground beef in gravy baked with mashed potatoes on top!
Pasta Recipes
If we eat ground beef a lot in my house, it's nothing compared to the amount of pasta we consume. I mean, who doesn't love pasta? Especially when it's covered with sauce and plenty of cheese!
Today's spaghetti sauce is tangy and garlicky with a tomato base. Looking for a creamy sauce instead? Try this Sausage Alfredo Rigatoni, a baked pasta dish with herbed sausage and a thick, creamy roasted garlic sauce. Or give my Chicken Mozzarella Pasta a try for dinner this week!
On the lighter side, we have a Lemon Garlic Shrimp Pasta recipe that's to die for. This Pesto Chicken Pasta Salad is another quick, light meal that's perfect for summer. Speaking of pasta salads, have you tried my Tex-Mex Pasta Salad? The combination of Mexican and southwestern flavors with pasta is unexpected and totally mouthwatering!
For a more familiar take on pasta, you'll love this Caprese Pasta and this simple, classic Macaroni and Cheese, too.
~ FOLLOW ME on SOCIAL MEDIA ~
~ FACEBOOK ~ PINTEREST ~
~ INSTAGRAM ~ TWITTER ~
SIGN UP FOR THE WEEKLY
365 DAYS OF BAKING & MORE
NEWSLETTER BELOW!
Keep an eye out for my newest recipes!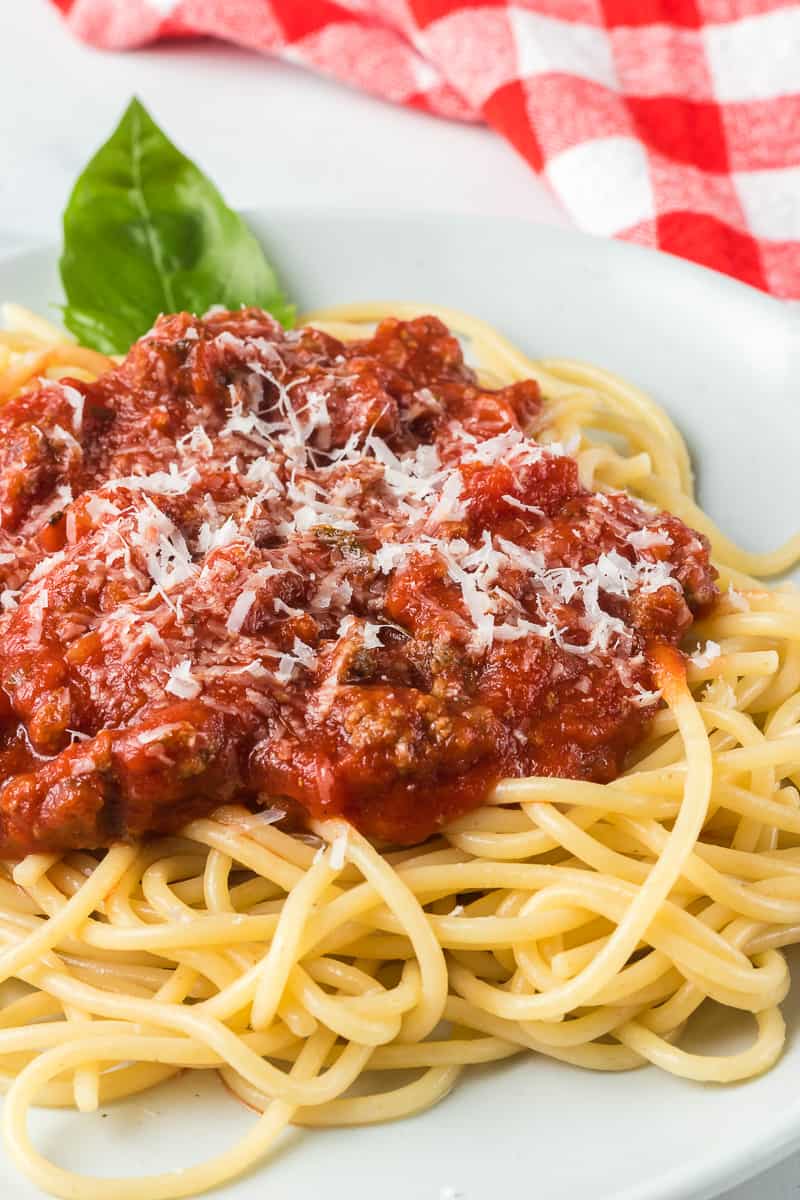 But first, head to the kitchen and make a pot full of this easy homemade spaghetti sauce with beef. Then serve it with your favorite kind of pasta, topped with fresh basil, and slices of Italian Bread or Garlic Bread!
Print
Meat Sauce
Learn how to make the best homemade spaghetti Meat Sauce recipe! Made with ground beef, tomatoes and herbs, this one pot spaghetti sauce recipe is perfect for everything from pasta to lasagna.
2

tablespoons

olive oil

1

pound

ground beef

1

cup

yellow onion

diced small

3

cloves

garlic

minced

28

ounces

tomato puree

15

ounces

tomato sauce

14.5

ounces

diced tomatoes

6

ounces

tomato paste

1

tablespoon

sugar

2

teaspoons

basil

1 ½

teaspoons

kosher salt

1

teaspoon

oregano

¼

teaspoon

pepper

2

bay leaves
Heat a large pot or Dutch oven on medium heat. Add the olive oil.

Add the onion and garlic and sauté until soft, about 3 minutes.

Add the ground beef and cook until brown.

Add the puree, sauce, diced tomatoes, paste, sugar, basil, salt, oregano, pepper, and bay leaves. Stir until well combined.

Reduce heat. Cover and simmer for at least 45 minutes, stirring frequently.

Serve over your favorite pasta or use to make my lasagna.
Serving:
1
person
|
Calories:
357
kcal
|
Carbohydrates:
29
g
|
Protein:
18
g
|
Fat:
21
g
|
Saturated Fat:
7
g
|
Polyunsaturated Fat:
1
g
|
Monounsaturated Fat:
10
g
|
Trans Fat:
1
g
|
Cholesterol:
54
mg
|
Sodium:
1237
mg
|
Potassium:
1462
mg
|
Fiber:
6
g
|
Sugar:
17
g
|
Vitamin A:
1505
IU
|
Vitamin C:
34
mg
|
Calcium:
94
mg
|
Iron:
6
mg
The post Meat Sauce appeared first on 365 Days of Baking.